It's another week of the National Football League, bringing in a bevy of excitement, strategy, and raw athleticism. If you're a football fan, you probably want to watch the games in the best possible quality. The good news is you no longer have to settle for anything less than the best when it comes to watching your favorite teams in action.
One way to do that is to watch NFL games in 4K, a high-resolution format serving four times more pixels than Full HD (1080p). Combined with HDR or High Dynamic Range, it can make every action on the field, whether a bone-crunching tackle, awe-inspiring touchdown, or game-defining play, look more realistic, detailed, and immersive.
But how can you watch NFL games in 4K? What are the options and requirements, and are there any inherent limitations? We've prepared this guide to answer these questions, helping you bring the magic of the NFL in its full glory into your living room.
NFL in 4K: What You Need to Know (2023)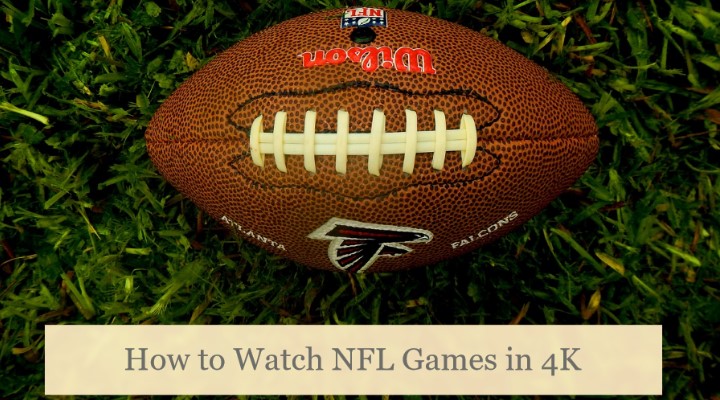 CBS's coverage of the 2022 AFC Championship game between the Kansas City Chiefs and Cincinnati Bengals, while turning out to be a thrilling one, was a shocker for many NFL fans. With FOX Sports airing the NFC Championship in crystal-clear 4K (albeit upscaled from a 1080p feed) and HDR earlier that day, the CBS game looked like a relic from the past.
This poses a bigger problem for Super Bowl LVIII, with CBS at the broadcasting helm. Given the network's apparent reluctance to adopt 4K even this season, you might not be able to enjoy the most exciting annual football game in its glorious spectacle at all.
In general, If you're looking for the ultimate football-viewing experience, you might be disappointed by the lack of 4K options.
Most of the regular season matches are only available in standard or interlaced high definition (720p/1080i HD), and only FOX offers a handful of 4K broadcasts for National Football League games throughout the season. There are some exceptions, but they definitely aren't the norm.
For example, FOX and NBC have both aired some 4K NFL games in the past, including the Super Bowl and the NFC Championship Game. However, so far, they haven't announced any plans to do so for the 2023 season. And as we've mentioned already, CBS has never delivered any 4K NFL games.
Unfortunately, the same goes for one of the leading American sports networks, ESPN, which covers Monday Night Football. That's taking into the fact that they've previously aired college football and basketball games in native (unlike Fox's upscaled) 4K format. And as for NBC's Sunday Night Football coverage, it isn't available in Ultra HD either.
What's even more surprising is Amazon Prime Video, home to a sizable library of 4K movies and shows and even select live sporting events, maxes out at Full HD (though with HDR) for its primetime Thursday Night Football streams this season.
The same applies to all the NFL match-ups streaming on the CBS-owned Paramount+, Disney-owned ESPN+, and NBCUniversal's Peacock streaming platforms. None of these subscription-based streaming services carry live football games in 4K, which seems like a missed opportunity.
Even NFL Sunday Ticket on YouTube Primetime Channels and YouTube TV, which allows for watching every Sunday afternoon game in 4K, is limited to a mix of native and upscaled 1080p (as YouTube seemingly confirmed here), regardless of the network or the device.
Most of the above options are no-go for watching any football games, whether pro or college, in Ultra HD – at least at the time of writing. But don't lose hope yet. There still are some streaming options that can offer some 4K NFL coverage, and one of them might even catch you off guard.
Watch NFL Games in 4K via the FOX Sports App
Unlike its rival networks, FOX doesn't yet have its own subscription streaming service. However, the FOX Sports app does offer the privilege of enjoying the network's live sports broadcasts in stunning 4K quality on supported devices.
All you need is a pay-TV subscription that includes FOX, whether it's through a cable, satellite, or streaming provider like Cox, Dish, Spectrum, Xfinity, DirecTV Stream, Sling TV, or YouTube TV. Just use your provider login details to sign in to the FOX Sports app and watch live sports without cable, including 4K broadcasts.
You read that right: Even if you don't pay for a 4K-ready pay-TV connection, as long as you have a compatible UHD television, you can watch select NFL games with unparalleled clarity and detail via the FOX Sports app without paying extra for a 4K package.
As mentioned, FOX is home to the NFL Playoffs and the Super Bowl (when they have the coverage rights) in upscaled 4K HDR. It sometimes also airs select Sunday afternoon games (1 PM and 4 PM) throughout the regular season, albeit that too varies by markets.
The FOX Sports app offers UHD streaming on the following connected TV devices and streaming media players:
Android TVs
Apple TV 4K
Amazon Fire TV Edition 4K Smart TVs / Fire TV Stick 4K / Fire TV Cube
Roku Premiere / Streaming Stick+ / Ultra / Roku 4K TVs / Roku Streambar
FOX Sports supports authenticating with a massive list of participating cable, satellite, and streaming providers. It's great for those who want to watch big-ticket NFL games alongside college football and other sporting events in 4K without signing up for yet another streaming TV service.
Watch NFL Games in 4K on FuboTV
FuboTV is one of the two primary cable TV streaming alternatives that offer select events in 4K/HDR (the other one being YouTube TV, we'll come to that). The Fubo Elite and Premier plans, while on the costlier side, provide access to your local FOX and NBC channels in 4K, along with hundreds of premium sports, entertainment, and news networks.
That makes FuboTV a solid streaming choice for watching professional and college football, plus other marquee sporting events like the Premier League, Formula One, and World Series when they're airing in Ultra HD. There are also compelling benefits like Cloud DVR and Multiview on supported devices, enhancing your experience.
Speaking of which, here are the devices compatible with 4K playback on FuboTV:
Android TVs / Streaming Boxes with 4K/HDR Support
Amazon Fire TV Stick 4K / Fire TV Cube / Fire TV Edition 4K Smart TVs
Apple TV 4K
Chromecast Ultra / Chromecast with Google TV
Roku Premiere / Streaming Stick+ / Ultra / 4K Roku TVs
Vizio SmartCast 4K TVs (2016 and Newer Models)
Xbox One S / X and Xbox Series X / S
To check if there are any upcoming NFL games streaming on FuboTV in 4K HDR, visit FuboTV's up-to-date schedule page.
Watch NFL Games in 4K on YouTube TV
Like FuboTV, YouTube TV supports 4K UHD playback for select live and on-demand programming. All you have to get is the 4K Plus add-on on top of the Base Plan, which includes all the NFL-broadcasting channels (e.g., CBS, FOX, NBC, ESPN, and the NFL Network) and 100+ more.
The benefit of going with YouTube TV over FuboTV is you can also stream ESPN in 4K when they're broadcasting select sports events in that format, such as college football matches from the ACC and SEC conferences. The add-on also removes the limit on concurrent device streams (at home) and allows offline DVR viewing on mobile devices.
However, as stated previously, NFL Sunday Ticket subscribers on YouTube TV won't be able to watch any out-of-market football games in 4K. As for device requirements for 4K playback on the service, here it is:
4K Android TVs (e.g., Sony BRAVIA, Hisense, TCL) and Streaming Boxes (e.g., NVIDIA SHIELD)
LG and Samsung 4K Smart TVs (2019 and Newer)
Apple TV 4K (2021)
Amazon Fire TV Stick 4K
Chromecast with Google TV
4K Roku TVs and Streaming Media Players
PlayStation 4 Pro / PlayStation 5
Related posts:
Overtime
Watching NFL games in 4K is a great way to immerse yourself in the game and feel like you are part of the crowd. As the final whistle blows, we hope this guide has helped you find a viable streaming option and that you have a great time enjoying your favorite team playing with four times the detail.
While we've discussed the device requirements for 4K playback across the three different streaming platforms above, whatever device you're using, make sure it has access to a 25 Mbps or faster connection for uninterrupted viewing. If your device or network doesn't meet the conditions, the 4K NFL streams will play in HD, or worse, fall back to SD quality.