The roar of the crowd, the thundering clash of helmets, and the electrifying energy that fills the air can mean only one thing – the 2023 season of the National Football League is finally here! As the excitement reaches a fever pitch, fans are gearing up to witness their favorite NFL teams go head-to-head in a battle for supremacy on the gridiron.
And what better way to experience every heart-stopping touchdown, bone-crushing tackle, and game-changing interception than from the comfort of your living room? With your Sony TV, you're in for a front-row seat to all the football action, so you don't miss a single moment of the NFL regular season.
Whether you're a die-hard fan looking to catch every game or a casual viewer wanting to soak in the excitement, the following guide will ensure you're ready to make the most of NFL on Sony Smart TV. Let's huddle up as we walk you through the various options for watching the games live!
Where to Watch In-Market NFL Games on Sony Smart TV?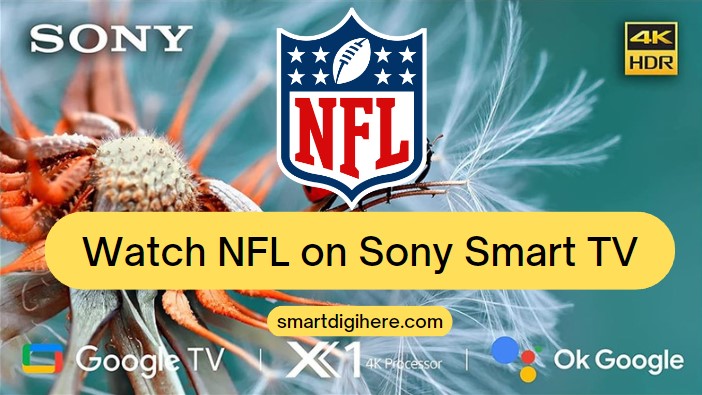 In-market games are the ones that are shown on TV in specific local areas during the NFL season. Since many games take place on Sunday afternoons, there are times when multiple games are happening simultaneously, leading to the broadcasts being shown on different TV channels across the States.
Most of these games primarily air on either CBS or FOX. CBS usually shows games with a team from the AFC (American Football Conference) playing away, while FOX usually picks games with a team from the NFC (National Football Conference) playing away.
The in-market games you see on TV will vary on CBS and FOX depending on where you live in the United States. Football shown in your area will usually feature a local team or a game that could affect whether the local team makes it to the playoffs.
If you already receive the channels with your existing cable and satellite TV provider, all you have to do is download the CBS Sports and FOX Sports apps on your Sony Android TV and sign in with your provider credentials.
Those who own a 4K model can stream select football games throughout the regular season and FOX's coverage of the playoffs in 4K-ish (upscaled from a 1080p HDR source) quality via the FOX Sports app. You'll feel like you're right there on the sidelines, catching all the action up close and personal.
Can You Watch the In-Market Games on Sony TV Without Cable?
Yes! Even if you've ditched your cable or satellite TV, you can catch every in-market football match with a subscription to DirecTV Stream, FuboTV, Hulu Live TV, Sling TV, Vidgo, or YouTube TV.
They all offer flexible, contract-free streaming channel packages that include not just your local CBS and FOX stations but also the other NFL-broadcasting networks, alongside tons of sports, entertainment, and news channels. And to top it all off, you get benefits like cloud DVR, catch-ups, and multi-device streaming.
A more economical option for tuning into your local NFL on CBS broadcasts is Paramount+. With the monthly Paramount+ with Showtime plan, you get streaming access to your local CBS affiliate, though the cheaper Essential subscription also offers separate live feeds for the Sunday afternoon games.
What About Out-of-Market NFL 2023 Games?
Out-of-market NFL games are the ones not shown on TV in your area during the regular season due to blackouts. These are the other games played on Sunday afternoons you won't see on your local CBS or FOX station due to blackout laws and the fact that most people in your area might not be very interested in them.
However, as football becomes more popular, some fans may want to watch these games from other places as they may involve their favorite non-local NFL teams. If you cheer for a team that's not from your area or you want to watch a lot of NFL games on Sony TV, consider getting the NFL Sunday Ticket package.
Available via YouTube TV and YouTube Primetime Channels, NFL Sunday Ticket lets you tune in to nearly 200 Sunday afternoon fixtures throughout the season. The Multiview feature allows having up to four live feeds on the screen at the same time. Additionally, you can set schedules for recording upcoming games.
Buying NFL Sunday Ticket from YouTube TV is a great choice. This way, you'll also get channels like CBS, FOX, NBC, ESPN, and NFL Network, covering nearly (except for TNF on Prime Video) all the NFL matchups this season, all in one spot.
There's another option called NFL+ you might want to look into. It's a cheaper way to watch the out-of-market games on-demand if you don't mind missing out on the live broadcasts. We'll discuss more on that in the following section.
Where to Watch Monday Night Football on Sony Smart TV?
Monday Night Football is the special primetime coverage for games played on Monday nights. It's been around for a long time, going back to the 1970 NFL season. It's like the first game of the week to kick things off.
At first, ABC was the broadcaster of Monday Night Football, but now they primarily show them on ESPN, which also has other shows about football that go along with it, enhancing the viewing experience.
The 2023 NFL season has ESPN showing 22 Monday Night Football games, with four airing exclusively on ABC. Joe Buck and Troy Aikman return to deliver play-by-play commentary.
MNF is also on other channels like ESPN2 and the ESPN+ streaming service. The Manning brothers, Peyton and Eli, are hosting ten special "Manningcast" broadcasts on the following platforms during the season, with unexpected guests joining them.
You can catch ESPN and ESPN2's Monday Night Football on Sony TV via the ESPN app, provided you log in with your cable, satellite, or streaming TV provider. We suggest going with Sling TV's Orange package, as it's the most affordable subscription to get the channels.
Getting ESPN+ on Sony TV won't get you live access to all the Monday primetime football games. However, it's the exclusive streaming home to the first NFL International Series game in Week 4 and is simulcasting the Saturday doubleheader in the final week of the regular season.
Where to Watch Thursday Night Football on Sony TV?
Thursday Night Football is the dedicated programming block for the games shown on Thursday nights. It started in 2006 as a means to kick off the weekend's football. Before, they used to present these games on NFL Network, but now they're on Prime Video, which is a big deal for Amazon.
For the 2023 NFL season, 16 TNF games are on Prime Video, excluding the kickoff game of the season and the Week 12 Thanksgiving Day fixture. NBC is showing those two instead. But here's something new: Prime Video will show a game on Black Friday for the first time in the league's history.
The Prime Video app already comes preinstalled on Sony Android/Google TVs. So all you really need to do is sign up for an Amazon Prime Membership (or the standalone monthly Prime Video plan) and log in to enjoy Thursday Night Football on Sony TV.
Where to Watch Sunday Night Football on Sony TV?
If it wasn't obvious, Sunday Night Football is NBC's primetime broadcast of games shown on Sunday nights since 2006, wrapping up the weekend's football coverage, a finishing touch for that round.
The 2023 NFL season gets fans 18 SNF fixtures to enjoy. And as mentioned previously, NBC has broadcasting rights to the first game of the season and another on Thanksgiving night. Except for Vidgo, every other live TV streaming provider, e.g., FuboTV, Hulu, Sling TV, and YouTube TV, offers streaming access to your local NBC station.
Thankfully, you can watch Sunday Night Football on Sony TV via Peacock, NBC's streaming service, during this season. It's simulcasting most SNF games and NBC's playoff coverage, and Premium subscribers get live access to English and Spanish-language feeds. Peacock is also exclusively streaming the Week 16 game before Christmas Eve.
Watch NFL on Sony Smart TV via NFL+
NFL Plus is the league's own streaming subscription that offers live access to every local and primetime game from the regular season and the playoffs at the cheap, albeit limited to viewing on phones and tablets.
However, if you don't mind watching the games on demand, an NFL+ Premium plan is all you need to watch NFL on Sony Smart TV. It's not a bad idea to save money and watch your favorite teams play at your leisure.
Also, when you stream the full and condensed replays via the NFL Android TV app, there are no ads, and you can toggle on the "Spoiler-Free" feature to keep the scores a surprise if you haven't seen them yet.
Can You Watch NFL on Sony Smart TV For Free?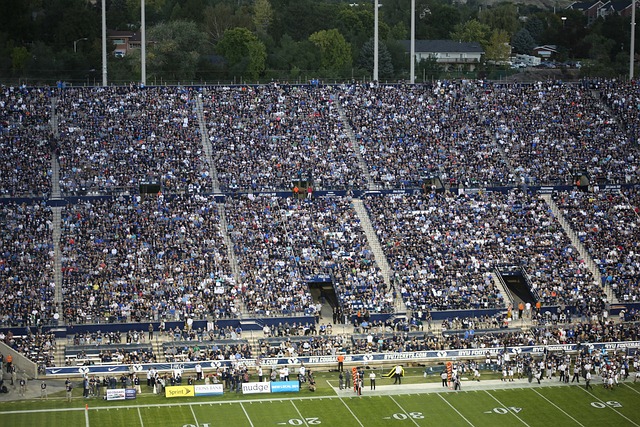 You can watch the NFL for free by attaching a digital HDTV antenna to your Sony TV, assuming there's a local ABC, CBS, FOX, or NBC broadcast tower close to you. It even includes playoff games and the Super Bowl. Use the FCC's Reception Maps site to check which channels you can get in your location and whether you can watch them in high definition.
If an antenna doesn't work where you are, catching NFL on Sony Smart TV seems tough without paying up for a monthly subscription. However, some of the streaming services mentioned in this guide often run free trial promotions for new users to try.
Enjoy Season-Wide Football on Sony TV!
Streaming services are becoming the top choice for people to watch live sports. That also applies to the National Football League. With so many providers available, it's really easy to enjoy an all-around NFL on Sony Smart TV, as highlighted in our guide.
For those wondering how to install the NFL-streaming apps on a Sony Android TV, it's a straightforward process.
Long-press the HOME remote button or go to Apps from your Android TV Home screen.
Select Google Play Store, then bring up the Search menu from the upper-right corner.
Use the on-screen keyboard to find the streaming app (g., Prime Video, Paramount+, Sling TV). You can also use the voice search function to do so.
On the app's description page, select Install and wait for the installation to finish.
It's a slightly different process on Sony Google TVs. Simply browse to Apps from the Home screen and select Search for apps to find and download the app(s) you're looking for.
After that, it's a matter of launching the streamer app and following the on-screen prompts to sign up and log in. Then you're ready to stream the most exciting NFL matchups on your big screen all season!