Monday Night Football is a time-honored tradition that dates back to 1970 when the NFL first introduced a weekly game broadcasted in primetime for a national audience. Since then, it has become a staple of the NFL season, featuring some of the most anticipated matchups and rivalries.
This season is no exception, as the National Football League has a slate of exciting matches for Monday Night Football that are bound to keep fans on the edge of their seats, kicking off a game week ahead with a blast. For the discerning football fans out there, missing any of these primetime games across the NFL regular season would be a shame.
Some of you might be very new to the streaming landscape, especially with the NFL bringing more opportunities for fans to tune in through more screens in recent years. We're talking about being able to enjoy the entirety of the live football broadcasts on a connected TV or streaming device without cable here.
But how can you watch Monday Night Football on Apple TV? This guide will walk you through only the best options, ensuring you can enjoy some top-drawer action from the comfort of your couch.
Watch Monday Night Football on Apple TV via ESPN+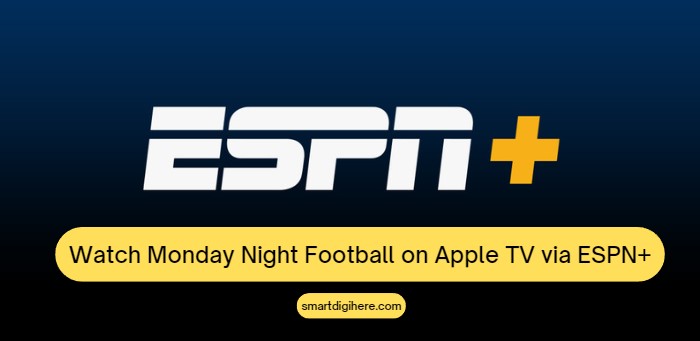 As ESPN continues to hold coverage rights for Monday Night Football in the United States, it only makes sense for the premier American sports network to stream some of its games via ESPN+, its subscription-based, sports-oriented streaming service.
For 2023, ESPN+ is streaming a handful of Monday Night Football match-ups throughout the regular season. It's unlike how Peacock and Prime Video are making every Sunday and Thursday night primetime football game, respectively, available to subscribers. However, it's arguably the most affordable and sensible option for watching MNF live on Apple TV.
For select fixtures, ESPN+ is also streaming ESPN2's Monday Night Football with Peyton and Eli broadcasts, also known by its "Manningcast" nickname, which follow the alternative, more laid-back commentary style and insights of the Manning brothers, two former NFL quarterbacks, alongside occasional guest appearances.
Like Peacock, ESPN+ has bagged a single primetime game under streaming exclusivity, the International Series match-up between the Falcons and Jaguars in Week 4 of the 2023 NFL season, to be specific. That, alongside a Saturday doubleheader in Week 18, seals the deal.
Steps to Watch Monday Night Football via ESPN+ on Apple TV
The ESPN app, home to ESPN+'s live and on-demand sports offerings, supports Apple TV devices running tvOS 15 and later. Here's how you can stream Monday Night Football on your Apple TV through ESPN+:
The first thing to do is download the official ESPN app. To do so, find your way to the App Store from your Apple TV Home Screen.
Next, bring up the Search menu by highlighting the magnifying glass icon at the top navigation shelf, then enter "ESPN" in the field.
Select ESPN: Live Sports & Scores in the results, followed by the Get button among the app's description, screenshots, and ratings.
With ESPN installed, return to your Apple TV Home Screen and select the app at the bottom of your apps list to launch.
Now click the Settings (cog) icon at the top-right corner of the app's Featured page.
Navigate to the Subscriptions menu, then select Subscribe next to ESPN+.
Click Sign Up Now, make your pick between the monthly or annual plan as per your preference, and continue following the rest of the on-screen prompts.
ESPN+ will charge you for the subscription through your iTunes account. Instead of signing up directly from your Apple TV, you can also go to espnplus.com from your mobile or PC browser to create your account and get your ESPN+ membership the old-school way.
Once done, all you have to do is repeat the above instructions but select Log In at the last step instead of "Sign Up Now." The ESPN Apple TV app will generate a code to enter at the espn.com/activate website, where you must go through the rest of the login procedure.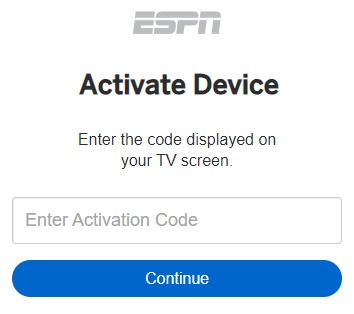 With your ESPN+ subscription linked to Apple TV, you're ready to dive into its streaming offerings. Simply navigate to the app's dedicated ESPN+ menu, where you should have immediate access to the live Monday Night Football game whenever it's streaming on the service.
You can check which MNF fixtures are actually simulcasting on ESPN+ on ESPN's official Monday Night Football TV schedule. If you don't see the "ESPN+" logo for a particular game preview, it's streamable only when authenticated with a TV provider. More on that in the following section.
Other Ways to Watch Monday Night Football on Apple TV
If you don't want to miss out on the exciting primetime match-ups airing on the other Monday nights of the NFL regular season, you'll have to shell out more for a live TV streaming plan from one of the popular providers: DIRECTV Stream, FuboTV, Hulu + Live TV, Sling TV, or YouTube TV.
The most compelling option by far is Hulu + Live TV for the following reasons: It comes with 90+ TV channels, including ESPN, ESPN2, and ABC, where you can tune in to every Monday night NFL game and the alternative Manningcast coverage we talked about earlier. You also get unlimited cloud DVR storage, meaning you can schedule recordings for upcoming MNF matches for later viewing.
What makes the subscription even more attractive, however, is its inclusion of ESPN+, so you'll also have access to the exclusive International Series game, plus a whole lot of on-demand programming related to the NFL and other sports leagues.
And since Hulu + Live TV is a full-fledged streaming television package, your access to CBS, FOX, NBC, and the NFL Network ensures an all-around coverage of the NFL regular season and playoffs leading up to the Super Bowl.
On an unrelated note, the package brings together an endless catalog of on-demand titles from Hulu and Disney+, therefore also fulfilling your entertainment needs for the dormant days of the week.
FAQ: What if I already get ESPN through my existing TV provider?
Now, as mentioned at the end of this guide's previous section, the ESPN app supports the "TV Everywhere" model, which benefits existing ESPN subscribers through cable, satellite, and streaming TV providers.
If you happen to be paying for either in the same household already, there's no need to pay extra for the ESPN+ or Hulu + Live TV plan we discussed extensively. All you have to do is link your provider credentials to the ESPN Apple TV app from its Settings (cog icon) menu.
If you don't have a TV plan but want to watch all the Monday Night Football games live, once again, Hulu + Live TV and similar cordless streamers are present. A much more affordable option would be Sling TV's Orange plan, which does include ESPN and ESPN2 and thus is suitable for streaming Monday Night Football on Apple TV on a budget.
Can You Watch Monday Night Football on Apple TV with NFL Plus?
Yes – but there's a limitation. You see, NFL+, while accessible via the NFL Apple TV app, doesn't actually allow subscribers to tune in to the local and national games it promises to offer, as they're explicitly limited to viewing live on phones and tablets only.
However, if you opt for the slightly more expensive NFL+ Premium subscription tier, you can at least catch up with the replays of the Monday Night Football match-ups shortly after the broadcasts conclude on television, alongside every football game from the regular season and postseason.
NFL+ on Apple TV still does have some live offerings, all of which we've discussed in detail in our dedicated guide here.
Also Read:
Postmatch Discussion
That's it! You've learned how to watch Monday Night Football on Apple TV. Now you can enjoy the thrill of the gridiron action that kickstarts a slate of another exciting week of the regular season, with Joe Buck and Troy Aikman's dynamic duo in the booth and Lisa Salters on the sidelines.
Make sure you tune in before the kick-off to catch ESPN's Monday Night Football pre-game coverage, Monday Night Countdown, where you can join in the discussions, analysis, predictions, and more coming from the host Suzy Kolber, along with Randy Moss, Steve Young, Adam Schefter, Lisa Salters, and more.