A Prime Membership isn't just for free deliveries and special discounts on Amazon's e-commerce site. It also offers complimentary access to what's perhaps the tech giant's best and most accessible offering, its over-the-top VOD platform.
Prime Video offers a massive streaming catalog of on-demand titles, including movies, TV shows, and some relatively high-profile originals comparable to the productions of Netflix, Hulu, and Disney Plus. Besides being bundled with the Prime Membership, it's available as a cheaper standalone subscription in many markets.
Whether you're considering signing up for the service, want to learn more about its offerings, or looking forward to bingeing the latest Prime Original series on the big screen, this guide to Amazon Prime Video on Samsung Smart TV outlines everything you need to know.
What Does Amazon Prime Video on Samsung Smart TV Offer?
Amazon Prime Video doesn't need a separate introduction. However, for those wondering, it's one of the top streaming giants that has been around for over a decade, featuring thousands of movies, shows, and an excellent selection of exclusive originals, with select titles available in 4K with HDR on a supported Samsung Smart TV.
You'll be getting access to some of the best critically-acclaimed streaming originals Amazon has to offer, including The Boys, The Marvelous Mrs. Maisel, Tom Clancy's Jack Ryan, The Expanse, Modern Love, The Man in the High Castle, plus many more exclusive high-profile titles in various languages for different European and Asian territories.
Aside from original series and acquired TV shows, Prime Video gets you the latest and classic blockbuster films and streaming-only original releases to enjoy on movie nights. And like Vudu and YouTube, Prime Video provides a further catalog of digital titles to buy or rent.
In select regions like the US, Canada, and the UK, viewers can pick from 100+ optional Prime Video Channels and add to their subscription plan if craving even more content. It includes AMC+, Britbox, Cinemax, Epix, Paramount+, PBS Kids, Starz, Showtime, Shudder, etc.
Amazon's content offerings have also expanded to sports in recent years. It's currently the exclusive home to the NFL Thursday Night Football games in the States, select Premier League games in the UK, and even more live and on-demand sports with add-ons like the MLB TV, NBA League Pass, PGA Tour Live, etc.
Overall, with Amazon Prime Video on your Samsung Smart TV, you're getting a lot of streaming content for the money.
How to Get Amazon Prime Video on Samsung Smart TV?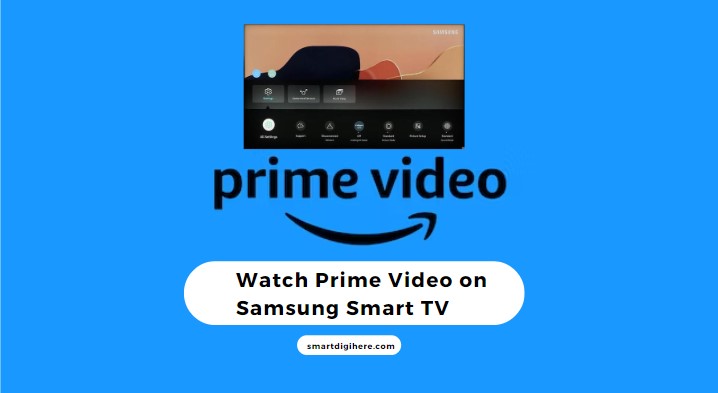 The Prime Video app comes preinstalled on all 2015 and newer Samsung Smart TVs and also supports some older models. However, if you don't see it, ensure your TV is connected to the internet and use these steps:
Press the Home button on your Smart Remote. The Home or Smart Hub screen should appear.
Select the Apps tile in the same apps row from where you access other streaming services on your TV. You may need to navigate to the left-hand side to see it.
Click the Search (magnifying glass) icon at the upper-right corner of the appstore page.
Type "Prime Video" in the search field. You should then be able to select the app in the results.
Select Install to add the app to your Samsung TV. It should take a few seconds to download.
Once installed, select Add to Home. It's to ensure quick access to the Prime Video app.
Now return to your Samsung TV's Home screen, scroll to the right of your apps list, and select the Prime Video app tile to open it. You can long-press on the app icon and click Move to reorder the list.
How to Activate Amazon Prime Video on Samsung Smart TV?
Prime Video requires viewers to join Amazon Prime or pay for the standalone monthly or annual subscription.
Head to primevideo.com from your mobile or computer browser and sign up for your preferred plan. You must register for an Amazon account and add a payment method for the recurring subscription. The pricing varies between regions.
Once you're a Prime Member or a Prime Video subscriber, perform the following steps to activate the streaming app on your Samsung Smart TV:
Open the Prime Video app on your Samsung TV.
Move to the left-hand sidebar and select Sign in at the top of the expanded menu.
The following screen will give you two ways to sign in. The easiest way is to scan the on-screen QR code with your phone camera and seamlessly sign in via the Prime Video mobile app, but you can also do the following:

Visit primevideo.com/mytv from your mobile or computer.
Enter the email address and password associated with your Amazon account and click Sign in.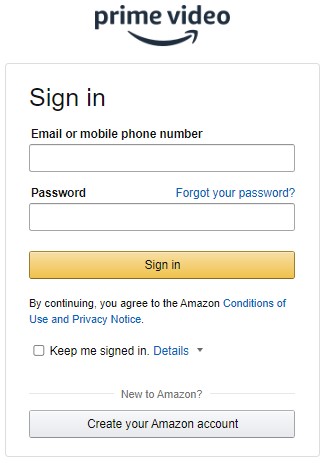 Now type in the registration code displayed on the left of your TV screen and select Register Device.
When connected, choose your Profile (or create one) from the "Who's Watching" screen in the Prime Video app, and you're ready to stream! Note you can have five additional Prime Video Profiles, including one for kids, on a single Amazon account.
At this point, you can also download and sign in to the Prime Video mobile app (Android or iOS) to cast any movie or show from the streaming catalog to your Samsung TV, provided both your devices are on the same Wi-Fi network.
Fix Amazon Prime Video NOT WORKING on Samsung Smart TV (Video Guide)
Enjoy Prime Video on Your Samsung Smart TV!
In terms of content and interface, Amazon's on-demand streaming service might not be on par with Netflix just yet. However, with Prime Video on Samsung Smart TV, you're getting plenty of great originals and blockbuster hits at a relatively affordable price and, if signing up for the Prime Membership, also some compelling online shopping benefits alongside it!
If you're looking for even more movies, TV shows, and original titles, definitely check out our guide to Max on Samsung Smart TV or ITVX on Samsung Smart TV if you're in the UK) and other streaming apps for the platform.