One of the top-ranking streaming services, HBO Max, may have just gotten a boost, as it's now repackaged to simply 'Max,' for better or worse. Despite dropping the HBO branding, the streamer brings in a wealth of entertainment from HBO and Warner Bros., and various Discovery properties.
After WarnerMedia and Discovery struck a successful merger last year, there were early speculations of an all-new platform unifying HBO Max and Discovery Plus. And just as predicted, now that Max is finally here, there's more to it than a simple rebrand. It includes upcoming exclusive additions (and subtractions)  to the streaming catalog and underlying adjustments to the pricing plans.
We'd tell you all about it, but ultimately, you're here to know how to download and watch Max on Samsung Smart TV, for which we also have you covered. Read on to find out.
What's Max?
Formerly known as HBO Max, Max aims to extend its vast programming catalog, making its streaming offerings more appealing to the broader audience. You get the movies and shows from the previous HBO Max library, including all the original goodness. Plus, it adds plenty of titles from Warner Brothers, Adult Swim, Turner, DC Universe, and Cartoon Network, among other iconic studios.
Max also incorporates Discovery Plus programming, including lifestyle and unscripted reality shows from Discovery, Animal Planet, Food Network, HGTV, ID, Magnolia, OWN, Trvl, TLC, etc. Besides that, the all-new streamer is slated to have its exclusive originals.
It's essentially an expansion of HBO Max that consists of bits and pieces of the Discovery+ library. However, the latter will continue co-existing within the streaming space as a niche alternative for those only interested in Discovery content.
How to Get Max App on Samsung Smart TV?
Like its predecessor, Max works on all Samsung Smart TVs manufactured in 2016 and later. You can check out the entire list of supported models on the Samsung Appstore overview for the Max app here.
The good news is that Warner Bros. Discovery offers a seamless migration for existing HBO Max subscribers to their updated streaming platform, including the user profiles, watch lists, recommendations, and billing details. If HBO Max was installed on your Samsung Smart TV earlier, it's a matter of updating the app if it isn't already.
Whether you're a new user or haven't received the update to the new 'Max' app, follow these steps to get Max on your Samsung Smart TV:
Power up your Samsung TV and ensure it's on your home Wi-Fi or LAN network.
Access the dashboard by pressing the Home button on your remote. Navigate to and select the Apps tile on the left.

Explore the Apps catalog for the Max.

If it isn't there, move to the upper-right corner and select the Search (magnifying glass) icon.
Use the on-screen keyboard to type "Max" in the text bar, then click Done.
Choose the Max app in the results. Once on the overview page, click where it says Install or Update.
Once the download completes, click Add to Home and return to your Home dashboard.
You may now access Max from the apps row of your Samsung Smart TV. Use the Edit List (found at the end of the dashboard) option should you want to move the streaming app to the front of the list for faster access.
To ensure you're always running the up-to-date version of the Max app, go to the Apps > Settings menu on your Samsung TV and confirm the Auto Update option is toggled ON. Note that only newer Tizen versions offer this feature.
Check Out: Get Max on Fire TV Stick
How to Watch Max on Samsung Smart TV?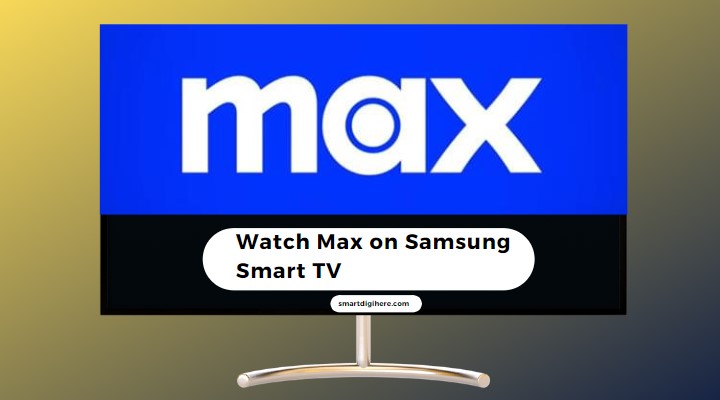 Legacy HBO Max subscribers can log into the Max app with the same old credentials – no need to register separately. If you receive HBO/HBO Max through your cable, satellite, or streaming television provider or a cellular carrier, Max also allows you to sign in with your provider details. The list includes AT&T, Cox, DirecTV, Hulu, Prime Video Channels, Verizon, and Xfinity, among other services.
If you're new to Max, head to max.com from your phone, tablet, or computer to sign up for a plan. Max has the same subscription plans as its predecessor but with the addition of a new 'Ultimate' tier:
Ad-Lite: Full HD playback, commercial breaks, and stream on two devices
Ad-Free: Same as Ad-Lite but with zero advertisements
Ultimate: 4K HDR with Atmos audio, no ad breaks, up to four concurrent streams
All three plans are available at monthly and annual prices. Once you pick your subscription, go through the on-screen steps and provide the necessary details to create your account. Then confirm your billing information. Be sure to check your mail inbox for a verification email from Max.
Whether you just signed up for Max or already had an account on HBO Max earlier, follow these instructions to activate the streaming app on your Samsung Smart TV.
Open Max on your Samsung TV and click the Profile icon at the top.
Choose "Sign In" in the following menu. You should see some instructions on the screen with a six-character code.
Open a new browser tab on your phone or computer and visit the URL (g., activate.max.com, max.com/activate) shown on your TV screen.
Enter the activation code from your TV and tap Next.
Finally, enter your account email and password, and click Sign In.

If you get Max through a provider, select the "Sign in with a Provider" option, choose your provider from the list, and follow the on-screen prompts to log into your provider account.
Upon successful login, the Max app will redirect you to the "Who is Watching" screen, where you can choose (or manage) your preferred profile and start watching!
Recommended Reading: Fix Max Black Screen
FAQ: Can I cast Max on Samsung Smart TV?
Samsung Smart TVs don't have Chromecast built-in, so Android users must plug in an external Chromecast puck to cast content from the Max mobile app onto the big screen.
That said, select Samsung TV models (2018 and newer) are AirPlay 2-compatible, meaning iPhone and iPad users can download Max from the App Store, log in, then pick a movie or show of their choice, and cast the stream to their TV via AirPlay. Samsung offers a list of all its AirPlay-enabled Smart TVs and monitors that you can check here.
Related: Max not working on Samsung TV? – Try these Fixes
What to Watch with Max on Samsung TV?
After the WarnerMedia-Discovery merger, HBO Max underwent major programming shifts in the past year. The streamer canceled and removed dozens of movies and TV shows, ranging from scripted hits like Westworld to reality shows like Craftopia.
Some original projects, such as Batgirl and Scoob! Holiday Haunt were axed to save money. Discovery Plus was also deprived of some titles, such as House Haunters and Love in the Jungle, before the two streamers merged their catalogs.
However, Max promises to make up for the losses with new exciting content. It also retains the majority of the content from HBO Max and a curated selection of Discovery titles. You can watch critically-acclaimed HBO Originals, Max Originals, and the latest Warner Bros. movies on Max, as well as shows from Discovery's suite of networks.
Fans of DC, Harry Potter, Game of Thrones, The Conjuring, The Lord of the Rings, and The Big Bang Theory can look forward to spin-offs of these popular franchises on the streaming service. Other original series include a mini-drama starring Kate Winslet, a thriller based on a Pulitzer Prize-winning novel, a dating show from the makers of 90 Day Fiancé, and Chip and Joanna Gaines' new Fixer-Upper hotel makeover spin-off.
Max also emphasizes various content for families and children catering to different age groups, with more animation and entertainment from well-known brands such as Cartoon Network, Boomerang, Hanna-Barbera, Looney Toons, and DC. One of the highlights is a new animated adaptation of Peter & the Wolf by Bono and Gavin Friday.
Like its predecessor, Max promises to be the streaming destination for many Warner Bros. films after their theatrical runs. You can currently watch the latest Shazam! Fury of the Gods on Max, with upcoming titles slated to release include Blue Beetle, Dune: Part 2, Barbie, Joker: Folie à Deux, and so on. The Flash is also to come to Max in the fall.
So, whether you want to watch the final episode of Succession, the satirical comedy-drama about a powerful media family, or the second season of House of the Dragon, a fantasy drama based on George R.R. Martin's novels, and The Last of Us, the post-apocalyptic thriller hit everyone's talking about, you'll be turning to Max.
Also Read: Fix Samsung Smart View No Sound Issue
Bottom Line
Max aims to be "the one to watch," unifying the vast catalog of content from HBO, Warner Brothers, and Discovery properties under one roof.
Whether Warner Bros. Discovery is successful in becoming a household name like Netflix, Disney+, or Prime Video remains to be seen, but one thing is for sure; you can install Max on Samsung Smart TV by following our guide. As you can see, enjoying all of what the streamer offers just takes a couple of steps, and there's no need for an external streaming player.