The following article will show you the best clip On fitness trackers. Our rating system can guide you to find a Clip that exceeds your expectations.
Smartwatches or fitness trackers are usually for wearing on the wrist. However, you may not like sporting such smart wearables simply because you find them uncomfortable to wear throughout the day, especially in summer. Lucky for you, some trackers can actively monitor your activities and performance undercover and ensure you hit your daily fitness goals.
Assuming you don't want a fitness band or smartwatch, but something that clips onto your shirt pocket, waist belt, shoe, or undergarment and discreetly captures data, a clip-on fitness tracker is an ideal choice. Such wearables feature the same sensor array as your typical Fitbits and Garmins, except you don't necessarily have to put them on your wrist.
This buying guide showcases the best clip on fitness trackers— wearables that can help you maintain a healthier lifestyle while staying hidden out of plain sight. They're all readily available on the market, so take your time to scroll through the options and make the right purchase.
The Best Clip on Fitness Trackers to Buy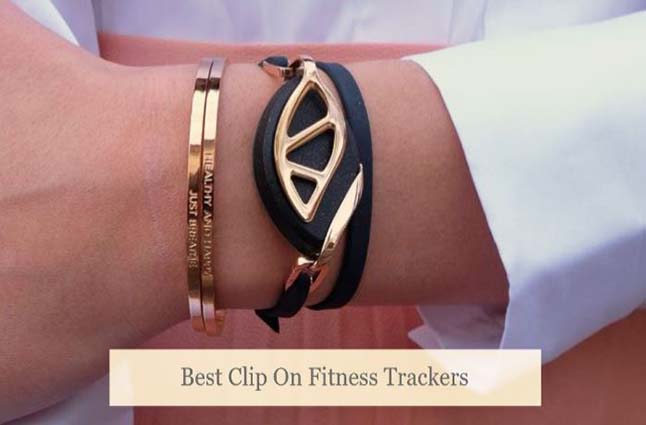 Below are our top picks for clip on fitness trackers and links to where you can buy them. If you want to learn which key factors influenced our recommendations, continue reading to the next section.
Bellabeat is a wellness brand developing smart wearables for women. Its Leaf Urban health tracker has been around for quite some time. It remains one of the best clip-on fitness trackers for women, and there are plenty of ways to wear it.
The Leaf Urban comes with two accessories, Infinity Necklace and Active Bracelet, but one can also use it as a clip-on tracker. The device itself can track your steps, distance traveled, calories burned, and auto-detect various types of activities. It even monitors your sleep patterns, stress sensitivity, and reproductive health.
Although the tracker lacks HR and SpO2 sensors, it's at least IPX6 water-resistant. The Bellabeat companion app, while quite rudimentary, offers handy features like period tracking, sleep tracking, smart alarm, water intake reminders, and meditation exercises.
The premium subscription unlocks personalized wellness coaching programs and a sizeable library of fitness, mindfulness, beauty, and nutrition videos. iPhone users can also sync their Leaf data to the Health app.
The best part is that you don't have to charge the Leaf Urban as often as other wearables. The tracker operates on a coin cell battery that lasts up to six months. Of course, you can use the included battery replacement tool when it's time to swap out the cell.
| | |
| --- | --- |
| Pros | Cons |
| Non-intrusive, stylish jewelry design | No heart rate or blood oxygen monitoring |
| IPX6 water resistance | Some app features require subscription |
| Cycle tracking and stress monitoring | |
| Battery lasts up to six months | |
The Whoop 4.0 is another lightweight and minimal wearable built for professional athletes and fitness enthusiasts, helping them understand their fitness level and recovery needs. Though one's supposed to wear it on the wrist, Whoop also allows users to clip the tracker to inner clothing.
Apart from the SuperKnit fabric band supplied in the box, Whoop offers its "Body" apparel range designed for everyday wear, providing users with more tracker placements. It includes boxers, shorts, tops, leggings, and other men's and women's undergarments made of Poly Lycra and Pima Cotton fabrics. The Whoop 4.0 slips into the specialized pod of the garments and tracks your activities and health metrics all day.
The Whoop tracker's key selling points include tracking what Whoop designates as Strain. The score quantifies how much strain your body takes daily through training and workout. It also actively monitors your heart rate and sleep quality to estimate a recovery score. There's even more data to scoop through in the Whoop mobile app.
If you're eyeing up a screen-less fitness tracker that you can wear anywhere other than your wrist, Whoop is a fantastic option to consider. The only caveat is its subscription model for the hardware and software and not a one-time purchase.
| | |
| --- | --- |
| Pros | Cons |
| You can wear the Whoop behind clothing | No GPS built-in |
| HR, SpO2, and skin temperature tracking | Unavailable for one-time standalone purchase |
| Includes a battery pack for seamless charging | |
| Waterproof up to 10 meters | |
Related Guides
The Inspire 3 is Fitbit's brand-new budget fitness band designed primarily for wearing on the wrist. However, just like its successful predecessor, Fitbit Inspire 2, the tracker doesn't necessarily have to be placed on your wrist. Instead, you can buy the Inspire 3 Clip accessory alongside the Inspire 3 to secure the tracker to your T-shirt neck, pocket, waistband, belt, or undergarment.
With the "Clipped on body" mode enabled, the device can track your steps and traveled distance, estimate calorie burns, auto-detect exercises, and monitor your sleep patterns. The Active Zone Minutes feature, heart rate and blood oxygen tracking, and irregular heart rhythm notifications work when wearing the tracker on the wrist.
If you want Fitbit's fitness tracking features while keeping it discrete, the Inspire 3 is your best option.
| | |
| --- | --- |
| Pros | Cons |
| Dedicated "Clip-on" mode | No Fitbit Pay (NFC payments) |
| Colorful screen with AOD support | Requires Fitbit Premium subscription for some companion app features |
| Detailed activity and health tracking | |
| Affordable pricing | |
Alternative Option: Fitbit Inspire 2
Compared to its predecessor, the Inspire 3 gets a revamped design, a bright OLED color screen with always-on-display support, and a PPG (Photoplethysmography) sensor capable of detecting signs of atrial fibrillation. It even comes with six months of free Fitbit Premium membership and promises up to 10 days of battery life.
However, if you don't find any of these improvements justifying the price, opt for the Inspire 2 instead, especially now that it's available at a deep discount. With it, you should also purchase the Huadea 4-Pack Silicone Clip Case accessory set should you not find the official Fitbit Inspire 2 Accessory Clip in stock.
Similar to the Fitbit Inspire 3 and 2, you can use a clip-on accessory with the Xiaomi Mi Band 6 to attach it to your clothing and let the device track your activities away from your wrist. And when you want to use it as a smart band, the 1.56-inch AMOLED display will allow you to keep track of your daily stats, control music playback, and check phone notifications.
Of course, when you're using the Mi Band 6 as a clip-on tracker, it won't be able to capture your heart rate and monitor your blood oxygen saturation or stress levels. However, it'll at least cover your step counts and distance and detect exercises.
If that's all you want, the Mi Band 6 is an excellent fitness tracker for the price. We recommend the Dan&Dre Soft Waterproof Clip Holder as a perfect clip-on accessory for this Xiaomi wearable.
| | |
| --- | --- |
| Pros | Cons |
| Affordable yet premium feeling | Companion app lacks polish |
| Outstanding 14-day battery life | No NFC on global model |
| Up to 30 sports modes built-in | Inconsistent sleep monitoring |
| 5 ATM water resistance | |
Alternative Option: Xiaomi Mi Band 7
Xiaomi has recently introduced the Mi Band 7 with an updated array of sensors, a slightly bigger and brighter display, 100+ built-in exercise/workout modes, larger battery, and a new host of colorful straps.
Those willing to spend a bit more for such quality-of-life improvements should get the Xiaomi Mi Band 7 instead. Not till recently, there were no options to wear the budget tracker elsewhere on the body. Now you can get the Silicone Clip Holder Case from FitTurn for the Mi Band 7 and use it as a clip-on fitness tracker.
The Running Dynamics Pod isn't a standalone clip-on tracker and is only for existing Garmin smartwatch owners. It provides additional information about one's running dynamics, which is crucial to those who take running seriously, such as sprinters and marathon runners.
As for the benefits, the Garmin Pod allows users to view and analyze six vital running metrics and biomechanical measurements like cadence, ground contact time and balance, stride length, vertical ratio, and vertical oscillation. Once paired with a compatible Garmin wearable, you can view all that data through the Garmin Connect mobile app.
The tracker weighs less than five ounces and clips onto the back and center of your waistband, meaning it doesn't interfere with your runs. Its replaceable battery lasts up to a year, assuming you're using it for an hour daily.
If you're a Garmin watch owner and are serious about your running performance, the Running Dynamics Pod is a must-have.
| | |
| --- | --- |
| Pros | Cons |
| Best clip-on tracker for runners | Requires a compatible Garmin watch |
| Tracks six types of running dynamics | Not suitable for treadmilling exercises |
| Year-long battery life | |
Things to Consider when Buying a Clip on Fitness Tracker
If you're looking for a tracker to wear on clothes, take into account the types of clothes to which you can clip it. Some clip on fitness trackers like the Whoop 4.0 even require special garments for full fitness tracking and health monitoring, so it's good to verify such requirements beforehand.
Some trackers work better on a particular tracking scenario than others. So, whether you simply want a clip-on wearable to track your steps or monitor your sleep, decide the kind of metrics you want to track discreetly and then choose based on your needs.
Ensure the clip-on fitness tracker you're planning to buy features some level of protection against dust and water. You're supposed to wear it all the time, after all. And depending on where you live, you may often find yourself in harsh weather conditions. The tracker might be out of sight, but it should also be able to hold up well against regular wear and tear.
Another crucial thing to consider is the battery performance, considering you'll wear the tracker all day. Fortunately, all the clip-on fitness trackers listed above offer long-lasting battery life, so you don't have to worry about charging them often.
Wrapping Up
This guide covers the best clip on fitness trackers you can buy today. In addition to our primary picks, we've mentioned alternative options for you to choose from. We also discussed the key factors to consider when shopping for a clip-on fitness tracker— so you can make a purchase decision yourself.