Max is an all-new streaming service that offers subscribers access to a bevy of Warner Bros. Discovery content. It includes the latest and classic HBO Originals, a wide-ranging catalog of movies and series from some of Warner Bros.' beloved franchises and renowned studios, and a flood of documentaries and unscripted lifestyle, food, true crime, and reality programs from Discovery network properties.
If that sounds familiar, you're likely not the first to assume so. Max is essentially a rebrand of WarnerMedia's HBO Max streamer, resulting from the monumental Discovery-WarnerMedia venture finalized in 2021. Besides the updated branding, Max brings in an immense wealth of Discovery+ content in addition to what was streaming already on HBO Max.
Despite the coming changes, the good news is that Warner Bros. Discovery is reassuringly making the big transition as seamless as possible by keeping the list of compatible devices the same.
If you have an Android or Google TV-powered Sony BRAVIA TV, you can continue enjoying your favorite HBO and WB films and shows alongside the latest additions on the big screen. Follow this guide to learn more about downloading and watching Max on Sony Smart TV.
How to Install Max on Sony Smart TV?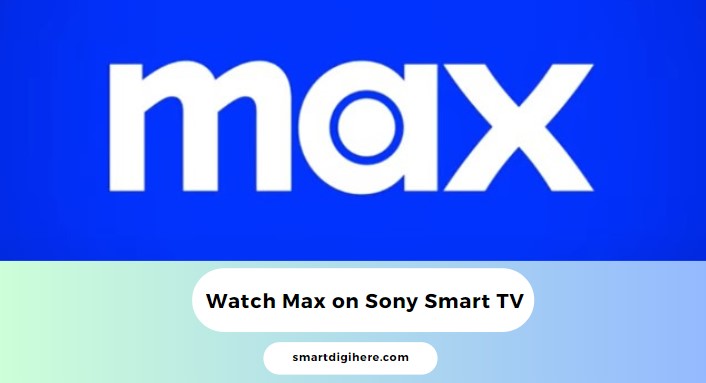 Max has begun replacing the legacy HBO Max app as an update rolling across supported platforms. However, if you still see the older app on your Sony Smart TV, don't fret – simply launch it from your Home screen or Apps menu, and you should get a prompt redirecting you to the Play Store to download the new streamer app.
Note: Upon installing the latest Max app, you may promptly remove the deprecated HBO Max app from your Apps menu by highlighting the app tile, holding the SELECT remote button, and choose Uninstall. It'll free up some storage.
If you didn't use HBO Max before and are eager to try out the new streaming catalog, use these steps to install Max on Sony BRAVIA Android TV:
Power on your Sony TV and ensure it has internet access over Wi-Fi or LAN connection.
Hold the HOME button on the remote to quick-switch to the Apps menu, then find and choose Play Store.
Navigate to the top of the Play Store catalog and select the Search ???? tab.
Use voice search (microphone icon) or the on-screen keyboard to search for the "Max" app.
Choose Max from the top search results, then click the prominent Install button on the description screen.
To launch Warner Bros. Discovery's new Max app on your Sony Smart TV, return to your Apps menu from the Android TV Home screen, scroll to the bottom of your installed apps, and click the corresponding app tile.
For easier access the next time, we suggest moving it to the top of your Apps list or adding it to the "Favorite apps" row on the Home screen. Simply highlight the Max app tile, hold the SELECT remote button, and choose your desired action.
Steps for Google TV-Powered Sony BRAVIA TVs
Press the Google Assistant button on your remote and say, "Find the Max"

Alternatively, press the HOME remote button and highlight the Apps tab at the top.
Select the 'Search for apps' field on the following screen and use the on-screen keyboard to search for the "Max" app.

Choose Max from the search results that appear under the text bar.
Finally, hit the Install button on the app overview screen.
To access Max, head to the Apps tab from your Sony Google TV's Home screen and find the newly-installed streaming app under the "Your apps" row. Click "See all" if you can't find Max, and scroll down to the bottom of the list.
Read: How to Fix Max Downloads Not Working Issue
Cast / AirPlay Max to Your Sony Smart TV
Every Sony BRAVIA Android TV has Chromecast built-in, with the newer models also adding the Apple AirPlay function. Max supports both, and you can use the mobile app to stream movies and shows from your Android/iOS phone or tablet to your TV – without the hassle of installing Max on your TV first.
Assuming your devices are running the latest software and connected to the same home network over Wi-Fi or Ethernet, follow these instructions to cast or AirPlay Max's streaming content to your compatible Sony BRAVIA TV:
Download the Max app from your device's respective storefront, launch it from your Home screen, and sign in.
Explore Max's content library and tap the title you want to watch on your big screen.
Start playing it, then tap the Cast or AirPlay button in the floating bar over the video player.
Choose your BRAVIA TV model from the menu. You'll see the Max splash screen, immediately followed by the selected content playing on your TV.

When using AirPlay, it may ask you to confirm the four-digit passcode for the first time.
You can use your phone or tablet as a remote to control the video playback and stop the casting.
When using a Windows or Mac laptop, you may cast movies and shows from Max's official website, max.com, by clicking the Cast or AirPlay icon in the web player controls. Ensure your Chrome, Edge, or Safari browser is up to date for casting to work as intended.
Chromecast should work out of the box, but you may need to configure AirPlay if you don't see your Sony Smart TV in the AirPlay menu, despite being connected to the same network as your Apple device. To do so:

● Press the Input button on the remote to bring up the Inputs bar. Scroll to the right, click Edit, and ensure to tick the AirPlay icon.
● Return to the Inputs bar and select AirPlay.
● Head to the AirPlay and HomeKit Settings and set AirPlay to On.
Recommended Reading: Watch Max on PS4 & PS5
How to Sign into Max on Sony Smart TV?
Warner Bros. Discovery has promised to migrate existing HBO Max accounts to the new platform without deleting the users' profiles, watch history, settings, etc. Legacy HBO Max subscribers can use the same old login email and password to sign into the Max app on Sony Smart TV.
Similarly, anyone subscribed to HBO or HBO Max through cable, broadband, or wireless provider should now be able to sign into Max with their provider credentials and access its streaming content. At the time of writing, the list includes popular providers like AT&T, Dish, DIRECTV, Hulu, Prime Video Channels, and Xfinity, and is growing as we speak.
Besides the Ad-Lite and Ad-Free plan HBO Max offered, Max now has a third costlier Ultimate subscription, which supports up to four simultaneous screens and is now the exclusive tier for 4K HDR streaming for a growing number of films and originals on the platform.
Legacy HBO Max subscribers will continue to enjoy their current plan benefits on Max (e.g., 4K streaming with the Ad-Free plan) for the next six months.
If you didn't have a subscription prior to the rebrand, signing up for Max is straightforward. Head to max.com from your mobile or PC web browser and find the Sign Up or Subscribe option, after which it's a matter of a few minutes through the account creation and email verification. You'll need to choose your plan monthly or annually and finalize the purchase by confirming your billing details.
When you have your Max subscription, follow the steps below to log into the streaming app on your Sony Smart TV.
Open Max from the Home or Apps menu of your Sony Android or Google TV.
Click the Profile icon at the top of the app's Home page, and select Sign In on the next screen.
Fill in the login fields with your account email and password using the on-screen keyboard, then click Sign In.

If you want to log in with your provider, choose the "Sign in with a Provider" option instead. A 6-character code will appear on your TV screen.
Next, head to the provided activation link (e.g., max.com/activate) from your mobile or computer web browser.
Enter the activation code displayed on your TV and hit Next.
Click View All Providers and choose the provider through which you get Max.
Log in to your provider account and follow the on-screen prompts for authentication.
That's it! You may now pick your profile (or create/configure one) from the "Who is Watching" screen and choose from thousands of hours of TV shows, movies, and exclusive originals to stream on your Sony BRAVIA TV.
Note:
Discovery+ remains a cheaper standalone service despite most of its content now being available on Max. If you have a Discovery+ subscription, you won't get access to WBD's new streaming platform.
Read also: How to Get Max on Firestick
What Does Max on Sony Smart TV Offer?
Max promises to be a one-stop shop for all your entertainment needs. With Max on Sony Smart TV, you'll have access to an extensive collection of iconic series, fresh and exciting Max Originals, award-winning movies, and family favorites, featuring the worlds of Harry Potter, Game of Thrones, the DC Universe, and more.
The best thing about Max is the sheer amount of on-demand titles – an expansive programming library from globally-recognized brands and studios like HBO, HGTV, ID, Magnolia Network, TLC, Food Network, Turner, Adult Swim, and renowned franchises.
Max features hundreds of exclusive original series from HBO and Max, including all the critically-acclaimed dramas, comedies, and thrillers social media can't stop talking about. Besides the grown-up fare as The Last of Us, House of the Dragon, True Detective, Euphoria, and Succession, there's a lot more exciting stuff on the way.
Its library includes complete seasons of many cult-hit TV shows like Friends, The Big Bang Theory, South Park, Rick and Morty, 90-Day Fiancé, Fixer Upper, House Hunters, Looney Tunes, Sesame Street, and more. It also boasts of having the biggest streaming collection of DC shows and movies, so fans of the DC Universe will have plenty of content to enjoy.
Unlike its predecessor, Max also promises to deliver more family-friendly content – so you can enjoy entertainment suitable for the whole household of every mood and taste. If you're a fan of fascinating documentaries and unscripted series or looking to watch the latest WB-produced feature films, Max got you covered there too.
Related Articles
Wrapping Up
From HBO Now to HBO Max to just 'Max' – we've come a long way and are finally entering a new era of Warner Bros. Discovery's streaming platform. It combines the best of HBO Max's can't-miss shows and Discovery Plus' real-life entertainment programs, offering a complete on-demand catalog for all ages.
With Max App on Sony Smart TV, you can enjoy its extensive mosaic of titles on your big screen whenever you want. If you still have queries after going through this guide, shoot them to us in the comments below!