2020 is the year HBO Max rose from the ashes of WarnerMedia's HBO Go and HBO Now SVOD services to compete with other streaming giants like Netflix, Disney+, and Prime Video. 2022 saw WarnerMedia's super-messy merger with Discovery, causing several upcoming theatrical and television projects to be shelved as a cost-cutting measure.
Continuing the trend, HBO Max has recently spun off to just "Max," Warner Bros. Discovery's new flagship streaming platform. Despite losing its core brand identity, it keeps most of HBO Max's offerings while incorporating a fresh programming lineup from the Discovery Plus OTT platform.
Max advertises to be "The One to Watch," which seems likely with all the iconic TV shows, original series, award-winning films, documentaries, and family-friendly programs it promises to deliver. The good news is you can discover and enjoy its on-demand streaming library on your Sony PlayStation console.
Our guide to Max on PS4 and PS5 covers the tidbits of WBD's new streaming service, with detailed instructions for downloading and logging into the Max app on palystation.
What Does Max on PS4 & PS5 Offer?
Max promises to offer a full-fledged entertainment experience one can easily enjoy from a wide range of devices, including the last and current-gen PlayStation consoles.
You'll have access to an extensive collection of popular series, movies, and Max Originals featuring iconic franchises such as the Wizarding World, Monsters, Middle-Earth, Game of Thrones, the DC Universe, and more.
Max's library further impresses by including best-in-class programming across home, food, lifestyle, and reality from leading Discovery-owned networks like HGTV, ID, TLC, and Food Network, as well as hundreds of exclusive HBO productions that have taken the world of TV entertainment by storm over the years and new Max Originals.
In addition to HBO's adult-oriented content like The Last of Us, House of the Dragon, Euphoria, Succession, and True Detective, Max also makes a good deal of family-friendly options available. It goes on to include complete seasons of cult classics like Friends, The Big Bang Theory, and Rick and Morty, as well as an extensive streaming collection of DC shows and movies.
You can also watch fascinating documentaries, unscripted series, and the latest feature films produced by WB. With something for everyone, Max somewhat stands out from the rest of the bloated and volatile streaming world – at least for now.
Also, Read: Max Not Working on Firestick – Try These Fixes
How to Get Max on PS4 & PS5?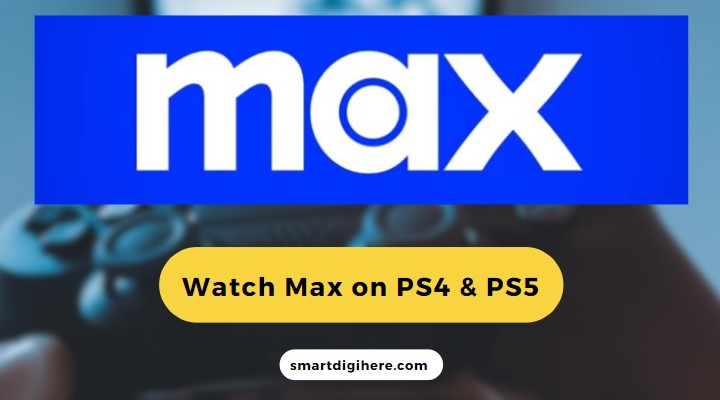 Warner Bros. Discovery has ensured a seamless migration path for its legacy HBO Max users by pushing the all-new Max app as an update across most of the supported devices, including the PlayStation 4 and 5 consoles.
If you had the older HBO Max installed on your PlayStation, you should already have access to the new Max streaming app from your Library. That's assuming your game console is on the internet and linked to your PSN account, with auto-updates for apps and games enabled.
For those PS4 / PS4 Pro owners still seeing the older app, use these steps:
Scroll to and select Library from the Home screen.
Navigate to the Applications tab on the left-hand side, and find and highlight the HBO Max tile on the list.
After that, press the OPTIONS button on your DualShock 4 controller, and click Check for Update in the following menu that appears.
If you see the "An update files for this application is available" message, click "Go to [Downloads]" to see the update progress.
If you have a PlayStation 5, use these steps to update to the latest Max app:
Head to the Media tab from your PS5 Home screen.
Highlight the HBO Max app in the carousel.
Press the OPTIONS button on your DualSense controller, then select Check for Update in the context menu.
To ensure Max (and your other apps and games) is always up to date, go to your PS5's Settings > Saved Data and Game/App Settings menu, scroll down to Automatic Updates, and turn on the Auto-Download and Auto-Install in Rest Mode options.
Of course, some of you may have never used HBO Max. New users can follow the instructions below to download Max on PS4 or PS5.
PlayStation 4
Open the PlayStation Store from your Home screen.
Explore the Media catalog or use the Search function to find the "Max" app.
Select Max in the search results, then hit Download on the app overview screen.
Launch the app from your Library > Applications section or access it from the TV & Video menu.
PlayStation 5
Switch to the Media tab from the top of the Home screen.

Select All Apps, then go through the list to find Max.
On the preview screen, click Download. It shouldn't take any longer than a minute.
Once installed, you can access the all-new Max streaming app from your console's Home, Library, or TV & Video menu.
How to Activate Max on PS4 & PS5?
At their April 2023 press event, Warner Bros. Discovery assured that users' profiles, watch history, billing information, settings, and other data would remain when migrating existing HBO Max accounts to the new platform at no extra cost. Subscribers of the old HBO Max can sign into the Max app on their PlayStation console using their existing login email and password.
Likewise, individuals subscribed to HBO or HBO Max through TV, internet providers, or mobile carriers can now utilize their provider login data to enjoy Max's streaming offerings. The list currently comprises prominent providers such as AT&T, Cricket, Dish, DirecTV, Hulu, Optimum, Prime Video Channels, Verizon, and Xfinity, and it's continuously expanding.
In addition to the Ad-Lite and Ad-Free* plans, Max introduces a third subscription tier called Max Ultimate, which is pricier but allows concurrent streaming on up to four devices. It also includes 4K HDR with Dolby Atmos playback for an expanding selection of films and series on the platform.
*Despite the new Ad-Free plan dropping one device stream and 4K streaming, legacy subscribers will retain their older plan perks on the latest service for six months following Max's May 2023 debut.
Those who didn't have an HBO Max account before the rebranding should find it relatively simple to register for Max:
Open a new browser tab on your current device and go to max.com
Look for the "Subscribe" or "Sign Up" option.
Follow the on-screen prompts and provide the necessary details to create and verify your account. It should only take a few minutes.
Choose your plan and billing cycle (monthly or annual), and confirm your banking details to activate your Max subscription.
Whether you were a paying HBO Max user, got HBO through a third-party provider, or are a new Max subscriber, use these steps to log into the new streamer app on your PS4 or PS5:
Launch the Max app from your console's Home screen, Media tab, or Library
Navigate to the Profile option at the top and select it, then choose Sign In.
Enter your Max account email and password in the respective fields and click the Sign In Bring up the virtual keyboard by pressing X on your DualShock or DualSense controller.

If you get Max through a TV or mobile provider, click the "Sign in with a Provider" button at the bottom. It'll bring up an activation screen with a 6-character code.
Go to the website (e.g., max.com, max.com/activate) displayed on the activation screen from a new browser tab on your phone or computer.
Type in the code shown on your TV and choose Next.
Select View All Providers and pick yours from the list.
Sign in with your provider account details and proceed through the rest of the authentication process.
Congratulations, you're all set! You can now select your profile (or create one) from the "Who is Watching" screen and access a vast selection of critically-praised TV shows, blockbuster films, and trending originals to stream on your PS4 or PS5.
Check out: Watch Max on Xbox One, Series S, & X
Enjoy Streaming Max on PS4 & PS5
HBO Max has morphed into Max, but what hasn't changed is the subscribers' ability to enjoy its offerings on their home entertainment devices. Our guide outlines the steps to install and activate Max on PS4 and PS5, with additional details on what has changed and what hasn't from its predecessor.
We also have dedicated guides to download and log into the Max app on the LG, Samsung, and Vizio Smart TVs in great detail. If you own any of the following, we strongly recommend checking them out.