Have you ever logged in to your Netflix account, only to be greeted with the message "Your account can't be used in this location"?! Fear not, dear reader, for you are not alone in this struggle.
While the message may seem challenging, there are a few simple solutions to this problem. From traveling to using an unauthorized source, there are a variety of reasons why this error may occur.
Believe it or not! But with the help of the following tips and tricks, you'll be back to binging your favorite shows in no time! So, let's dive into the causes and solutions of the "Your account can't be used in this location" error on Netflix.

Reasons why your Account may not work in a Particular Location
Now that we know that sometimes our Netflix account might not work in a particular location, there are some reasons as to why! You might be experiencing issues due to one of these factors:
Traveling to a different country: Certain content may not be available in certain regions due to licensing restrictions.
Your account may be included in a package: If you're accessing Netflix through a package deal from a third-party provider, there may be restrictions on content access.
Your account wasn't purchased from Netflix directly: If you bought your account from an unauthorized seller, it may not work in certain locations or may be blocked altogether.
Your device isn't certified for use with Netflix: Some older or unsupported devices may not be able to stream Netflix content.
You're sharing your Netflix account: If too many people are using your account simultaneously, it may cause issues with streaming or accessing content.
In case you encounter problems accessing your favorite shows or movies when traveling or in a new location, keep these factors in mind.
How to Fix Your Account Can't Be Used In This Location Netflix Error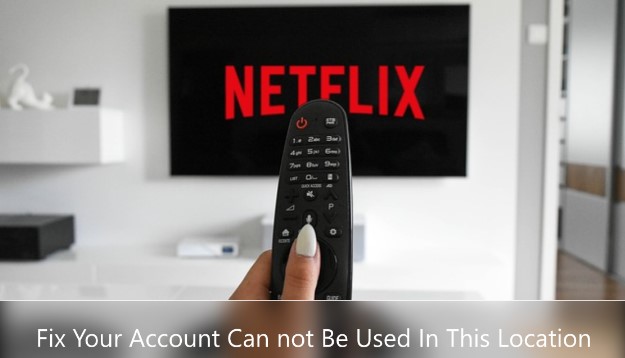 Taking a look at the reasons we have, let us now see what we can do to resolve the issue in order to fix it.
Check and Update Your IP Address: The first solution is to check your IP address and update it if necessary. If your IP address doesn't match the country you're trying to access Netflix from, you can change it by using a reputable VPN service or a proxy server.
Disable VPN Usage: If you're using a VPN and receive the error message, you should disable your VPN and try accessing your Netflix account again. If you're still unable to access your account, it may be because Netflix has blocked your account due to VPN usage.
Use a Trusted VPN Service: If you're using a VPN to access Netflix, make sure you use a reputable VPN service that can bypass Netflix's geoblocking. As part of this list, Express VPN, Nord VPN, Surfshark, and Proton VPN are some of the most trusted VPN services available on the market.
Use a Smart DNS Service: A smart DNS service can also help you bypass regional restrictions and access content not available in your country. Smart DNS services work by redirecting your DNS queries through a server in a different country, allowing you to access content not available in your region.
Change Your Netflix Region Using a VPN: If you're traveling to a different country and want to access your Netflix account, you can change your Netflix region using a VPN. By using a VPN, you can change your IP address to one that matches the country you want to access Netflix from, allowing you to access your account without receiving the error message.
Contact Netflix Customer Support: If you're still unable to access your Netflix account after trying the solutions mentioned above, you can contact Netflix customer support. They can help you resolve the issue by either updating your account information or providing additional solutions to help you access your account.
The thing is, there is no guarantee that these solutions will work for every user. Users may find that one solution works better for them than another, while others may need to try a combination of solutions.
Tips: Here's how to Avoid it in the Future!
Always Use a Trusted VPN Service: Using a low-quality VPN service can result in Netflix detecting VPN usage, which can result in your account being blocked.
Use a VPN that Can Bypass Netflix's Geoblocking: Some VPNs may not work at all, while others may only work for a short period before being detected by Netflix. Make sure you choose a VPN service that has a good track record of helping you bypass Netflix's restrictions.
Check Your IP Address: If your IP address doesn't match the country you're trying to access Netflix from, you're likely to receive the error message. By checking your IP address, you can ensure that you're using the right VPN server to access Netflix.
Avoid Traveling to Countries with Strict Internet Restrictions: If you're traveling to a country with strict internet restrictions, you may not be able to access your Netflix account. Countries such as China and North Korea have strict internet restrictions, which can prevent users from accessing websites and services such as Netflix.
Follow Netflix's Terms of Use: Make sure you follow Netflix's terms of use when using their service. Violating their terms of use can result in your account being suspended or terminated. Always use their service responsibly and avoid using a VPN or proxy server to access content not available in your region.
You May Like Our Other Guides
Final Thoughts
That's it, guys; Netflix's Your Account Can not Be Used In This Location message can be solved easily! Use a VPN to access Netflix from a different location. Another option is to contact Netflix customer support for assistance.
While this message can be annoying, it's important to remember that Netflix implements this measure to protect the rights of content owners.
So, if you encounter this message, don't give up! Instead, explore your options and find a way to enjoy your favorite Netflix content.