In today's rapidly-evolving gaming landscape, the convenience of downloading the latest games directly to your console or PC has become a game-changer. Gone are the days of physical discs as the primary means of game distribution.
With the rise of digital marketplaces, players can enjoy immediate access to their favourite titles without walking to the store or waiting for their game discs to arrive in the mail. And as AAA developers push the visual fidelity further for the next-gen, managing these massive install sizes is getting exceedingly difficult, even on high-density Blu-ray discs.
However, there's a twist when it comes to the PlayStation 5, Sony's cutting-edge gaming console. The PS5 comes in two versions: the Standard Edition with a disc drive and a more affordable Digital Edition without.
While the disc-less digital variant seems straightforward regarding game downloads, a common question arises for those with the disc version: "Can you download games on PS5 disc version?" This article will answer your question.
Can You Download Games on a PS5 Disc Version?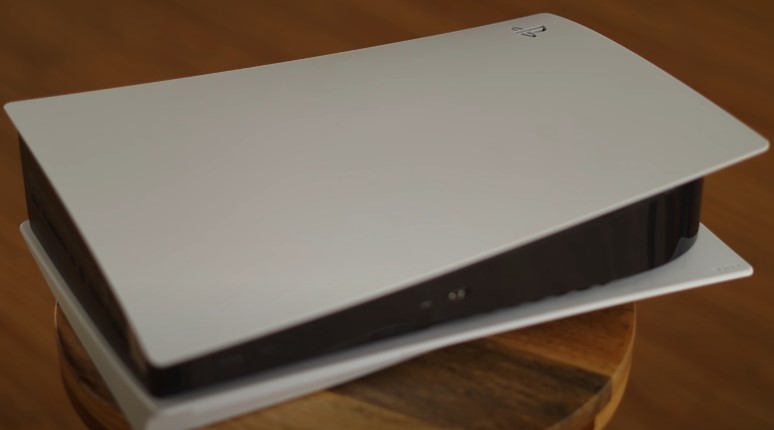 If it wasn't obvious, both versions of the current-gen PlayStation console allow players to download games directly onto the system's super-fast 825 GB solid-state drive.
With the PS5 Standard Edition, you can indeed purchase and download games from the PlayStation Store onto the console. The disc drive allows you to play physical game discs, but it also serves as an alternative method for game installation.
When you insert a game disc into the PS5's Blu-ray drive, the system initiates an installation process, during which the game data is copied from the disc over to the console's internal storage, similar to how it is for the PlayStation 4 and 4 Pro.
For those wondering why the disc games still install on the system, it ensures instant access to the games you enjoy with almost no loading screens in between, especially now that the PS5 utilises a lightning-fast SSD and offers an expansion slot of Gen 4 M.2 NVMe drives.
After successful installation, you can start playing the game then and there. While the game runs directly from your console's storage drive, the disc would still function as a DRM (Digital Rights Management) or license verification tool. Hence, whenever you feel like playing the game, you must insert the disc to authenticate your ownership.
What About Downloading PS4 Games on the PS5 Disc Version?
The PS5 consoles are backwards-compatible with most of the 4,000+ titles available for the PlayStation 4. Only a handful of titles are
If you own any physical PS4 game discs, insert them into the PS5's disc slot to initiate the installation. The console will then download and install the necessary updates and patches, optimising the game to deliver the best possible experience on the current-gen hardware.
The same applies to any digital PS4 game you own on your PlayStation Network account, with some cross-gen titles eligible for an upgrade to the PS5 version, which means better fidelity, double the framerates, and access to new content.
While most upgrades occur at no additional cost, you may have to pay extra depending on the game. Examples include Ghost of Tsushima Director's Cut, Death Stranding Director's Cut, and most first-party PlayStation exclusives with a cross-gen release.
That said, You can always download either version of the same game to your PS5 console from your Game Library.
There's also the option to transfer digital games (alongside your saves) from an existing PS4 console to the PS5 using Wi-Fi data transfer. Additionally, you can run PS4 titles directly off an external USB game drive connected to the PlayStation 5, one you may have previously used with a PlayStation 4 or 4 Pro.
How to Download Games on PS5 Disc Version?
As mentioned before, inserting a game disc into the PS5 will begin offloading the game files onto the console's storage, after which you can simply launch the game and start playing. If your PS5's connected to the internet, it'll also prompt you to download and apply the latest patches for an improved experience.
Assuming your disc-equipped PS5 Standard Edition console has online access, and you're logged in to your PSN account, use these steps to download digital games on your console:
Head to the PlayStation Store, search for the game you want to play, and complete the purchase if you don't own it already.
Return to your Games home screen and navigate to the Game Library.
Scroll through the "Your Collection" row and pick the digitally-owned game you wish to download.
Finally, choose any downloadable content (DLC) alongside the base game and click Download.
You can also start a remote download on your PS5 – provided you use the PlayStation App on your Android or iOS device. Simply navigate to the app's Game Library > Purchased menu, select the game, and tap Download. The game will start downloading automatically the next time you power on your console.
Are There Any Digital-Only PS5 Games?
There are plenty of digital-only PS5 titles, especially online multiplayer titles, indie hits, and select classic PS1, PS2, and PS3 games Sony includes with the PS Plus subscription.
While some digital-only titles have eventually seen a physical disc release through third-party publishers, a digital-only future may soon be a reality if the recently emerging trend regarding upcoming AAA games is anything to go by. It includes the much anticipated Alan Wake II, Like a Dragon Gaiden: The Man Who Erased His Name, Avatar: Frontiers of Pandora, etc. It's apparently to keep the game prices at bay.
Digital-only release poses challenges to game preservation efforts, as game companies find it perfectly fine to delist their legacy titles from digital marketplaces (also, Nintendo closing the Wii U and 3DS eShops) at any time.
Although game publishers promise decreased game prices with digital-only releases for now, it's worth considering that they've already set a precedent of charging $70 on digital – hence contradicting the notion of keeping game prices low and rendering the demise of physical media potentially futile.
If you value owning your media in physical form, you're better off buying the disc version of games for your PS5 until they slowly begin to phase out and are completely replaced with digital releases at some point in the future. You also enjoy the benefit of reselling the games you've played to recoup some of the costs and buying pre-owned game discs, something you can't do with digital-only games.
It's worth noting that relying solely on physical game copies won't save you storage space. Regardless of whether a game is digital or on a disc, it'll still be installed on the console's internal storage.
Can You Share Digital-Only PS5 Games?
Another question that often comes to mind when talking about downloading games on the PS5 disc version is whether you can lend a digital-only game from a friend or give them yours to borrow, similar to how one would do with a physical copy.
The good news is that it's possible with PS5's Console Sharing feature, which allows anyone signed into your console to access and play from your game library. Similarly, you can enjoy their digital collection of games, even when either console doesn't have internet access.
The feature is auto-enabled when you sign in to PlayStation Network, but you can also change it through Settings > Users and Accounts > Other > Console Sharing and Offline Play on your PlayStation 5.
Related Posts:
Bottom Line
The standard disc version of the PS5 offers more flexibility in playing physical game discs and Blu-ray movies, things the disc-less digital variant can't do. However, that doesn't also restrict you from buying and downloading games on the PS5 disc version as outlined above.
The truth is that whether you have the disc or disc-less PlayStation 5, you're still going to be downloading your games, especially if you're more into online multiplayer GaaS (Games as a Service) titles like Call of Duty: Warzone 2, Destiny 2, Fortnite, and GTA Online. You'll also need to consider the massive updates developers push to their games now and then.