HBO Max has revamped into Max, Warner Bros. Discovery's new flagship "the one to watch" streaming platform that houses HBO Max and Discovery Plus content, including your favorite HBO dramas and thrillers next to Discovery's lifestyle, reality, and other unscripted series you come to love over the years.
This reimagining has its fair share of benefits, not only on the content side that promises a diverse, exciting lineup of streaming originals and live sports but also from the user interface improvements. But it also raises some questions, especially around device compatibility.
The good news is the legacy HBO Max app has already begun updating to the all-new 'Max' platform, with the rollout gradually proceeding across the majority of devices its predecessor already supported. It includes connected TV devices, including the ones from Vizio.
This guide outlines everything you need to access and watch Max on Vizio Smart TV. Lucky for you, enjoying the best of HBO, Warner Bros, and Discovery is just a few clicks away if you have a Vizio SmartCast model.
How to Get Max on Vizio Smart TV?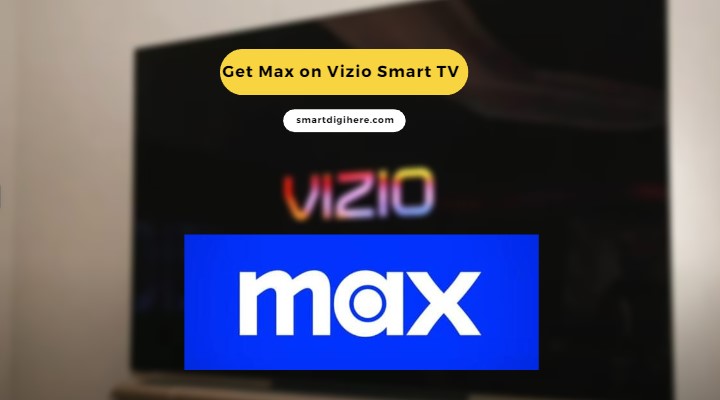 According to Warner Bros. Discovery, Max will be rolling out in batches for the same lineup of devices as supported by its former shadow.
As most of you know, Vizio SmartCast TVs lack a built-in app store and come preloaded with all the popular streaming apps that one ever needs access to. Vizio also regularly pushes out updates for them, so odds are the new Max has already replaced the older HBO Max app on your TV.
You can access the new app on your Vizio Smart TV (2016 or newer) just like you accessed HBO Max before – no need to download it separately. Press the Home or "V" button on your TV remote, navigate to the "App" row on your SmartCast Home screen, then search for and select the Max app icon.
If your Vizio SmartCast TV is on Wi-Fi, but for some reason, it still hasn't received the Max app update, it's likely running an older firmware.
Press the Menu button on your Vizio TV remote, select the System tab in the overlay menu, and click Check for Updates. In case of a pending update, the download and installation process may take up to half an hour or more, depending on your model.
It's also possible that the app update is yet to roll out for your particular Vizio TV model. In that case, use the following workaround to stream Max on your big screen.
Stream Max to Vizio Smart TV via AirPlay / Chromecast
One great thing about SmartCast-enabled Vizio TVs is the majority of them, if not all, feature AirPlay 2 and Chromecast built-in capabilities. It includes Vizio's D, E, M, P, and V-Series and their state-of-the-art OLED models – basically every model from 2016 and later years.
On Max, you can pick the title you want to watch and simply cast it to your big screen. That's without putting in the extra effort of downloading the app on your TV or even picking up the remote.
Whether you have an Android phone or tablet or an iPhone or iPad, assuming it's on the same home network as your Vizio SmartCast TV, all you need to do is perform these steps:
Launch the Max mobile app from your device's home screen or apps menu. Log in if you haven't already.
Select the movie or series you'd like to watch from Max's streaming library.
Tap the Cast or AirPlay icon at the top of the in-app player.
Choose your Vizio TV on the list, after which you should see the content playing on your TV screen.
The Max app is downloadable from Play Store on Android and App Store on iOS devices, respectively. Similarly, you may cast titles directly from the max.com website if browsing the catalog via your PC or laptop.
How to Log into Max on Vizio Smart TV?
Anyone previously a paying HBO Max user can expect a seamless sign-in experience with the Max app on Vizio Smart TV (and other devices) with the older login details.
The same applies if you receive HBO / HBO Max through your TV, internet, or wireless provider, in which case you must link your provider account to Max. The list of supported providers includes AT&T, Cox, Cricket, DIRECTV, Dish, Hulu, Optimum, Prime Video Channels, Spectrum, Verizon, and Xfinity, with support for more coming soon.
For new users: Max brings some notable changes to the subscription tiers, removing one concurrent stream from the cheaper Ad-Lite (occasional adverts) and Ad-Free (no ads) plans. It also locks 4K HDR streaming behind a costlier Ultimate package, which removes commercial breaks and offers simultaneous streaming on up to four screens.
All three Max streaming plans are available in monthly and annual flavors. Go to max.com from your phone or computer browser, click Subscribe or Sign Up, and follow the prompts for account registration and email verification. Once you figure out your subscription, provide your billing credentials to make the payment.
Provided you have your subscription activated and your login details ready, use these steps to sign into Max on Vizio Smart TV:
Open Max on Vizio TV. Then, navigate to the Profile icon at the top, and select Sign In. The following screen gives you an activation code with some steps to follow.
Head to the provided website (g., max.com/activate, activate.max.com) displayed on your TV screen from your web browser on another device.
Type in the 6-character code in the corresponding field and hit Next.
Enter your Max / HBO Max account email address and password and select Sign In.

Alternatively, continue with "Sign in with a Provider" if you get Max through a third-party provider and go through the on-screen steps to authenticate your provider account.
If you've performed the following, you should see Max's "Who is Watching" screen on your Vizio TV. Now choose your viewing profile (or create a new one), and you're good to explore and stream from Max's extended content library!
More Max Guides:
What's New with Max on Vizio Smart TV?

Well, to start, you're getting access to thousands of movies and TV shows with Max, which includes programming from renowned brands and studios like HBO, HGTV, Discovery ID, TLC, Magnolia Network, Food Network, Turner, Warner Bros, The CW, Adult Swim, etc. DC fans can also rejoice, as it hosts an extensive collection of DC Universe content.
Max is where you'll find critically-acclaimed HBO Originals everyone's so fond of, including the latest shows like The Last of Us, House of the Dragon, The White Lotus, Succession, and more. Then comes the upcoming Max Originals, which consist of a number of exciting projects, such as:
The Penguin spin-off set in The Batman (2022) universe
A new live-action TV show adaption of the beloved Harry Potter franchise
Another GoT prequel, "A Knight of the Seven Kingdoms: The Hedge Knight"
Drama series set in The Conjuring universe
Comedy series based on The Big Bang Theory
Kate Winslet-starring The Regime, an HBO Original limited series
A Rick and Morty anime series from Adult Swim
Magnolia Network's Fixer-Upper: The Hotel
And so on…
Additionally, you'll find an expansive catalog of best-in-class documentaries and unscripted shows on Max, plus family-friendly programs across home, lifestyle, food, reality, and kids' content for the rest of the household. The streamer plans to introduce over 40 titles on average in the coming months, with live sports also on the roadmap.
Max also benefits from a long-overdue interface overhaul, with new personalized profiles for the entire family and advanced parental controls, a dynamic content discovery experience, a watchlist that syncs across devices, and up to 4K HDR streaming, with Dolby Audio on select titles. There's more, but we leave them for you to uncover with Max on your Vizio TV.
Related Guides
Wrapping Up
That's all we have to inform you regarding Max on Vizio Smart TV. Roughly three years after its original debut, Warner Bros. Discovery has essentially dropped the "HBO" branding from the streamer while retaining more or less of the same streaming catalog as before and adding a large selection of titles from popular Discovery-owned properties.
Fortunately, Vizio SmartCast TVs are ready for the big switch, as is the case with most other connected TV platforms. We've covered the rest of the details in the above sections, though you're free to leave your queries, concerns, and feedback in the comments.