Do Vizio TVs Have Bluetooth? Can you connect Vizio TV Bluetooth with Headphones, Speakers & Soundbars? We have answered all your questions in this article.
The California-based firm Vizio is well-known in the AV business for its SmartCast TVs. In fact, it's one of the top sellers globally, with a notable presence in the North American region. Thanks to its combination of excellent picture quality, extensive feature suite, and attractive pricing, Vizio often stands tall among the heavy-hitters like LG, Sony, and Samsung.
Like most newer Smart TVs and streaming boxes, Vizio TVs feature Bluetooth connectivity. If you've recently purchased a Vizio TV, you may wonder what Bluetooth-powered devices you can connect to it. In this article, we'll discuss Vizio TV Bluetooth functionality in detail and show you how to pair it with different devices.
Vizio TV Bluetooth: What Bluetooth Devices can you Pair with your Vizio TV?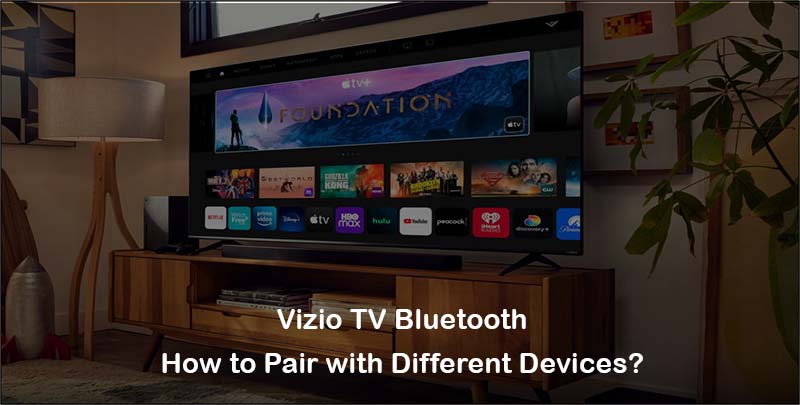 Currently, select Vizio TV models support pairing to Bluetooth audio devices only, such as headphones, truly-wireless earbuds, and soundbars.
The voice-enabled remote control included with your SmartCast TV also uses the Bluetooth LE (Low-Energy) protocol. Additionally, you can pair your smartphone or tablet to your Vizio TV to use it as a remote control, adjust settings, and cast media content.
The reality is that Vizio TVs still lack polish on the software side, thus limiting the users' freedom to connect the TV to different devices over Bluetooth. For instance, you can't connect a game controller to your Vizio TV. And even if you could, there's no point since Vizio's SmartCast platform neither supports games nor cloud game streaming apps (e.g., Geforce NOW, Amazon Luna, or Xbox Game Pass), at least at the time of writing.
To determine whether your Vizio TV supports Bluetooth pairing, press the Menu or Settings button on the remote and look for the "Bluetooth Headphones" options in your TV settings. Alternatively, refer to your TV's user manual or quick start guide to check if your particular TV model has the functionality. You can find your TV's user manual on Vizio's official support website.
Pairing Bluetooth Headphones, Speakers, and Soundbars with Vizio TV
Provided that your Vizio SmartCast TV supports Bluetooth pairing, connecting wireless headphones, speakers, and soundbars to it is a straightforward process.
It's ideal for those who wish to binge their favorite shows at night without disturbing others next door or are simply looking for a wire-free setup. Just follow these steps accordingly to pair these devices to your TV:
First, put your headphones, speaker, or soundbar into Bluetooth pairing mode following the manufacturer's instructions.
Usually, most wireless audio devices automatically go into pairing mode, though there may be a dedicated Pair button on some headphones and soundbars.
On your Vizio TV Remote, press the Menu or Settings button, then navigate to the TV Settings.
In TV Settings, find and select the "Bluetooth Headphones" option. On the following screen, you'll see a list of Bluetooth devices nearby.
Choose your audio device's model name from the list. If it doesn't appear, scroll down to the "Other Devices" section and select it from there.
Congrats! You've successfully paired your Vizio TV with your wireless audio device. Now, you can cycle between your built-in TV speakers, Bluetooth headphones, speaker, or soundbar from your TV's "Bluetooth Headphones" menu.
To disconnect, deselect your audio device from the "Paired Devices" list or power it off. Your Vizio TV will automatically switch to the built-in speakers or another connected source for audio playback.
Related: Block YouTube on Vizio Smart TV
A Better Workaround for Private Listening
While some Vizio TVs technically allow you to pair Bluetooth headphones and earbuds for private listening, the implementation is imperfect, usually resulting in a desync between the video and audio due to high transmission latency.
Such lip-sync issues can break the immersion when watching movies and shows, but it's possible to alleviate them using an external Bluetooth audio transmitter.
For example, the Avantree Ensemble Wireless Headphones + Adapter is praised among Vizio TV owners for providing a low-latency wireless listening experience. However, you can also pick up a standalone Bluetooth audio adapter for cheap if you wish to use your existing pair of headphones or earbuds with your Vizio TV.
Once you figure out what type of audio outputs you have (e.g., Digital Optical, AUX, RCA) on your Vizio TV, setting up one of these BT audio transmitters with a Vizio TV is surprisingly simple.
Plug the adapter into your TV's audio-out, preferably the Digital Optical or S/PDIF port with a TOSLINK cable for the best sound fidelity.

Connect the audio transmitter to a power source and turn it on. At the same time, power your headphones/earbuds on and put them in pairing mode.
Follow the instructions manual provided with the adapter to pair it with your audio device.
The Avantree Ensemble and equivalent made-for-TV wireless headphones automatically pair to their supplied transmitter.
If you've connected the adapter to your Vizio TV's Digital Optical port, press the Menu button on your remote, go to Audio, and change the "Digital Audio Out" format to PCM.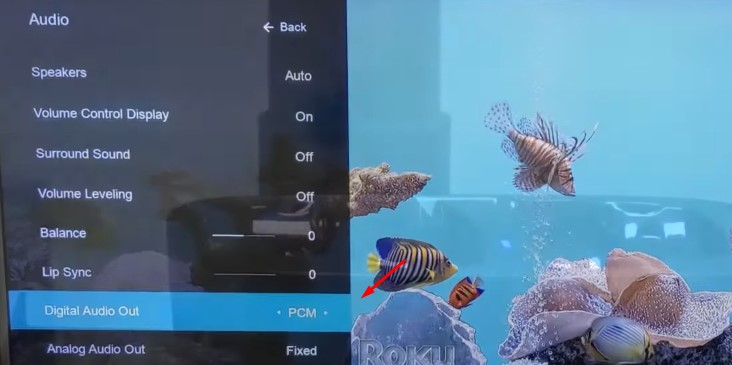 You can now discretely binge your favorite TV shows on your Vizio TV with little to no audio delay over Bluetooth.
Pairing Smartphones with Vizio TV
You can pair your smartphone with your Vizio SmartCast TV using the Vizio Mobile app for Android and iOS. The benefits you get include access to basic TV controls, advanced picture/audio adjustments, one-tap launch shortcuts to TV apps, and effortless content discovery, consolidating vast catalogs from popular streaming platforms.
Before you continue, ensure your Android phone (8.0 or later) or iPhone (iOS 13 or newer) is updated to the most recent software version. Also, connect your device to the same home network as your Vizio TV and enable Bluetooth and Location so that the Vizio Mobile app can discover your TV.
Go to the respective app store on your Android (Play Store) or iOS (App Store) device, search for the Vizio Mobile app, and install it.
Launch Vizio Mobile from your home screen or app drawer. You can either follow the on-screen instructions to create a Vizio account or continue as a guest for now.
Tap Get Started on the next page, then select the + icon next to your Vizio SmartCast TV in the "Add Device" menu.
You should now see a four-digit PIN displayed on your Vizio TV. Enter it in the mobile app to continue.
Once you've successfully paired your Vizio TV to the mobile app, you can use your Android device or iPhone as a remote control for your TV and more. If you have more Vizio TVs or soundbars in your home, you can pair them too from the app's Add Device menu.
For select Vizio SmartCast TV models, the app uses Bluetooth to connect to the TV. Otherwise, it relies on your home Wi-Fi network for connectivity.
Also Read:
FAQ
Do I need to pair my phone with Vizio TV for AirPlay or Chromecast?
The answer is no — you don't need to pair your phone with Vizio TV to enable its built-in AirPlay or Chromecast functionality. Those features don't work over Bluetooth and instead rely on your phone, tablet, or computer to be on the same local network.
As long as they're connected to your Wi-Fi router one way or the other, sharing the same internet connection, your phone and TV will auto-discover each other. Simply open a supported app (e.g., Netflix, Disney+, YouTube), tap the Cast icon above, choose your Vizio TV, and start playing your preferred content.
Wrapping up
Unfortunately, the number of Bluetooth-enabled devices you can connect to your Vizio TV remains pretty limited. Still, this guide has given a small glimpse at Vizio TV Bluetooth capabilities and shown you how to pair it with different devices, including headphones, soundbars, and phones. If you have any queries, please let us know in the comments.