Can you Get Threads For PC & Laptop? In this article, we will share everything you need to know.
It's common practice for competing social media platforms to frequently "draw inspiration" from each other. This tendency often leads to the borrowing of features amongst these platforms.
Meta, the tech giant behind popular platforms like Instagram and Facebook, is taking this concept to the next level by unveiling its highly anticipated app Threads after months of anticipation and recent teasing.
In a remarkable feat, Threads has already amassed an impressive fifteen million registered users within its first 12 hours, showing its prowess as a formidable competitor in the realm of "Twitter killers" like Mastodon, Bluesky, CoHost, Spill, and Truth Social.
Between the long-running feud between Meta's CEO Zuckerberg and Twitter's owner Elon Musk, users are undoubtedly intrigued by Threads and eager to join the platform now that it's publicly accessible to the masses.
One question you may have is whether Threads is accessible outside its Android and iOS mobile apps. Here's everything you need to know about Threads, the new Twitter-like social media platform, and its availability on Windows PCs and laptops.
What Exactly is Threads?
Threads, a decentralised social media platform developed by the Instagram team, is a new space for sharing real-time text updates and engaging in public conversations.
Sounds familiar, doesn't it? It most likely does if you've used Twitter. In Threads, your feed comprises "threads" shared by individuals you follow alongside recommended content from emerging creators whom you haven't yet come across.
Within Threads, you can create posts spanning up to 500 characters to convey your ideas and thoughts in detail. You can enrich your posts by incorporating links, photos, and videos of up to 5 minutes in duration, enabling you to share engaging content with your audience.
Sharing a post is also a breeze. You can effortlessly share a Threads post to your Instagram story or distribute it as a link on any other social media site you use.
Although Threads operates as an independent social media app, Instagram users can conveniently log in to the platform using their existing usernames. Their profile handles and verification status will also seamlessly carry over to Threads.
Furthermore, private profiles would function similarly to Instagram, where users can approve followers and interact with their content on Threads. A "followers-only" feed is also in the works.
But that's not all – Instagram goes one step further by sending notifications to your current friends and followers, urging them to join you on this fresh platform. It enables creators to establish their community quickly on Threads, contributing to a higher active user count.
Notably, any accounts or phrases you've blocked on Instagram will be automatically carried over to Threads, ensuring consistent preferences across both platforms. With all that said, an Instagram account isn't a requirement for using Threads.
Interoperability with other networks coming soon
Threads is also working towards bringing inter-compatibility with "Fediverse" apps such as Mastodon and WordPress. The platform has shared its plans to comply with ActivityPub, an open social networking protocol from W3C (World Wide Web Consortium), which drives the foundation of the modern web.
This interoperability with ActivityPub ensures users can switch from Threads to another service and migrate their content, follow and interact with other users without needing a Threads account, and access public Threads profiles from other apps.
In contrast, Elon Musk-owned Twitter had previously attempted to prevent users from sharing links from Facebook, Instagram, Mastodon, Truth Social, and other competing platforms under its new policy of "no longer allowing free promotion".
Read: Sync Amazfit or Zepp Data to Google Fit
Can you Get Threads For PC & Laptop (Windows & MacOS)?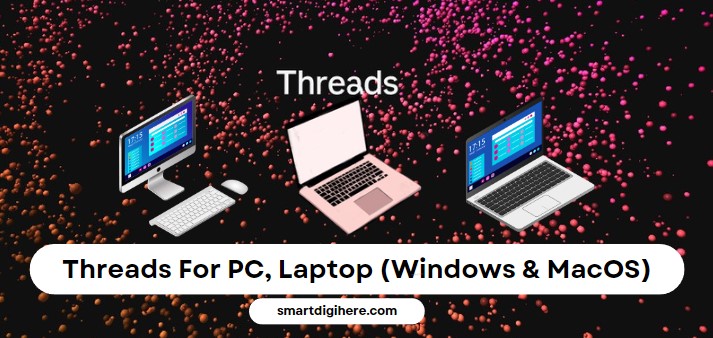 Threads began its global rollout on July 6th, 2023, spanning over 100 countries, and is now available for free download on Android and iOS devices. Users in these regions can easily access the app via the Play Store or App Store.
Threads is currently inaccessible on PCs and laptops, with no native Windows or macOS app announced. The company is dead-focused on the widespread adoption of the mobile app before introducing a desktop counterpart.
For those curious, Threads' web preview briefly went live a few hours prior to the July 6th rollout, with a minimal layout consisting of options to like, comment, repost, and share – all of which prompt users to get the mobile app for the complete experience.
As of the time of writing, visiting threads.net, the official Threads website, from a desktop browser shows nothing but a cool-looking interactive background resembling the Threads logo, with a QR code at the bottom-right corner that redirects to the mobile app download page.
You can, however, view profiles and posts (or "threads" as they call it) on Threads via shared links, threads.net/@zuck, and threads.net/@netflix, for example. Searching people by their full usernames is also possible.
But you won't be able to log in, view your timeline, create new posts, or interact with others unless you use the mobile app. (You can toggle the dark mode by clicking the Threads logo at the top, though!)
It's worth mentioning Threads hasn't made it to EU countries at launch, seemingly due to the GDPR's concerns around the same data-harvesting practices as Meta's other social media sites. It does pose a notable obstacle to its global ambitions of becoming a Twitter alternative.
Also Check: WhatsApp GIFs Not Working
Final Words
Threads has debuted amidst a particularly tumultuous period for Twitter under Elon Musk's leadership. Recent events, whether it's rate-limiting users, blocking unregistered users from viewing tweets, removing legacy verified check marks, or significant changes to TweetDeck following its total breakdown, have contributed to the current state of chaos on the platform.
Out of all the supposed Twitter alternatives that have emerged in the past few months, Meta's text-based social networking platform seems to be the most full-fledged and polished, which given its ownership of Instagram, Facebook, and WhatsApp, doesn't come as a surprise.
For better or worse, you can't get Threads for PC and laptops just yet, similar to how Instagram, the same company that built the new Twitter-inspired competitor, didn't have a functioning web/desktop app at launch. Hence, there's nothing much you can do but wait for Meta to release an official web version.