Does Peloton Have Elliptical Machine? If you're interested in fitness equipment, you already know about Peloton. The American brand makes premium treadmills and stationary bikes and provides users with hundreds of workout guides on-demand. But many of you may wonder whether they also have elliptical machines for sale.
Unfortunately, the answer is no. Peloton, at the time of writing, doesn't seem to have any plans or have made any announcements about making an elliptical trainer. Peloton offers two devices: Bike+ and Tread, with Peloton Rower on the horizon for cardio and strength training. However, they provide dozens of bike lessons in the in-app workout library one can complete on an elliptical too.
Those already having an elliptical can sign up for Peloton and use the official Peloton app to start their training sessions. You can read through this post to learn more.
What's an Elliptical Machine?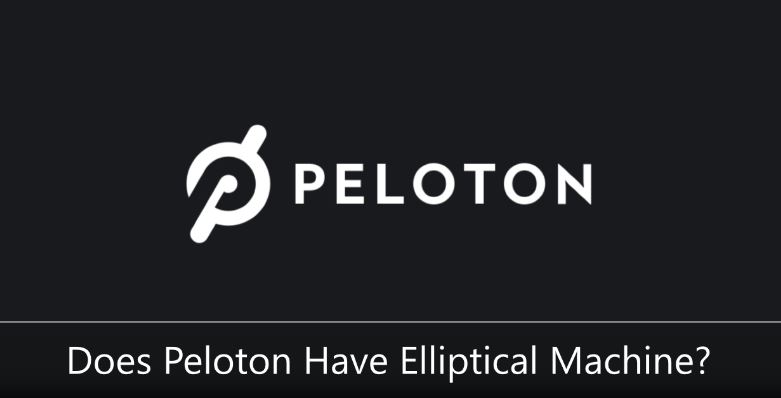 For those unaware, an elliptical is a type of stationary fitness equipment that combines the functions of a bike, stepper, and rowing machine, training all the same muscle groups as the following exercise tools.
It's suitable for cardio training, perfect for losing excess body fat, and is effective for toning leg muscles. Anyone suffering from joint or back problems can use an elliptical for consistent skeletal improvements. Compared to other exercise machines, the elliptical offers a more functional training mode.
Does the Peloton App Work with an Elliptical?
Nothing's stopping you from using the Peloton app on your phone or tablet while using an elliptical machine. In fact, elliptical and existing Peloton rides share similar characteristics in a few ways: both are stationary and adjust your resistance accordingly. Further, both use music to encourage and energize users to move along the beats.
One can incorporate the Peloton Outdoors courses or the climbing and HIIT guides into their standard elliptical sessions. Even if your elliptical doesn't have a screen, you can simply use a phone or tablet mount to secure your device on the exercise machine and see or listen to the Peloton instructors.
It's worth mentioning that the Peloton app is available for both Android and iPhone. Users can download and install it from their device's respective app stores.
Setting up Peloton with an Elliptical
Assuming you have the Peloton app installed on your phone or tablet and can access the Bike+ and Tread training courses and additional workout guides with your membership, here's what you can do:
Put your phone or tablet on the elliptical's slanted stand. Alternatively, consider purchasing a versatile phone or tablet holder and use it to mount your device firmly to the elliptical trainer.
Next, launch the Peloton mobile app and log into your preferred profile. Again, you'll need a membership to access Peloton's workout library. They also provide a 1-month free trial if you wish to try it out first.
Go through the Bike or Tread boot camp courses and find the ideal elliptical workout. The HIIT and climbing routines are preferable as they go well with most elliptical actions.
You may adjust and match the resistance and elliptical pace according to your music playlist.
Optionally, you can pair an external HR monitor with the Peloton app to track your heart rate during the elliptical sessions. An Apple Watch would also work as it has excellent Peloton integration.
Peloton coaches usually ask users to adjust the cadence (the speed at which you pedal) and resistance (how hard it is to turn the pedals) to advance through the bike classes.
Of course, most elliptical machines feature a resistance adjustment, which you can adjust to the Peloton coach's instructions. Since you can't change cadence on an elliptical, you'll need to adjust your speed or change the incline per the instructor's guidance.
Similar: Peloton Metrics Not Working – How to Fix?
Best Peloton Classes for Elliptical Training
As stated earlier, Peloton doesn't offer elliptical classes. However, they offer access to a wide range of on-demand workout guides (10,000+ classes), some of which you can match with your elliptical training. It includes:
Tabata Classes
Tabata is a type of high-intensity interval training or HIIT workout. Tabata classes are popular amongst Peloton Bike owners. They're also ideal for anyone looking for a tough high-intensity elliptical session, as they slowly increase the difficulty to achieve the desired speed counts.
HIIT Classes
HIIT or high-intensity interval training classes also work up a good sweat. Many fitness instructors recommend including these intensive workouts in their routine due to how effective they are. The main difference between Tabata and HIIT is that Tabata is a subset of HIIT with a 2:1 workout ratio, while the resting periods can be of varying lengths for other interval training.
Bike and Tread Boot Camp Classes
The Peloton Bike and Tread boot camp classes combine treadmilling, cycling, and gymnastics, interchanging cardio with strength training. Although these classes revolve around only cycling and treadmilling, you can also follow them for your elliptical training.
That said, you'll be putting extra effort into completing these workouts since you'll switch between the elliptical machine and the ground often, with very short transition periods. And depending on the classes, you may also require dumbbells and free weights. Such classes are more suitable for home gyms than public ones.
Climb Classes
The Peloton climb rides are suitable for anyone looking for a slow yet demanding workout. They simulate the effects similar to climbing a hill on a bike. You can easily adapt the climb classes to your elliptical training and complete them.
Power Zone Classes
Peloton's Power Zone training classes are effective in leveling up your fitness as far as indoor workouts are concerned. It's for those with access to a vast range of training equipment, including cycle, treadmill, elliptical, etc. In these classes, the instructor usually calls out the cadence and specifies the heart rate zone one should be working in.
Frequently Asked Questions
Q1. Will peloton have elliptical machine?
There's no reason for Peloton to never make their own elliptical trainer, especially given the fact that they acquired Precor, a renowned fitness equipment provider, for $420 million in 2021. For those who don't know, Precor is somewhat known for its ellipticals, so Peloton will likely follow suit. However, we don't know when it'll happen.
At the time of writing, no rumors or leaks are floating around Peloton working on an interactive elliptical machine. A few reports suggested that the company hinted at its early development stage in shareholders' meetings, but they're unlikely credible.
However, none of this means we can't speculate on the announcement of a Peloton Elliptical in the next few years. Existing Bike, Bike+, or Tread owners won't likely have to pay an additional fee to use the Elliptical, assuming Peloton doesn't change their subscription policy.
Q2. What are the benefits of using an elliptical?
Ellipticals aid with weight loss and muscle toning. It's easier on your hips, knees, and other joints compared to a stationary bike or treadmill. Some also consider elliptical workouts as full-body workouts since they work more muscles in your upper body.
But the question of how many calories you'd burn on an elliptical compared to a bike or treadmill depends on the class type you follow and how you change your cadence and resistance. In the end, they all are great workouts for burning calories and breaking a sweat.
Q3. Is it okay to use the Peloton app for elliptical training?
Of course, you can place or mount your device to the elliptical with the Peloton app running. You can choose from Peloton's massive live and on-demand workout library to watch and listen to any class during your elliptical training sessions. Plus, you can connect a Bluetooth-enabled external heart rate monitor to the Peloton app and keep track of your heart rate and other biometrics on the screen.
Q4. How long should I train on an elliptical?
If you're going for a strength-focused elliptical workout, you should ride for 5 to 20 minutes. But to achieve the maximum cardiovascular benefits, we recommend training on the elliptical for at least half an hour. The good thing is most Peloton workouts are 15-20 minutes long, so you won't really need to push yourself too hard.
Similar – Fix Peloton Stuck on Downloading Update
Wrapping Up
We have now all been able to find an answer to the question "Does Peloton have eliptical machines?".Peloton has yet to introduce its smart version of an elliptical machine. But for now, users can pick from hundreds of Peloton classes and adapt them on the elliptical to receive the same health benefits as riding a stationary bike or running on the treadmill. In this post, we've discussed the best Peloton classes for elliptical training and have given the answers to a few frequently asked questions.