Sunday Night Football has become a cherished tradition for football fans, combining the thrill of gridiron action with top-notch broadcasting and a festive atmosphere. It's also one of the most-watched primetime sports programs in the United States, a significant part of American football culture.
NBC, the oldest of the 'Big 4' TV networks in the States, has been the official Sunday Night Football broadcaster since 2006. With the 2023 NFL season comes 18 exciting SNF games, airing live on local NBC stations around the country, with Español telecasts on Telemundo and Universo.
This season, taking over the reins from the long-time Sunday Night Football veteran Al Michaels, who has moved on to calling TNF on Prime Video, is Mike Tirico, the new lead announcer, alongside Cris Collinsworth. Melissa Stark takes on the role of sideline reporter, replacing Michele Tafoya.
Previously, catching the Sunday primetime football games outside of broadcast TV proved a difficult affair. However, with the advent of streaming, it's no longer a hassle. A connected TV device alongside a moderate internet connection and streaming subscription is all you need nowadays to enjoy your favorite sports live on the big screen.
Our guide will walk you through all the ways you can watch Sunday Night Football on LG Smart TV, whether you're a cable/satellite TV customer or not.
Watch Sunday Night Football on LG Smart TV via the NBC Sports App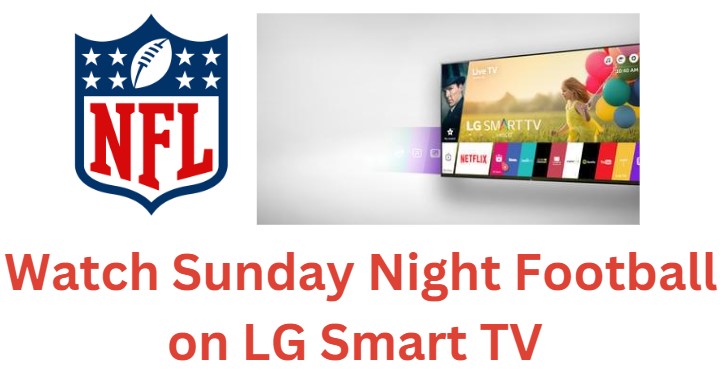 NBCUniversal offers complimentary streaming apps for those already getting NBC and its sister channels via a participating TV provider. It includes the NBC Sports and NBC apps, via which you can catch Sunday Night Football, among other sporting events live. Game replays are also available after the broadcasts conclude.
While LG Smart TVs aren't compatible with either of the following apps, you can use the mobile app, specifically the iOS version, to cast the live game streams onto your big screen with AirPlay. Of course, it'll require you to have an iPhone or iPad and a 2018 or newer LG webOS TV that actually supports AirPlay 2 (check here).
Assuming you already get NBC with your existing pay-TV contract and meet the above requirements, watching Sunday Night Football on LG Smart TV is straightforward. It involves the following:
Install NBC or NBC Sports from the Apple App Store on iPhone or iPad.
Sign into the app with a supported TV provider, e.g., Dish, DIRECTV, Frontier, Optimum, Verizon, Xfinity, It requires valid login credentials.
Select the live Sunday Night Football stream from the app's Home or Live
Tap the AirPlay icon at the top of the video player and select your LG webOS TV from the list. Both devices must be on the same Wi-Fi network.
Provided you've followed the instructions correctly, you should now be able to enjoy the live football game on your LG TV. If you're looking for more in-depth steps, check out our guide to NBC Sports on LG Smart TV, where we've also provided troubleshooting solutions.
Watch Sunday Night Football on LG TV via Peacock (No Cable Subscription Required)
Fellow cord-cutters can rejoice now that it's possible to catch the entirety of the NFL regular season and playoffs without a traditional pay-cable or satellite TV contract, including NBC's Sunday Night Football programming.
With NBC acquiring SNF media rights for both TV and streaming, viewers can also tune in to the primetime football games through Peacock, one of the top American streaming services, every week of the NFL regular season.
It includes all 18 SNF games, one of which streams exclusively on the app in Week 16, in addition to the NFL Kickoff and Thanksgiving Day matchups.
You can also catch NBC's Football Night in America pre-game show featuring Maria Taylor as the host, with Tony Dungy, Jason Garrett, Rodney Harrison, and more. Peacock even has its own Sunday Night Football Final postgame coverage.
Of course, you must have a Peacock Premium subscription (either the ad-supported or ad-free tier) for streaming Sunday Night Football, and luckily, the monthly plan goes for really cheap. That's on top of the service's other live sports offerings, e.g., Premier League, MLB, IndyCar, and WWE, plus its massive library of on-demand titles and originals.
How to Watch Sunday Night Football on LG TV via Peacock?
Anyone with a 2017 or newer LG TV (running webOS 3.5 or above) can get the Peacock app from the Content Store and stream the Sunday Night Football games without cable. Here's how the installation goes:
Bring up the Home menu (press the Home remote button) and select the Apps tile in the 'App List' row. On webOS 5 or older, click LG Content Store in the launcher bar.
Select Search (magnifying glass) in the top-right section of the Content Store screen and enter "Peacock."
Choose the streaming app in the search results, then select Install on the app's info page.
Before you Launch the TV app, however, visit peacocktv.com from your mobile or PC browser and sign up for Peacock. Select Get Started, after which you follow you simply follow the on-screen prompts to create and verify your account and pay for your chosen flavor of Premium subscription.
You should receive a confirmation email almost immediately regarding your Peacock Premium account. Then you can use these steps to log into the app on your LG TV:
Open Peacock from your TV's Home screen 'App List' or launcher bar.
Click where it says "Sign In" on the welcome page, then enter your account details with the remote and log in.

You can also sign in via another device. Go to peacocktv.com/tv, enter the Device Code presented in the Peacock TV app, and select Continue. After that, it's a matter of entering your email and password.
Upon successful login, choose your Peacock user profile, and the app will direct you to the Home page. When a Sunday Night Football game is live, you should be able to select and play it directly from the top featured banner.
Alternatively, navigate to the Sports page from the left-hand sidebar and access the live NFL stream, on-demand highlights, news, and more.
When streaming a game, bring up the playback menu and select the Audio and Subtitle (text bubble) icon on the left to enable subtitles or switch between the English and Spanish commentary feeds.
Related posts:
Can You Watch Sunday Night Football on LG TV For Free?
Peacock doesn't offer a free trial for either of its Premium plans. On the other hand, FuboTV and YouTube TV, two of the most popular streaming television providers, offer limited trials for new eligible subscribers.
Their plans include not just NBC but also ABC, CBS, ESPN, FOX, and NFL Network, so you can enjoy an entire week of football (more if you get clever with email addresses and virtual payment methods) beyond the Sunday primetime game at no cost– as long as you ensure to cancel before the trial expires.
There's also your local NBC affiliate TV station airing Sunday Night Football, which you can tune in to for free using a digital HDTV antenna with your LG TV. That's assuming you live in an area with good reception. One way to verify so is by using the FCC's DTV Reception Maps tool or the ReceptionMaps website.
While not free, Sling TV's Blue plan includes NBC (in select markets) alongside 30+ other TV channels and is comparatively cheaper than most cable TV alternatives. Plus, you can have it at a steep discount for the first month.
Also, if you've bought an NFL+ subscription to watch live football on the go, you can use the NFL mobile app to cast the full replays and highlights of the Sunday Night Football games onto your big screen. Our NFL Plus on LG TV guide explains it in more detail.
Experience Sunday Night Football on LG Smart TV
Sunday Night Football is the premier showcase for action-packed NFL games during the regular season, and with this guide, you can enjoy every minute of it on your LG Smart TV, whether you're an avid football fan or a casual viewer. While Peacock seems the most viable option, we've highlighted a few other viewing alternatives for your convenience.