Since 2006, NBC has been the designated host network for Sunday Night Football, consistently featuring some of the most exciting matchups throughout the NFL regular season. This primetime broadcast serves as the grand finale after a full day of football, following the earlier afternoon games aired on CBS and FOX.
With this year's NFL season kicking off, it's never too late to ensure you can catch all the games on your big screen, beginning with the Sunday primetime football coverage, which is usually the most anticipated of any given week. Our guide will help you watch Sunday Night Football on Samsung Smart TV.
Sunday Night Football is Streaming on Peacock
NBC Sports is broadcasting 21 games throughout the entire 2023 NFL regular season. It includes 18 Sunday Night Football matchups, airing across the States via the local NBC stations, with Telemundo and Universo hosting the alternate Spanish-language feed. The weekly games are streaming on Peacock as well.
That's right– NBCUniversal's SVOD streaming platform, Peacock, offers live access to every Sunday Night Football game with its Premium plans, starting at just $5/month. Subscribers can also tune in to the NFL Kickoff game, Thanksgiving Day fixture, and the exclusive Week 16 Saturday night matchup between the Bills and the Chargers.
Additionally, you can catch the full SNF game replays and highlights on-demand alongside the streaming-exclusive Sunday Night Football FInal and NBC's Football Night in America studio programs. That's on top of everything Peacock offers, including its sizable catalog of movies, shows, and originals, keeping you glued to the screen for the rest of the weekdays.
Watch Sunday Night Football on Samsung Smart TV via Peacock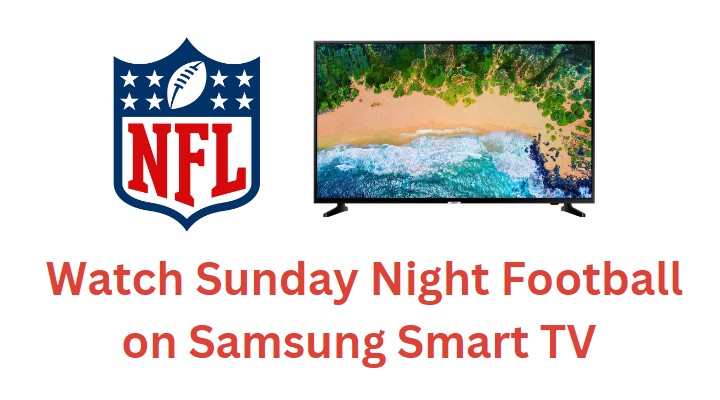 The streaming picture for Sunday Night Football used to be complex, but with Peacock securing the rights, accessing these games is way simpler now.
Start with downloading the Peacock app on your Samsung Smart TV, assuming it's a 2017 or newer model. Use these steps as a reference, though they may vary slightly across the Tizen OS versions:
With your Samsung TV powered on and connected, press Home on the Smart Remote.
Navigate to the left-hand side of the Home or Smart Hub menu and select APPS.
Find and select Peacock on the main Samsung Appstore screen. Or select the magnifying glass icon at the top and search for the app manually.
Once you're on the streaming app's description page, select Install. Note you must be logged in to your Samsung account.
Finally, select Add to Home to add Peacock to your TV's apps list.
With that done, the next step is to sign up for a Peacock account and a subscription. You can do so by visiting peacocktv.com from another device, e.g., your phone, tablet, or laptop.
Select Get Started, choose either the ad-supported Premium or ad-free Premium Plus plan (you'll see ads in live sports regardless), and follow the website prompts to create your account, then link your payment method. Existing users on the free tier must also upgrade their account to Peacock Premium to enjoy the Sunday Night Football games.
After signing up or upgrading to Premium, follow the instructions below to log in to the Peacock TV app:
Navigate to your TV's Home or Smart Hub screen and select Peacock in your apps row.
Click the Sign In button in the upper-right corner of the welcome screen. The app will provide you with some login steps to follow, along with an activation code.
Go to peacocktv.com/tv from your mobile or computer web browser.
Type in the in-app code displayed on your Samsung TV screen and hit Continue.
Proceed to Sign In with your Peacock account email and password.
Once you see the confirmation message, the Peacock TV app should refresh briefly and direct you to the "Who's watching" screen. At this point, choose your user profile, and you're ready.
Accessing the Sunday Night Football live streams in Peacock is straightforward. When the game is live, it's usually featured prominently at the top of the app's Home page.
You may also navigate to the Sports page to explore the studio shows, game replays, highlights, upcoming matchups, and Peacock's other live sports offerings. Note you can switch between the English and Spanish play-by-play commentary on the fly within the player options.
Moreover, you can stream NBC Sports' SNF programming to your big screen via the Peacock mobile app. That's assuming you have an iPhone or iPad device running the latest software and one of the AirPlay 2-compatible Samsung Smart TVs (check whether yours is supported here).
More Ways to Watch Sunday Night Football on Samsung Smart TV (For Free!)
If you already happen to have access to NBC via your existing cable or satellite TV provider, there's no reason to subscribe to Peacock separately.
It's a matter of downloading the NBC or NBC Sports app on your Samsung TV and logging in with your participating TV provider account credentials, after which you can stream all the Sunday Night Football games live. Check out our guide to NBC Sports on Samsung Smart TV for detailed instructions.
You can tune in to your local NBC channel via live TV streaming apps like DirecTV Stream, FuboTV, Hulu + Live TV, Sling TV, and YouTube TV. They all offer an assorted mix of skinny channel bundles and other benefits like cloud DVR and catch-ups, which tend to be less expensive alternatives to traditional providers.
Most of the above services include other major NFL-broadcasting networks like CBS, FOX, ESPN, and the NFL Network. Therefore, you can enjoy more football games beyond the Sunday primetime matchups during the regular season. We suggest verifying the channel lineup before signing up.
Like every other nationally-televised NFL game, Sunday Night Football is streaming on NFL+, though the live feeds are exclusive to mobile devices. If you're already a subscriber, you at least have the option to cast the past game replays to your TV via AirPlay. Find out more in our NFL Plus on Samsung TV guide.
Aside from streaming, you can also set up an external OTA (Over-the-Air) antenna with your Samsung TV and scan for the broadcast signals of your local NBC affiliate station, which is airing Sunday Night Football for FREE.
However, before impulse-buying an affordable digital TV antenna, use the FCC's DTV Reception Maps tool to confirm which free-to-air broadcast channels are available at your location. If signal reception is any good, you might be able to experience the Sunday night games in high definition.
Wrapping Up
This season's slate of Sunday Night Football is exhilarating, leaving little to no reason for football fans to miss these games live. Our guide to Sunday Night Football on Samsung Smart TV should help you get started. To ensure you don't miss out, be sure to check the SNF schedule on NFL.com in case anything changes under the new flex scheduling rules.
Looking for more regular-season football coverage? Check out our ultimate Watch NFL on Samsung TV  guide for more information.