Football is back in session! The break from football is over, and the NFL regular has arrived! Sundays are once again full of joy, feelings, cheering, and occasionally sadness. But regardless of what happens, it's what you've been eagerly anticipating all week. And if your team is playing on Sunday night, get ready.
Being the top-rated primetime sports programming, Sunday Night Football on NBC has continually given us some of the season's most exciting games. We're talking close matches, big throws, powerful runs, and a lot more happening on the biggest stage of the week.
Taking over the SNF commentary booth this NFL season is Mike Tirico, joined by Cris Collinsworth, with Melissa Stark providing insights from the sidelines. Pre-game coverage comes from Maria Taylor, the host of NBC's Football Night in America show, alongside the likes of Tony Dungy, Jason Garrett, Rodney Harrison, and more.
The good news is you can stream Sunday Night Football on Apple TV without cable, just like the Thursday and Monday primetime match-ups on Prime Video and ESPN+, respectively. So here's everything you need to know to catch every single Sunday NFL game that'll be playing in primetime this regular season – right from your Apple TV to the big screen!
Where to Watch Sunday Night Football on Apple TV?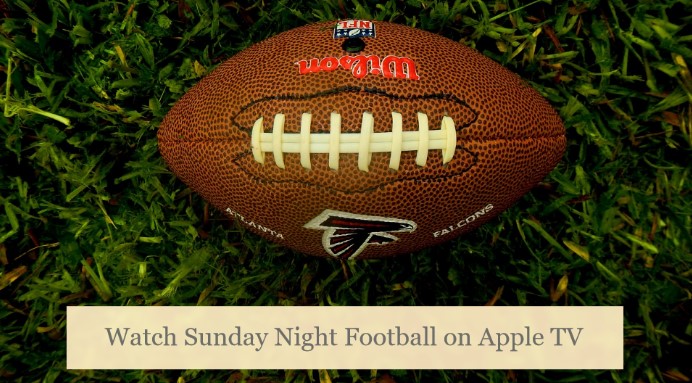 NBC has been home to the weekly primetime Sunday Night Football NFL games since 2006 in the United States, formerly aired by ESPN, which now broadcasts Monday Night Football instead. Telemundo and Universo, NBCUnivesal's Spanish-language channels, simulcast the Sunday night games in Español for the Hispanic audience.
These games are now also showing on Peacock, NBCUniversal's over-the-top streaming platform that's replete with movies, shows, originals, documentaries, and a great deal of live sporting events, including Sunday Night Football. There's another option, but we'll come to that later. Let's discuss the most viable service to watch SNF on Apple TV.
Watch Sunday Night Football on Apple TV via Peacock
Some of you might be paying for Peacock Premium already, but what you probably didn't know is that it's also home to every Sunday Night Football game this NFL season. In fact, the Week 16 SNF matchup between the Bills and the Chargers is streaming exclusively on Peacock and not on NBC. In addition, the service is simulcasting NBC's Thanksgiving Game coverage involving the 49ers and Sewhawks in Week 12 of the 2023 NFL season.
Outside the regular season, Peacock will host three Wild Card games during the Playoffs, including one streaming-exclusive fixture. NBC's Divisional Round coverage is also to be streamed on the service.
Both the standard Premium and ad-free Premium Plus subscription tiers on Peacock include access to NBC's Football Night in America pre-game and the streaming-only Sunday Night Football Final post-game studio shows, plus on-demand game replays, highlights, interview clips, etc.
The other times when you aren't watching football on Peacock, you can tune in to exclusive Premier League matches, MLB Sunday Leadoff, Super Motocross, PGA Tour, WWE events, and more – right alongside the diverse on-demand library of films and TV show episodes.
How to Access Peacock's Sunday Night Football Streams on Apple TV?
Provided you own an Apple TV HD (4th Gen) or Apple TV 4K box, accessing Peacock's live Sunday Night Football streams is a straightforward affair. The first thing you must do is get the Peacock app from the App Store using these steps:
Pick up your Siri Remote and head to the App Store from your Apple TV Home Screen.
Go to the Search (magnifying lens) option at the top, then enter "Peacock" in the field.
Choose Peacock TV: Stream TV & Movies (by Peacock TV LLC) in the search results.
Finally, click Get on the App Store preview page for the Peacock app, upon which the download should begin immediately.

You may need to confirm your Apple ID password to proceed with the installation.
With NBCUniversal's streaming app installed on your Apple TV, return to the Home Screen and launch Peacock from your list of apps. It'll ask you to "Sign Up…" or "Sign In".
If new to the service, go with the first option and follow the on-screen prompts to create your Peacock account and purchase the Premium or Premium Plus plan. Peacock will charge you for the subscription through the payment method linked to your Apple ID.
You may also visit peacocktv.com from your phone or computer web browser and sign up for Peacock the old-fashioned way. You'll have to use your email for account creation and provide your billing information for the recurring subscription.
Tip: Select TV providers and wireless carriers offer complimentary access to Peacock with their plans. Be sure to ask your provider regarding any promotional offers before splurging on a standalone Premium or Premium Plus plan.
Once done, select "Sign In" in the Peacock Apple TV app and use your remote to enter your account credentials or continue with the "Activate on Your Phone" option to carry on with the log-in process on another device. Instructions should appear on the screen alongside an activation code.
And you're done! On Sunday nights, you'll see the Sunday Night Football banner displayed prominently on top of the Peacock app's Home page, a click to which sends you right into the live action. You may also access the live game streams, on-demand match replays, and highlights from the Sports menu, accessible within the left-hand navbar.
To change the commentary track (English and Spanish) or enable closed captions, select the Audio & Subtitle (text bubble) icon in the player options.
Watch Sunday Night Football on Apple TV via the NBC / NBC Sports App
If you happen to be already paying for a traditional pay-TV contract or live TV streaming subscription with which you get the NBC channel, there's no need to purchase the Peacock Premium plan.
All you have to do is download the NBC or NBC Sports app from the Apple TV App Store (for step-by-step instructions, check out the previous section), after which you open it and simply follow these steps to authenticate with your provider details:
Select the Profile icon in the top-right corner of the app's Home page.
Choose Log in with TV Provider. The app should give you an Activation Code.
Visit nbc.com/nbcuniversalfamily/activate?brand=nbc from your phone or computer, provide the code, and select Continue.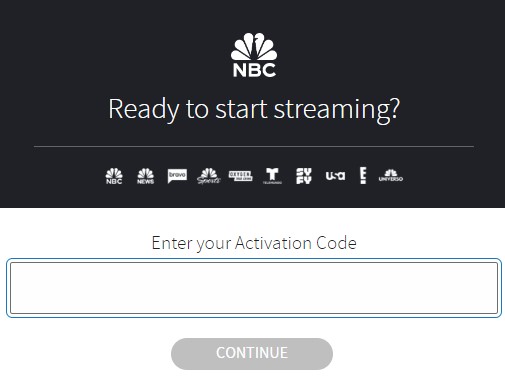 Continue the rest of the authentication process, which involves selecting your TV Provider from the list and signing in to their login website.
A successful authentication will give you immediate access to the live Sunday Night Football game streams within the app's "LIVE & Upcoming Sports" shelf on the Home page.
Once again, it's worth noting that both the NBC and NBC Sports app allow users to link their FuboTV, Hulu + Live TV, Sling TV, or YouTube TV account details. Our guide to watching NFL on Apple TV explains these cable TV replacement services in more detail if you're interested.
Watch Sunday Night Football on Apple TV via NFL+
As highlighted in our guide to NFL Plus on Apple TV, the NFL+ Premium subscription includes on-demand access to every local and primetime NFL game replays, including the Sunday Night Football match-ups on NBC.
While it doesn't make much sense to go for this over Peacock, which already offers LIVE access to the SNF matches, existing NFL+ Premium subscribers can take advantage of their subscription by signing into the NFL Apple TV app – saving some money in the process.
Enjoy Sunday Night Showdown on Apple TV!
By following this guide, you're now ready to relive the gridiron excitement Sunday Night Football brings to the screen every weekend alongside millions across the nation. The Peacock and NBC Sports apps now make it possible to stream these thrilling primetime games on Apple TV, as we've discussed in great depth.
A lot of NBC's football coverage during the regular season is subject to flex scheduling, so to ensure you don't miss out on any minute of the action, keep track of any updates on the SNF schedule on the NFL's official website.