Home to football, soccer, baseball, golf, motorsports, wrestling, and many other sports, NBC Sports is where you'd usually head to catch your favorite sporting events. While the sun has set for NBCSN, NBCUniversal's other channels, NBC, CNBC, and the USA Network, now integrate its programming.
You don't have to have a cable or satellite TV contract to enjoy NBC Sports' content now that they're also available for streaming live and on-demand. It makes it simpler for those using a Smart TV or media streaming device for content consumption. Gone are the days when you had to switch to the set-top box for live sports. Now you don't even need one.
The following guide highlights all the possible ways to watch NBC Sports on Apple TV, with or without cable. Let's start with the official NBC Sports app.
Get the NBC Sports App For Apple TV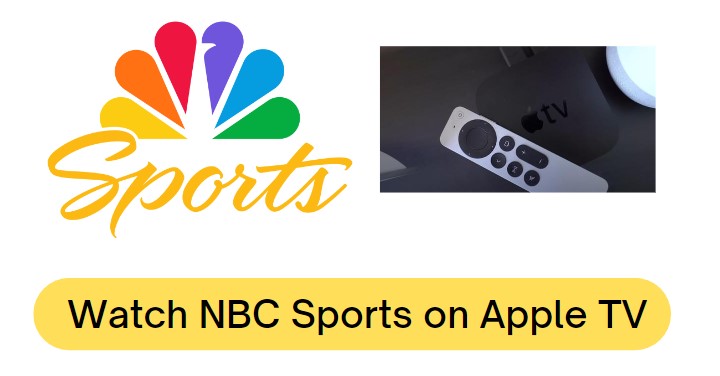 There's an official NBC Sports app for Apple TV boxes running tvOS 14.0 and later. It lets viewers watch all live NBC Sports events, including but not limited to Sunday Night Football, Premier League soccer, USFL, PGA Tour, the NASCAR Monster Energy and Xfinity Series, French Open, Triple Crown derby, etc.
The app also offers full replays, highlights, and clips from past sporting events on demand, plus previews for upcoming sports programs. You can explore content based on specific sports leagues, teams, or players.
All this sounds great, but what's the catch? You must log in to the NBC Sports app with a participating TV provider to enjoy all its live and on-demand sports offerings. It should be straightforward if you already get NBC, CNBC, and USA Network with your pay cable or satellite TV plan.
The list of providers includes AT&T, Cox, Dish, DirecTV, Optimum, Spectrum, Verizon, and Xfinity, among a hundred others. It also extends to streaming providers, which we'll follow up with more details later in this guide. For now, let us show you how to get the NBC Sports app on your Apple TV:
Go to the App Store from your Apple TV Home Screen using the Siri Remote.
Highlight the Search (magnifying lens) icon at the top, then use the on-screen keys row to enter "NBC Sports" in the search field.

You can also press the Mic button on your Siri Remote for a voice search.

Next, select the NBC Sports app in the results, followed by the Get button in the description.

You may have to verify your Apple ID password to continue with the download.
Once you've installed NBC Sports on Apple TV, select Open, or return to your Home Screen and launch the app. Then use these steps to log in with your service provider:
Select the Profile icon at the top-right corner, then Log in with TV Provider. The following screen will give you a code with some steps to follow.
Go to nbc.com/activate from your mobile or computer browser, enter the Activation Code, and click Continue.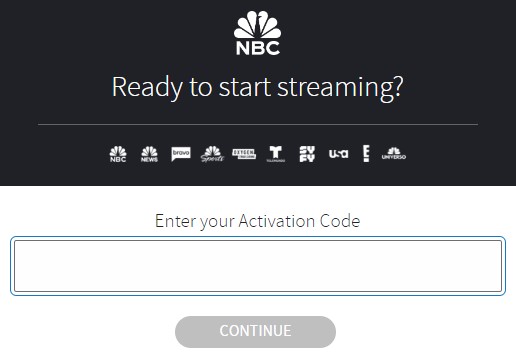 Search for your TV Provider in the list and select it. It'll direct you to your provider's authentication website, where you simply log in using the username and password to your account.

You can skip creating your NBCUniversal Profile for now.
And with that, you're ready to enjoy live NBC Sports streams on your Apple TV. Any game airing on NBC and its sister channels is featured prominently on the app's Home page. All you have to do is click the Watch Live button.
Similarly, you can pick any favorite sport, league, or NBC Sports studio programming to explore replays, highlights, news clips, and more. For NBCUniversal's channel streams, navigate to the app's LIVE section.
Watch NBC Sports on Apple TV Without Cable
Fellow cord-cutters, we certainly don't want you to renew your TV contract to watch NBC Sports, rest assured. Instead, we'll recommend you look at live TV streaming alternatives, some of which you may have heard before.
For instance, YouTube TV's Base Plan and the Hulu + Live TV bundle boasts over 90 top channels, including your local NBC station, USA Network, and CNBC. As mentioned earlier, these are the three main hubs of NBC Sports programming.
With the Spanish add-on on either of the services, you can even access Telemundo and Universo's Spanish-language live sports telecasts. If you reside in select markets where NBC Sports has its RSNs (Regional Sports Networks), you get that too.
Sling TV's Blue plan also covers NBC Sports and is perfect for an affordable monthly skinny TV bundle. That said, Sling carries local NBC affiliates only in a handful of markets. Visit their official site (sling.com) and verify availability by entering your ZIP code.
All the following live TV services have their own streaming apps for Apple TV with exclusive features like DVR and catch-ups. However, you could also use your Hulu, Sling, or YouTube TV credentials to sign in to the NBC Sports app.
Watch NBC Sports on Apple TV via Peacock
No, not that vibrant bird with its impressive tail. Peacock is NBCUniversal's streaming platform offering an array of exciting on-demand titles. From recent blockbusters to beloved TV series to live news and sports, Peacock guarantees content to match your preferences.
Previously, the NBC Sports Gold passes offered exclusive premium sports content that didn't air on TV. With that folded and integrated into Peacock, a monthly Premium or Premium Plus plan is all you need to catch NBC Sports' coverage of all the following sports:
NFL Sunday Night Football, USFL, Big Ten Football, Notre Dame Football
MLB Sunday Leadoff
NASCAR, IndyCar, IMSA, Super Motocross
Premier League, U.S. Soccer, Liga MX
French Open
Tour de France
PGA Tour, LPGA Tour, USGA
Premiership Rugby, Six Nations Championship, World Rugby Sevens
Winter Sports, Olympics 2024 Paris Summer Games
WWE
And more exclusive studio shows
Download the Peacock TV app from the App Store, assuming your Apple TV is updated to tvOS 16.0 or above. You can sign up for either Premium plans directly via the app. It'll bill you via Apple Pay for the recurring subscription.
Also Read:
Enjoy Streaming NBC Sports!
We've showcased plenty of ways to watch NBC Sports on Apple TV. One is the NBC Sports app, where you sign in with a participating provider. However, Peacock might be the better option as it includes live NBC Sports content in the same affordable subscription.
If you use an iPhone or iPad alongside your Apple TV, note all the apps covered in this guide are also available for mobile. Therefore, you can use AirPlay to conveniently stream NBC Sports on your big screen without the hassle of setting up the streamers on your Apple TV.