In this guide, we will show you how to fix the issue of your MLS Season Pass Not Working on Apple TV. Throughout this article, we will cover every common problem and how to fix it.
If you're a Major League Soccer enthusiast, the MLS Season Pass on Apple TV is the ultimate solution for all your soccer streaming needs. Introduced by Apple in early 2023, it stands as an independent sports subscription distinct from the Apple TV+ streaming plan.
For a monthly or season-long fee, MLS Season Pass gets you extensive soccer coverage. It includes every match from the 29 participating teams, your local team games, the playoffs, plus the Leagues Cup, where the American, Canadian, and Mexican soccer teams fight it out on the field.
Furthermore, you gain access to hundreds of MLS NEXT and MLS NEXT Pro games, exclusive MLS 360 whip-around coverage, and on-demand content, including replays, highlights, analysis, and soccer-related original programming.
You watch the MLS games via the Apple TV app, available on Apple TV boxes, iPhones, iPads, and Macs, alongside various smart TVs, streaming players, game consoles, and Android devices. But what to do when MLS Season Pass not working on Apple TV?
We've compiled this troubleshooting guide to ensure you don't miss out on your favorite team going head-to-head against its biggest soccer rival.
Apple TV MLS Season Pass Not Working Or Down?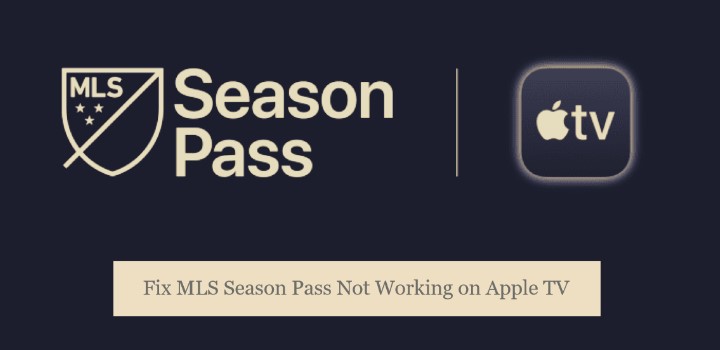 If you can't stream live MLS games in the Apple TV+ app, your first thought might be that it's related to your device or network. However, that isn't always the case. Even for a tech giant like Apple, server outages can be an issue, resulting in widespread blackouts on the Apple TV service.
See if that's what's going on before continuing with any troubleshooting. Fortunately, Apple has its own system status site, where you can check if Apple TV or MLS Season Pass is experiencing issues. You may also visit DownDetector and StatusGator, which collect user reports to tell if Apple TV is down, providing a real-time outage map.
If either Apple TV or MLS Season Pass is experiencing issues on their side, all you can do is sit tight and have patience. Apple is usually quick at restoring its services, so you likely won't miss out for too long.
Can't Subscribe to MLS Season Pass on Apple TV?
Can't find MLS Season Pass under Apple TV Channels? It might not be available in your region or country. That said, if you're in one of the hundreds of countries where Apple offers the MLS Season Pass, you're most likely using an older version of the Apple TV app, which you must update from your device's respective app store.
If using an Apple TV HD or 4K, ensure it's running the latest device software (tvOS 16.2 or above). While your Apple TV can auto-download and install new updates when available, you can manually check for them from Settings > System > Software Updates. Assuming there's an update, choose Download and Install, wait until the update is complete, and your Apple TV reboots automatically.
If both the Apple TV app and your device are up to date, make sure you're signed in with your Apple ID and password. You should be able to find and subscribe to MLS Season Pass by now.
Furthermore, the Apple TV app may prompt you to enable location services when viewing live sports for the first time. Continue with "Allow While Using App" for a personalized local viewing experience. Note you can always opt out from your Apple TV's Privacy settings.
Trouble Streaming MLS Games on Apple TV? Try This!
When you subscribe to MLS Season Pass, you can stream every match of the MLS season, MLS Cup Playoffs, and the Leagues Cup live with no blackout policies, along with pre and post-game discussions and analysis.
However, if you're unable to tune in to any live soccer game or on-demand replays for some reason, even when Apple TV / MLS Season Pass services are operating normally, it must be an issue on your end. There are a few things you could try to resolve MLS Season Pass not working issue, which involves the following:
Relaunch the Apple TV App
The most common solution to try is closing and relaunching the Apple TV app on your device or refreshing the browser page. Doing so usually gets rid of any random bugs or glitches the app or web version may have.
To force-close the app on your Apple TV device, double-press the TV button on your Siri Remote, highlight the Apple TV window in the App Switcher menu, and swipe upward on the remote's touch surface or clickpad. After that, re-open the app from your Home Screen.
If this doesn't work, you may try uninstalling and reinstalling the Apple TV app on your streaming device. Note you'll need to sign back in with your Apple ID and password after the reinstallation.
Restart Your Device
Any troubleshooting method that works like a charm when you can't stream live soccer on the Apple TV app is to reboot your device. It typically involves holding the device's power button (maybe alongside either volume button) and choosing the Restart or Power off option.
For connected TVs and streaming devices, disconnecting the power cable, waiting a few seconds, and plugging it back into the outlet should do the job. Some also allow restarting from the Settings menu. On Apple TV, navigate to Settings > System and click Restart.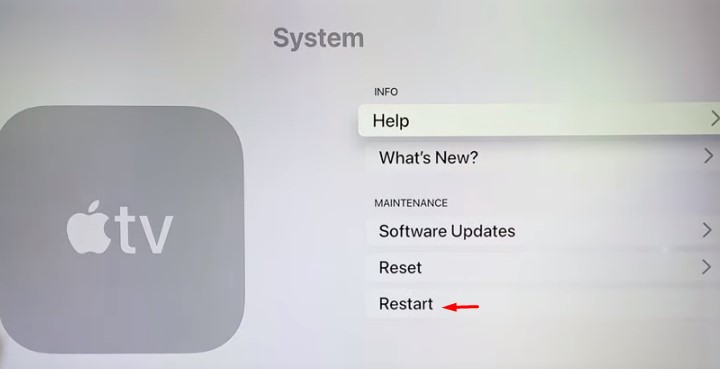 Check Your Internet
MLS Season Pass not working on Apple TV could be because of connectivity issues. Apple doesn't explicitly recommend the minimum download speed required for streaming live MLS games. But considering the matches aired on MLS Season Pass max out at 1080p, it should be in the ballpark of around 15 Mbps.
We'd say a 20 Mbps or faster connection is more reasonable. You can reliably check your network speed via speedtest.net or the Speedtest by Ookla app on your device (available for Apple TV on the App Store).
If it's any slower than your advertised network speeds, see if your home Wi-Fi connectivity is at fault. Ensure a minimal distance between your streaming device and router with minimal obstructions. Disconnect any other devices from your Wi-Fi network that may be eating lots of bandwidth, or ask your family to pause their internet activities temporarily.
Most connected TVs and streaming players have an Ethernet port, so you can try going wired and check whether that fixes your streaming issues with MLS Season Pass. We also suggest watching on another network connection (e.g., cellular) or a different device.
Provided the live/on-demand soccer streams drop to a lower video quality, buffers frequently, or outrights stop playing, try restarting your router by pressing the dedicated power button or unplugging it and plugging it back.
If you've configured a device-specific or network-wide VPN for privacy reasons, disable it for once and see if that's what was stopping you from streaming MLS on Apple TV all along.
As a last resort, contact your service provider and inquire about the problem with your internet connection.
See if You've Hit the Active Stream Limit
If you have multiple devices linked to your Apple ID streaming MLS games, there's a chance you've reached the active simultaneous stream limit, which is up to six devices for the MLS Season Pass subscriptions. If you've got Family Sharing set up, you may have to wait for them to get off or ask them to stop watching.
How to Watch MLS with MLS Season Pass on Apple TV?
Once you have your MLS Season Pass subscription figured out, the dedicated MLS page accessible from the top navigation bar of the Apple TV app is your gateway to every Major League Soccer event. tv.apple.com/sports is the web version for those viewing from a PC or laptop.
It's where you can see live games in progress with real-time score updates, browse the upcoming fixtures, club profiles, player profiles, explore the on-demand catalog, and much more.
To start watching, simply select an event, match recap, replay, or show from any of the categories. To find out when your favorite team is playing, browse the "Upcoming Matches" row in the app or visit the official MLS website from another device to view the full match schedule.
Enjoy Major League Soccer on Apple TV!
Apple's 10-year exclusive media deal with Major League Soccer and its introduction of the MLS Season Pass through the Apple TV app has established a remarkably enticing model that sets a new standard for sports streaming worldwide.
And with the 2023 MLS season already well underway, viewers can now get the season plan at half the price and enjoy the rest of the games, with some of the biggest playoff matchups available to existing Apple TV+ subscribers at no cost.
Our guide ensures you can immediately resolve whatever problem that may have resulted in MLS Season Pass not working on Apple TV. If you find our guide helpful, we'd be pleased to see your valuable feedback in the comments.