NFL RedZone offers live coverage of Sunday afternoon football games, specifically those in which a team is within 20 yards of scoring a touchdown or attempting a field goal. Launched in 2009 by the NFL Network, RedZone has become a favorite among football enthusiasts due to its unique and fast-paced presentation style.
NFL RedZone constantly shuffles between multiple games, notifying viewers whenever a team scores a touchdown, and instantly switches to the scoring team's game to showcase the play. Presenting the most critical moments ensures viewers don't miss the excitement and thrill.
Host Scott Hanson's energetic and engaging play-by-play commentary has contributed to RedZone's success. From one game to another, Hanson guides viewers through seven straight hours of non-stop action, with real-time updates, highlights, and game insights– all without commercial interruptions.
Whether you're a football buff or a Fantasy Football aficionado, RedZone is your destination. "But how do I watch NFL RedZone on Samsung Smart TV?" you ask. We've prepared this guide to show you the way.
Can You Get NFL RedZone on Samsung Smart TV?
With the standalone NFL RedZone streaming subscription, you can stay up-to-date with the non-stop, ad-free coverage of all Sunday early and late-day games as they unfold, making it easier to follow your favorite teams' progress throughout the season without being barred by regional blackouts.
Similar to previous years, there's a caveat: The RedZone streaming channel is mobile-only, meaning it's exclusive to live-viewing only on phones and tablets via the NFL app for iOS and Android. Some of you may wonder if the NFL+ plans include access to NFL RedZone, and the answer is no.
For those uninitiated, NFL+ is the league's official streaming service that lets viewers stream local and primetime games live, also on mobile only. While it allows casting the on-demand replays on a connected TV device, you won't be able to tune in to the RedZone stream, as the mobile-only RedZone plan remains very much distinct from NFL Plus.
Note you don't require either of these services to watch RedZone on Samsung Smart TV. You'll just have to invest in a considerably costlier pay-TV subscription. Rest assured: it isn't a lengthy cable or satellite contract we recommend getting, as you'll see in the following section.
Where to Watch NFL RedZone on Samsung Smart TV?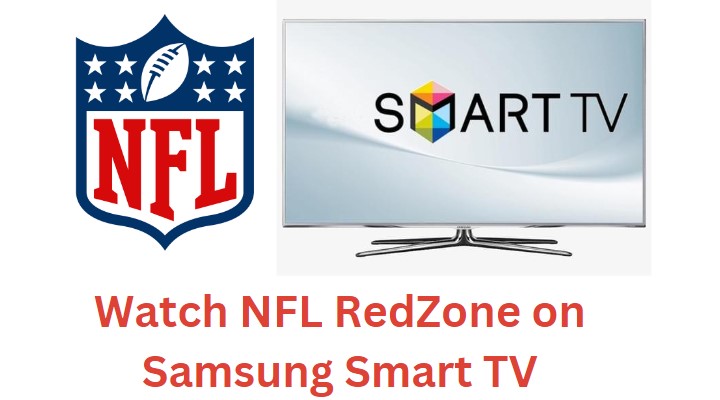 Previously, accessing NFL RedZone over the internet required logging into the NFL app with a participating cable or satellite TV provider, provided the viewers even had a compatible TV device. The good news is you don't have to rely on that anymore since numerous streaming live TV providers now offer the RedZone channel besides other popular networks.
Below are some streaming television services through which you can watch NFL RedZone on Samsung Smart TV without cable, starting with the most affordable pick:
Sling TV
For $40 a month, Sling TV's Blue plan is already a value-for-money replacement for a traditional linear TV experience, and new users can enjoy it at half the price for the first month.
Its inclusion of NBC and FOX (in select markets) and the NFL Network means a good deal of primetime and local football games, and with the Sports Extra add-on in the mix, you can have the ultimate NFL Sunday afternoon coverage on RedZone.
Sling Orange, which carries ABC and ESPN, doesn't get you NFL RedZone when combined with the same $11 add-on, though you may add it to the slightly pricier Orange & Blue for the best of both. Other benefits include a 50-hour DVR limit and up to three device streams.
Even better, Sling TV comes pre-loaded on 2016 and newer Samsung Smart TVs, so it's a matter of launching the app from your TV's Home or Smart Hub menu, linking your account, and selecting the RedZone stream from the app's Guide page.
YouTube TV
The great thing about YouTube TV is that its Base Plan brings almost every channel airing football during the NFL regular season, i.e., ABC, CBS, ESPN, FOX, NBC, and the NFL Network, all under its 100+ channel lineup. The Sports Plus add-on bundling NFL RedZone is the final trophy to the collection.
For those unaware, YouTube TV is also the new home of NFL Sunday Ticket, the premium sports package that lets you watch all out-of-market Sunday afternoon match-ups. You can subscribe to NFL Sunday Ticket with NFL RedZone to enjoy games that aren't airing on your local TV outside the whip-around programming.
With exclusive features like Multiview, you can have up to four of your preferred Sunday football matches playing back simultaneously and switch between them manually. It's like your own RedZone, where you have full control over the broadcasts. There's also no limit on how many hours of football you can record and watch later over the cloud.
The YouTube TV app is available for all Samsung Smart TVs released in 2016 and later.
A Few More Options
Hulu + Live TV: 90+ channels (incl. all local and national NFL broadcasters), RedZone bundled with the optional Sports Add-on, unlimited live TV recording, access to more live sports and on-demand entertainment via ESPN+, Hulu, and Disney+ libraries.
FuboTV (Pro): 150+ channels covering all six NFL-broadcasting networks, NFL Redzone included with Sports Plus add-on, 1000-hour DVR, up to ten concurrent streams on the home network, free trial available.
NFL RedZone is a premium pay-TV channel, after all. So you can't just stream it for free on your Samsung Smart TV. But with a digital HDTV antenna, you can at least tune in to your local football games, plus exciting primetime matchups on Sundays and select Mondays of the NFL season and the playoffs without a subscription.
Takeaways
NFL RedZone offers a thrilling way to enjoy Sunday football by providing a constant stream of adrenaline-filled gridiron action, instant key highlights, and live scoring updates without ad breaks, making it a go-to destination for football fans during the NFL season.
A subscription to any of the above live TV streaming services is the key to watching NFL RedZone on your Samsung Smart TV. Installing the TV versions of their respective apps is also straightforward. Simply follow these steps:
Press Home on the Smart Remote.
Navigate to the Home or Smart Hub menu and select APPS.
Click the Search (hand lens) icon at the top and enter the app's name.
Select Install on the app's description screen.
Finally, select Add to Home for easy access from your TV's apps list.
By now, you should've realized that NFL RedZone only covers Sunday afternoon games; not Sunday Night Football or any primetime match-ups on the other days of the week. To keep in check with the rest of the NFL regular season, refer to our other guides: