During the regular NFL season, NFL RedZone provides live coverage of Sunday afternoon games. Unlike traditional broadcasts concentrating on a single match, RedZone employs a "whip-around" format, swiftly switching between up to eight games to showcase the most thrilling plays, touchdowns, and critical moments in real time.
Scott Hanson, the channel's prominent host, guides viewers through every game airing on CBS and FOX, offering non-stop commentary, updates, and insights. His dynamic and captivating hosting approach has become inseparable from the NFL RedZone experience.
NFL RedZone's primary allure lies in its ad-free broadcasting without regional blackouts. By delivering uninterrupted football action, the channel enables viewers to witness all the crucial plays from multiple games without interruption, ensuring they don't miss a second of gridiron action.
If you look forward to watching NFL RedZone on LG Smart TV, you've come to the right place. Keep reading to find out how.
Best Live TV Plans For Watching NFL RedZone on LG Smart TV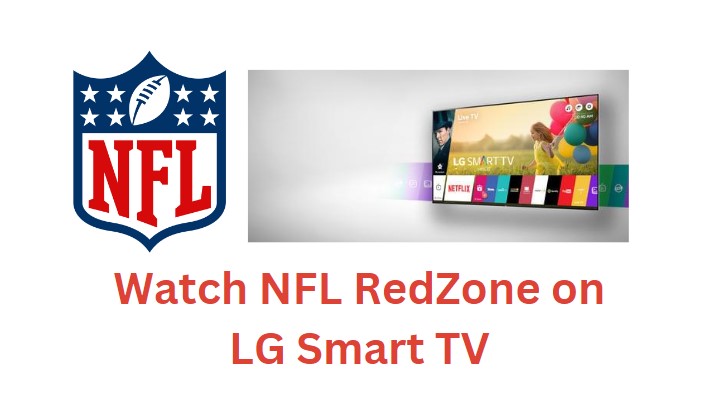 NFL RedZone enjoys extensive availability across numerous traditional pay cable/satellite TV providers, such as Cox, Dish, Optimum, Verizon, Xfinity, etc. However, if you're a cord cutter looking to tune in to the channel on your LG TV over streaming, we've got over-the-top alternatives: FuboTV, Hulu + Live TV, Sling TV, and YouTube TV. Here's more in detail:
FuboTV
What started as a sports-centric streaming service has evolved into one of the top American streaming television providers. FuboTV's Sports Plus add-on, which covers a variety of prime sports channels, includes NFL RedZone.
Combine it with even the service's entry-level Pro plan, and you get comprehensive football coverage throughout the NFL regular season and on to the playoffs. Its 150+ channel lineup ensures access to other sporting events, entertainment, news, etc.
In addition, you get cloud DVR storage for up to 1000 hours of recording and the ability to use your FuboTV subscription for multi-device streaming on up to ten devices at home. With an upgrade to costlier Elite or Premier plans, you can also watch select NFL on Fox games in 4K on your compatible LG television.
Hulu + Live TV
One of the pros of going with Hulu + Live TV is its no-frills subscription model, with an all-in-one channel bundle that includes your local ABC, CBS, FOX, and NBC stations alongside ESPN and the NFL Network for all-around NFL season coverage.
Throw in the Sports Add-on in the mix, and you've got yourself streaming access to every touchdown from every Sunday afternoon game with NFL RedZone, plus hundreds of hours of additional live sports.
Hulu's 90+ live channel lineup, while dwarfed by FuboTV's offering, costs significantly less every month, and it even offers unlimited DVR, unlike the latter. As the branding suggests, subscribers can stream from Hulu's on-demand library of award-winning originals, hit movies, and full seasons of popular shows.
Additionally, you can enjoy a wealth of entertainment on Disney+ and access live sports on ESPN+ bundled in the same subscription, so you're getting your money's worth with Hulu + Live TV.
Sling TV
Renowned for its budget-friendly and customizable plans, Sling TV makes the most sense economically for streaming NFL RedZone on LG TV. Simply opt for the Sling Blue plan and add the Sports Extra package. Combining the latter with Sling Orange & Blue will also give you access to the channels Blue excludes.
In addition to NFL RedZone, Sling TV offers an array of sports, entertainment, and news channels. To watch your local and primetime NFL games on ABC, CBS, FOX, and NBC, you can also pair your LG TV with an indoor over-the-air (OTA) antenna. The Sling TV app (only for 2020 and newer LG webOS TVs) offers seamless integration with broadcast television.
It's worth noting that combining Sling Orange with the Sports Extra add-on will provide a different array of channels that doesn't include NFL RedZone.
Related Video: Watch Local Channels for FREE on LG TV with Sling!
YouTube TV (NFL RedZone with NFL Sunday Ticket)
YouTube TV is the best streaming provider for only the most devoted NFL fans. It offers access to NFL RedZone through its Sports Plus add-on but is also the only cable TV replacement service to include NFL Sunday Ticket. It allows watching every Sunday afternoon game that's otherwise not airing on your local CBS or FOX station.
Combining NFL RedZone with NFL Sunday Ticket is the perfect solution for those seeking full out-of-market games alongside the dynamic whip-around coverage. Check out our guide to NFL Sunday Ticket on LG TV for more details.
And since YouTube TV's Base Plan carries all six channels broadcasting the NFL locally and nationally, you can catch almost every game (except for Thursday Night Football on Prime Video) all the way to the Super Bowl. Like Hulu, YouTube TV also offers unlimited DVR space, meaning you can record upcoming games for later viewing.
How to Watch NFL RedZone on LG Smart TV?
Every live TV service mentioned above is compatible with LG's webOS-enabled Smart TVs and is downloadable via Content Store. Assuming you've already signed up for a monthly plan bundling NFL RedZone via any of the services, follow these steps to catch the non-stop Sunday football action on your big screen:
Press Home on your LG remote control, then navigate to your 'App List' and select the Apps Select LG Content Store in the launcher menu for those on an older webOS version.

Highlight and click the Search (magnifying glass) icon on the upper-right side of the Content Store page.
Enter the name of the live TV app you've signed up for (g., Sling TV, YouTube TV) and pick it from the results.
Select Install on the app's preview pane and wait a few moments.
Once installed, launch the streaming app from your LG TV's Home or launcher menu and follow the on-screen steps to log in. Signing into these apps usually require using another device like your phone, tablet, or computer with an activation code, but some also allow entering account details using the TV remote.
As soon as you're in, browse to the app's 'LIVE' or channel guide menu, tune in to the NFL RedZone channel, and enjoy the rest of your weekend cheering for your favorite football teams and catching their best plays in real time.
Final Drive
NFL RedZone, despite its unavailability as a standalone streaming channel, is accessible via several live TV streaming providers, as we've outlined in this guide.
Long gone are the days of cable/satellite exclusivity. With a subscription to either of the following services, you can tune in to the fast-paced, uninterrupted, and action-packed coverage of the Sunday afternoon match-ups during the regular season with NFL RedZone on LG Smart TV.