Get ready for the 104th NFL season—an electrifying spectacle that grips the entire nation with unparalleled excitement. The stage is set for an epic journey, with an electric atmosphere and palpable anticipation.
In September, the Kansas City Chiefs, defending Super Bowl LVII champions, face off against the Detroit Lions in the NFL Kickoff Game, marking the start of a thrilling NFL season filled with unforgettable moments.
Each week, teams battle fiercely on the gridiron, pushing their limits to secure victories and inch closer to the ultimate goal: a spot in the playoffs. And after a series of exhilarating playoff rounds, it all culminates in the grand finale: Super Bowl LVIII, the championship game millions tune in to.
Football captivates the nation with its intensity, from bone-crunching tackles to miraculous catches and thrilling rivalries. The real kicker? You can experience every game-changing moment on your Vizio Smart TV regardless of whether you're a cable subscriber or prefer the freedom of cord-cutting.
Football fanatics, get ready to embark on an unforgettable journey. The 2023 NFL season is knocking at the door, and your Vizio TV is the gateway to an immersive world of sports action. This guide has everything you need to know to watch NFL on Vizio Smart TV. So let the games begin!
Which are the NFL 2023 Broadcasters in the US?
The 2023 NFL regular season features 272 games over eighteen weeks, just like in previous years. This year's football coverage spans various networks, such as ESPN/ABC, CBS, FOX, NBC, and the NFL Network.
And with the new media rights arrangements with the following, this exciting coverage is set to continue throughout the 2033 season. In order to enhance coverage, the NFL introduced a flexible scheduling system for the 2023 season. Notably, Monday Night Football games are now incorporated into this system, marking a significant change.
Also, there's an increase in cross-flexing, allowing Sunday afternoon games to be flexibly scheduled between CBS and Fox. Both networks can protect a limited number of games involving specific AFC or NFC teams, respectively, as part of these new media agreements. NBC's coverage of Sunday Night Football remains unchanged.
And, as usual, with an emphasis on airing late-season Saturday games and four exciting International Series match-ups, NFL Network ensures fans don't miss the thrilling action they've come to expect.
Where to Watch NFL on Vizio Smart TV?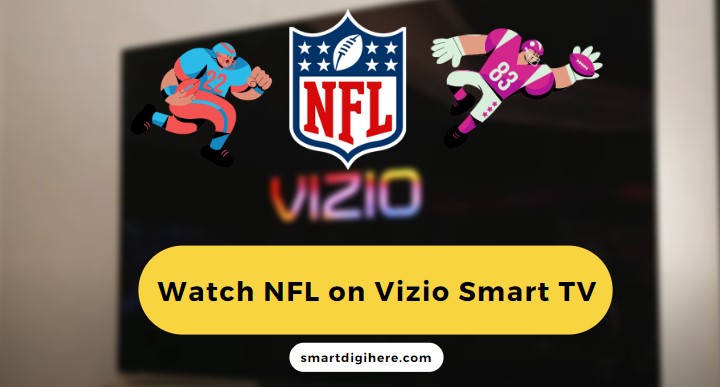 Major sports like the National Football League have long been cable's stronghold. Yet, amidst the streaming wars, the sports league has made new alliances, boosting its reach across various cord-cutting services. These digital partnerships signal a shift in how fans access and enjoy NFL content, with more options to witness the thrilling football action.
Whether you still pay for cable or satellite television or have cut the cord, you'll find all the viable options to watch NFL 2023 on your Vizio Smart TV in the following sections.
For Cable & Satellite Users
Apart from using your cable or satellite set-top box to tune into the NFL coverage, you can stream them live directly on your Vizio TV via a handful of streaming apps that offer logging in with your TV provider – provided your plan includes the channels airing the games.
For instance, you can enjoy the match-ups involving your local AFC team via CBS Sports. Similarly, watch your favorite NFC team play on FOX Sports, with ESPN and ABC's Monday Night Football and NBC's Sunday Night Football streaming via the ESPN and NBC apps, respectively.
The bad news is that only the FOX Sports and NBC apps are available natively for Vizio SmartCast TVs. The good news? Vizio's 2016 and newer Smart TV models support the Chromecast and AirPlay protocols, making it easy to cast live football streams to the big screen with just a few taps on your phone or tablet.
Simply download any of the above apps on your Android or iOS device, follow the in-app prompts to sign in with your respective cable or satellite provider, select the live channel stream, then hit the Chromecast or AirPlay icon and choose your Vizio TV. After a few seconds, you'll be watching the scheduled NFL game.
The mentioned TV Everywhere apps are available to download on the Play Store and App Store, support casting, and allows logging in with an exhaustive list of providers, including streaming ones, as discussed below.
For Cord-Cutters
No cable? No problem! Stream the NFL on Vizio Smart TV with ease. Thanks to streaming television services such as Hulu Live TV, YouTube TV, Sling, and FuboTV, you can still catch all the action without paying for a hefty, long-running TV contract.
If you want comprehensive, all-around NFL regular season and playoffs coverage, your best bet is to subscribe to YouTube TV. Here's why:
YouTube TV's Base Plan features 100+ channels, including all the national NFL broadcasters: ABC, CBS, FOX, ESPN, NBC, and the NFL Network, under the same monthly subscription.
Formerly available as a premium DirecTV add-on package, avid football fans can now sign up for the NFL Sunday Ticket through YouTube TV. Anyone looking to catch the out-of-market Sunday afternoon games otherwise blacked on their local CBS and Fox channels should consider getting the seasonal pass.

You can get the NFL Sunday Ticket with or without NFL RedZone, which provides live coverage of all the scoring play for the day's matchups.
NFL Sunday Ticket is also available as a standalone YouTube Primetime Channel separate from YouTube TV.

Schedule recording for the highly-anticipated NFL games and watch them later on demand – all thanks to YouTube TV's unlimited cloud DVR offering.
Use your YouTube TV subscription to watch the NFL simultaneously on two additional screens besides your Vizio TV.
If you aren't interested in out-of-market football coverage, Hulu + Live TV is a compelling choice. It covers the same lineup of NFL broadcasting channels as YouTube TV, offers unlimited DVR, and allows two concurrent streams. Plus, you're getting more on-demand content with access to Hulu and Disney+ libraries, with more Monday Night Football streams on ESPN+.
For those seeking an affordable streaming TV plan to catch the 2023 NFL games on their Vizio TV, Sling TV's Orange plan is a great choice. The drawback is you don't get access to CBS and the NFL Network, meaning you'll miss out on their portion of the NFL coverage.
 

Provider

Channel Availability
 

Suggested Plan

CBS
FOX
ABC / ESPN
NBC
NFL Network
YT TV
✔
✔
✔
✔
✔
Base Plan
Hulu
✔
✔
✔
✔
✔
Hulu + Live TV
Sling
✖
✔
✔*
✔
✔**
Orange
FuboTV
✔
✔
✔
✔
✔
Pro
*Sling currently provides ABC in a handful of markets.
**NFL Network is available with Sling's Blue and the combined Orange & Blue package.
Note:
Before subscribing, we suggest verifying channel availability in your area. Simply visit the provider's website, confirm your zip code, and check the list of channels available to you.
FAQ: Can I watch the NFL in 4K on my Vizio TV?
Fox is the only US broadcaster offering 4K HDR coverage (upscaled from 1080p) for select big-ticket NFL match-ups, at least at the time of writing.
FuboTV and YouTube TV are the only two live TV streamers supporting UHD playback, so you may be able to catch Fox's NFL games in all their crystal-clear glory on your compatible Vizio 4K TV. That's assuming you're okay with paying for FuboTV's more expensive Elite or Premier plans or YouTube TV's 4K Plus add-on on top of the regular Base Plan.
Watch NFL on Vizio TV via Other Services
If the above cord-cutting services aren't your cup of tea, check out the following streaming options to watch NFL on Vizio Smart TV:
Continuing its streak, Amazon Prime Video will once again bring Thursday Night Football to viewers for the second consecutive year. Prepare for an exciting weekly NFL event as 15 games kick off each new week.
Following its tenure on ABC, ESPN has been the proud home of Monday Night Football for almost two decades. With an ESPN+ subscription, you can catch select games live and all MNF broadcasts on demand.

You must use the ESPN mobile app to subscribe to ESPN Plus and cast the football streams onto your Vizio TV via Chromecast or AirPlay.

Peacock is home to NBC's Sunday Night Football match-ups, with the Saturday evening Wild-Card game from the 2023-24 NFL season streaming exclusively to Peacock Premium subscribers.
Watch every NFL game airing on your local CBS channel via Paramount+. It's also where the Super Bowl LVIII will be streaming at the end of the 2023-24 NFL season.
Learn: How to Watch NFL on Samsung Smart TV
Watch NFL on Vizio Smart TV For Free
NFL is amongst the few American sports leagues airing across all the major broadcast television channels available nationwide.
Therefore, with a digital over-the-air antenna set up with your Vizio TV, you can tune into your local ABC, CBS, FOX, and NBC affiliates and watch their NFL regular season and playoff coverage in high definition. It's free and doesn't require paying a recurring fee.
Use the FCC's (Federal Communications Commission) channel lookup tool to check for the broadcasting channels available at your location. Assuming you get the ones airing the NFL, purchase a Mohu Leaf 30 or an equivalent TV antenna, hook it to your Vizio TV's coaxial port, and go through the channel tuning process.
Video Guide: How to Connect an Antenna to your VIZIO TV
Extra Point
The National Football League now airs across several TV channels and streaming services, so your choices for tuning into the season's most exciting NFL match-ups on your Vizio TV are extensive. We've given each of them their own spotlight, but the ultimate choice is yours to make. Of course, you've got plenty of time to figure all that out till the season begins, so no pressures!