If you utilize a Samsung Smart television, you definitely know the issue with its controller. Most of the recent Samsung TV controllers accompany a few buttons, such as the volume and the power button. If the remote malfunctions, controlling the TV with physical buttons is difficult. Another problem is replacing the old one with a new one is too expensive. This article will highlight the best universal remote for Samsung Smart TV. All the remotes mentioned in the list support Samsung Smart TVs.
Top 8 Best Universal Remote for Samsung Smart TV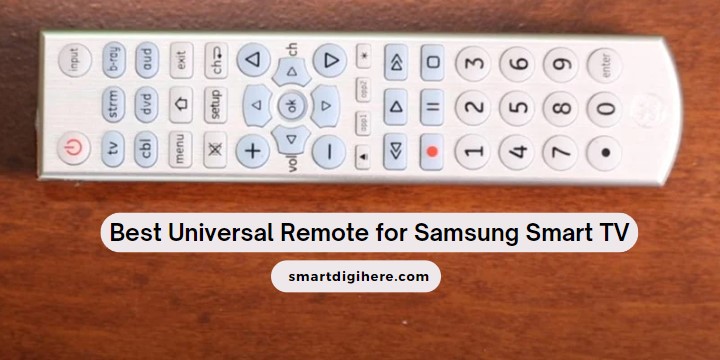 Samsung has delivered many best TVs over the past years. Though it might provide high-quality display, sound, and design, its remote controllers have issues. Below mentioned are the best universal remote for Samsung Smart TV:
Sofabaton X1 Universal Remote
Sofabaton X1 Remote ranks at the top position on our list. The remote has a mobile application and supports over 5,00,000 devices. The smartphone app has the feature to work as an additional controller. It is one of the controllers you can purchase for your Samsung Smart TV.
The Sofabaton application is easy to set up. You can give orders through a Macro button. The remote does not work with Air Conditioners. The remote has all the qualities that stand out as a premium product.
One For All Samsung TV Replacement Remote
Next up on our rundown, One For All Samsung TV Replacement Remote. It is one of the best remotes for all Samsung LCDs, LEDs, and Plasma televisions. The controller is pre-programmed for all Samsung Smart TV models. The remote has all the essential buttons, such as the Guide, Menu, HDMI, and Smart Hub.
The remote supports a maximum of 1 device only. You just need to put in the batteries and start using it. The remote has a learning feature that can be utilized for remote setup. The remote looks like the original Samsung remote. There are no backlit buttons and a proper feedback system. Overall, it should have the ability to work with different devices.
Sofabaton U2
The third universal remote control on our list is Sofabaton U2. Apart from its feature of controlling Samsung Smart TV easily, it can also handle other devices, such as streaming devices and soundbars.
Sofabaton U2 comes with a robust design with large-size buttons, and it also has more responsive clicks. The performance of infrared is also better compared to its predecessor. The remote also offers more off-axis functionality and range. It also has a battery compartment that is more user-friendly. The Sofabaton U2 is a powerful and efficient remote controller.
Coolux Universal
Coolux Universal is the best universal remote for Samsung Smart TV if budget is your concern. It was designed especially for all Samsung LCD, LED, HDTV, and 3D smart TVs. The remote control comes in red, grey, and black.
With Coolux Universal, you don't need any setup or special pairing to use it for your Smart TV. It comes at an unbelievable price of $$9.99. You can purchase a quality product to control your Samsung Smart TVs. The remote doesn't accompany 2AAA batteries and works with no other smart home devices. Considering the price, any reasonable person would agree it is still worth every penny.
Gvirtue Universal
The fifth rank goes to Gvirtue Universal. It is a well-rated remote controller that works with Samsung Smart TVs. If your Smart TV model does not support the remote controller, you don't have to worry because the setup process is simple. It also has a learning function.
Gvirtue Universal remote comes with hotkeys for various functions. You also get the option of customizing your remote. It does not work with smart home gadgets. It was only made as a replacement.
The most common issue you will face with this remote is pairing and setup with a hub that is not compatible. You also need to buy batteries separately to use this product.
GE Color Select Backlit Universal Remote Control
Following up, we have GE Color Select Backlit Universal Remote Control. It has backlit keys. You can control your Smart TVs, soundbars, DVD/Blu-ray players, streaming players, and receivers. It is pre-programmed, especially for Samsung devices. The remote is only available in Black and Purple.
Maximum 4 devices can be supported. It has the largest remote code library and unique dedicated buttons for streaming players and DVDs. Apart from Samsung devices, it also supports Sony, LG, Panasonic, Vizio, and Sharp devices. Unfortunately, you cannot control RF devices, and Roku sticks with this remote. It has all the basic functions that you need for a television.
Philips Universal Remote Control Replacement
Philips Universal Remote Control Replacement is another controller that can control devices such as streaming media players, DVD players, soundbars, TV, and more. One unique feature of this remote is that it is equipped with premium rubberized buttons. It works only with infrared signals because it is not a smart remote.
It is pre-programmed, and the setup is simple. It has master volume button controls. You can get the remote only in black colour. The remote can support up to a maximum of 6 devices. It also comes with 90 days free warranty. It does not have the feature to support Firestick and Roku.
Whizmrchen Universal Remote Control for Samsung TV
The last one on our list is the Whizmrchen Universal Remote Control can be used for every Samsung TV model. It runs with the help of two AAA-sized batteries. You can have control over your Smart TV only by an 8-meter distance using this remote.
It is built with hard ABS shell material, so it cannot be broken easily and it only comes in one colour, i.e., Black. It can only support 1 device. You can start using it directly once you insert the batteries. The controller would have been better if it was built as a smart television remote with a Wi-Fi connectivity feature.
Things to Consider Before Buying a Remote for Samsung Smart TV
When you decide to purchase a remote for your Smart TV, you should examine specific variables, and there are different things you want to check. Some of the primary concerns are mentioned below:
Usability
The number one factor to consider before buying a remote controller for Smart TVs is its functionalities. You should search for the ones that are straightforward to utilize. People of different ages are in every household, so sharing remote control is obvious.
Hence, a universal remote controller is the best option. There are so many universal remote controllers with unique features in the market. You need to select what works best in your situation.
Setup Requirements
The next factor to consider is the configuration type. With so many universal remotes introduced in the market, some are easy to set up, while some require extra effort. Suppose you are buying a high-quality universal remote. In that case, you won't have any troubles with the setup process and don't need to worry about extra settings.
Ease of programming and setup needs to be considered before buying a universal remote controller. Only purchase remotes that are easy to handle because you might face different problems while using them.
Cost
The main variable to consider is the cost. Before purchasing a remote controller, you want to analyze the pricing of these remotes and search for the ones that offer the best benefit for your cash. You want to give need to quality.
Pricing is a major factor when purchasing a remote for Smart TVs. You need to set out a budget and purchase within our budget. The cost ranges from $10 to $200 or $300 or considerably more.
Compatibility
Compatibility is one more element that you need to focus on. It is always best practice to check the list of all TVs and other gadgets your remote can operate before purchasing them. Universal remotes are the best option because they are a one-stop solution for controlling all your devices.
You must also see the maximum number of devices your remote can control simultaneously. If your remote can handle multiple devices, it will benefit you in many ways.
Closure
Those mentioned above are the top 8 best universal remote for Samsung smart TV. If you plan on purchasing one, go through the guide above and find the one that works best. All the remotes mentioned work with Samsung Smart TVs. You will also find links to buy any one of the remotes online.
Universal remote controllers are the ideal choice to control every one of your gadgets with a single remote. One of the primary benefits of utilizing a top-notch universal remote is that it can help you declutter your home and make more space. With these remotes, you don't have to carry various controllers around the house to control multiple gadgets. It is easy to utilize and can be bought at a fair cost.