Our article compares the Best Logitech Harmony Alternatives based on their ratings. Continue reading to learn more.
It's not fun when you need many remotes to control your home theater, and that's where a universal remote can help. With just one remote, you can control almost everything – no more searching for a lost remote under the sofa or getting up from your cozy seat.
For a long time, Logitech was in charge of the market for universal remotes that can control many different devices. They had a lineup of remotes called Harmony, made for people who love home theaters and those who take home automation seriously.
One of its most popular models was the 2014 Harmony Hub, a small central hub device that talks to your home theater stuff over Bluetooth and IR. It even connects to your home's Wi-Fi to work with your smart home gadgets. You can then control them with the supplied remote, the companion mobile app, or even by talking to an Amazon Echo or Nest Audio.
Fast forward to today, and Logitech is no longer in the universal remote business. The brand promises to continue supporting its existing Harmony products for an indefinite period. But eventually, people will need to find a different way to control their home devices, as the lack of updates going forward may even make current users switch.
With Logitech leaving a gap, feature-rich universal remotes are hard to come by. That said, there are still a few viable choices left for you, some of which we're rounding up in this buying guide to the best Logitech Harmony alternatives.
So without further ado, let's check out some of the Logitech Harmony Alternatives available right now on Amazon.
5 Best Logitech Harmony Alternatives (Reviews)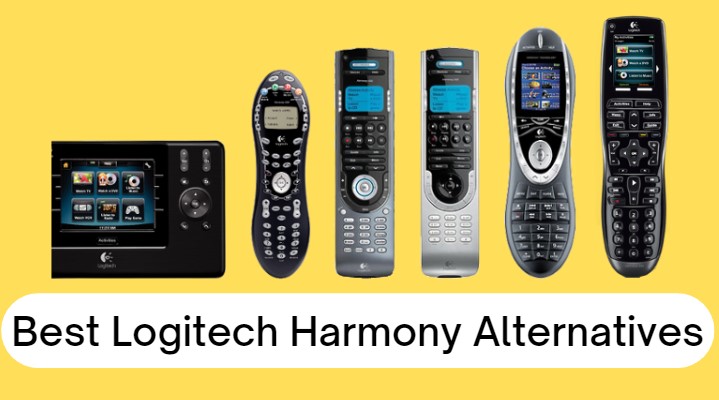 1. Sofabaton X1
If you're looking for something similar to the Logitech Harmony Elite, the SofaBaton X1 is the closest option and one of the Best Logitech Harmony Alternatives available in the market. It's designed nicely and has an intuitive layout, with backlit buttons that make it easy to use in dimly-lit home theater environments. The rounded, textured edges provide a comfortable grip. Every key press offers tactile feedback – not too hard or soft.
Like the Harmony remotes, the Sofabaton X1 features a handy little OLED display with a tiny scroll wheel below it, allowing seamless cycling between your programmed devices and various remote functions. There's even a circular D-Pad for traditional controls.
The SofaBaton X1, like the Harmony Elite, sends signals to a hub, which connects to your home Wi-Fi and works with Alexa and Google Assistant, enabling hands-free voice controls. The device comes with dual IR blasters, meaning you can tuck all your home entertainment equipment behind a closed cabinet for a clutter-free look and still control them effortlessly.
You can program the X1 to execute certain actions simultaneously. For instance, you can configure a macro to turn on your TV, home theater audio system, and Blu-ray player together. It takes a while to set up everything, but the fact that the X1 supports over 500K unique IR and Bluetooth devices (with more added through updates) is worth appraising.
The Sofabaton X1 has a built-in rechargeable battery that lasts for weeks before you plug it into the wall over its USB-C port. There's also the Sofabaton mobile app you can use as a substitute for the physical remote and for easy setup and macro configuration with your home devices.
2. Sofabaton U2
The Sofabaton U2 is another universal remote from the same brand we picked to include in this roundup – and for good reasons.
Not only does it resemble Logitech's Harmony Elite remote from the small screen at the top down to the button layout, but it can also control up to 15 IR and Bluetooth devices, the same as the latter. Even when the Harmony was the top choice for universal remotes, such flexibility cost hundreds of dollars.
In contrast, the Sofabaton U2 is priced at just $50, though with some obvious corner-cutting measures. For starters, the remote doesn't feel very premium in hands, and the buttons are hard to press. The OLED screen at the top is monochrome, and navigation with the tiny scroll wheel is fiddly at best.
You can set it up using the SofaBaton mobile app, which is much easier than connecting it to a computer. If your devices are in SofaBaton's list, you can just tap to add them. They sync instantly with the remote, and you can use the scroll wheel to cycle between the devices.
If not, you can still program the U2 by making it learn from your original remote. Mind you, the process isn't the most time-efficient or intuitive. It does involve a bit of a learning curve and patience, but once you figure it out, it all works nicely.
You can also remap the buttons to your desired actions. For instance, while using a Fire TV or Apple TV, you can reassign the volume keys to control your soundbar or home theater system. The four programmable macro buttons allow performing any command sequence, e.g., turning on your TV, soundbar, and streaming player – all simultaneously.
Is the SofaBaton U2 the perfect Logitech Harmony alternative? No, it's not. Besides the tricky setup, the buttons don't light up, so they're not easy to see when the room is dark. Also, you need two AA batteries to power it up. The U2 doesn't work with a hub like the Harmony remotes, meaning your devices must be in sight for it to work.
However, considering its affordable price and support for a wide range of devices, the SofaBaton U2 is a decent universal remote.
3. GE 8-Device Universal Remote (Model 37123)
Our Second pick on the list of the Best Logitech Harmony Alternatives is the 8-Device Universal Remote from General Electric and takes a no-frills approach to controlling up to eight devices using the old-fashioned code-based programming method.
Even though this remote is programmable with only eight devices, it can operate a vast range of smart TVs, set-top boxes, Blu-ray/DVD players, sound systems, and even select streaming players. It has a classic design with a simple navigational D-pad alongside all the essential function buttons (also backlit) for your TV and media needs.
If all you want is a basic universal remote for your living room theater setup, the GE 8-Device Universal Remote is a great option. Sure, it's devoid of the fancy features of other options in this list, but it's perfect if you find programming with a mobile app too complicated.
One big thing to note is that this remote costs about $15. It's affordable but still well-made, and it does just enough of everything necessary to manage your IR devices. Plus, it's available in different colors to suit your decor.
4. Amazon Fire TV Cube
Yes, we know what you're thinking: The Amazon Fire TV Cube isn't even a universal remote like the Logitech Harmony. But let us explain why we think it is one of the Best Logitech Harmony Alternatives.
What might surprise you about the Fire TV Cube is that unlike its siblings (in fact, unlike any other all-in-one streaming boxes) out there – it can manage several other devices in your home entertainment center. And the coolest part is you can ask Alexa to control them with your voice.
Hidden inside the compact, cubical media box are IR blasters, enabling universal remote functionality that sends out commands to many different devices, i.e., TVs, cable boxes, receivers, soundbars, etc. You can add and manage these devices from the Fire TV interface, after which you can control them using the supplied Voice Remote.
The Cube's onboard mic and speaker also allow you to talk to Alexa for hands-free voice controls. For instance, if you say, "Alexa, open Prime Video," it'll turn your TV, AV receiver, and soundbar on, then launch the Prime Video app on the Fire TV Cube. You can even use voice commands when the TV isn't on, like asking questions or dimming your smart lights.
Moreover, being a streaming device, it provides a pristine 4K HDR (Dolby Vision) output, supports Dolby Atmos, has 16 GB of onboard storage, Wi-Fi 6E, Ethernet, USB, and more. Amazon's Fire OS also offers access to nearly all the streaming services you might want.
Although the Fire TV Cube can be considered a good Logitech Harmony alternative, there's one caveat: It only works with IR-controllable devices. While it has Bluetooth, it's mainly for connecting headphones and gamepads. However, for any device that connects to your TV over HDMI, there's a strong chance the Fire TV Cube can manage it through CEC.
5. Broadlink RM4 Pro
The Broadlink RM4 Pro resembles the base unit of the Harmony Hub and provides similar features. It connects to your regular home theater equipment over IR, smart wireless devices using Wi-Fi and Bluetooth, and standard appliances via RF.
There's no physical remote control that comes with it. You manage the RM4 Pro and all the connected devices using your smartphone through the BroadLink mobile app. Its online IR database has 50,000+ devices and is actively updated to support newer ones. The hub itself links to your TV over HDMI.
The RM4 Pro also works as a complete smart home hub. You can use it to manage all your other smart devices at home, such as light bulbs, plugs, thermostats, etc. The device can sense the ambient humidity and temperature, meaning you can assign rules via the app to make your air conditioner turn on when the temperature goes up.
The RM4 Pro even has IFTTT integration should you wish to make complex combinations of actions and routines. And with support for Alexa, Google Assistant, and Siri, you can easily control your devices and appliances by using your voice.
Anyone looking for a powerful universal smart home control hub won't be disappointed with the Broadlink RM4 Pro. While it would have been nice to have a physical remote, some of you probably won't mind using your phone for operating the devices. And if you find that a nuisance, you're welcome to pick from the above options.
Best Logitech Harmony Alternatives: FAQ
Q1. I currently use a Harmony Hub. Do I need to switch?
If you're using a Harmony Hub for your home theater/automation setup and it's working well, there's nothing to switch to, at least for now. It should be functional as usual until Logitech decides to stop supporting it or shuts down its cloud service at some point in the future.
Whether your Harmony remote has finally died, or you're looking for a new universal remote, the above five Logitech Harmony alternatives are worth your consideration. They may not be the most feature-rich or easy to set up, but they're all solid picks for controlling your home media or smart home ecosystem.
Q2. Can I still buy Logitech Harmony remotes?
Logitech discontinued its Harmony line of universal remotes back in 2021. It's disappointing, really, given how good they were. But since they still haven't pulled the plug on the software support and don't plan to anytime soon, it could be a good idea to get one – provided you can find them for a fair price.
Logitech Harmony 665: The Harmony 665 has a small non-touchscreen display with buttons around it for quick access to various actions and functions. It can control up to ten devices and supports over 6,000 brands. However, it uses infrared (IR) and can't manage smart home devices. [Check on Amazon]
Logitech Harmony Elite: The Elite is programmable to work with 15 devices at once. With physical buttons and a color touchscreen, you can easily pick a favorite channel or create custom macros for specific tasks. It connects to the included Harmony Hub, which works with smart home ecosystems like Ecobee and Philips Hue. It's also compatible with Amazon Echo and Google Nest devices. [Check on Amazon]
Logitech Harmony Companion: Similar to Harmony Elite, the Harmony Companion controls smart home devices and entertainment systems. It lacks a screen, so you use physical buttons for controls. However, it does come with the Harmony Hub and supports Alexa and Google Assistant. [Check on Amazon]
Q3. What should I look for when buying a Logitech Harmony alternative?
When searching for the best Logitech Harmony alternatives, the main aspects to consider will differ for each individual. It generally boils down to three key points: the range of devices the remote can connect with, the total number of devices it can be programmed to work with, and the features the remote offers.
Picking a universal remote/control hub that doesn't work with specific brands or technologies limits its usefulness. Also, if you have many devices to operate, but the remote is incapable of handling them all together, it's not worth the investment.
When comparing similar remotes, features like ergonomics, the inclusion of a touchscreen, button remapping, manual IR learning, seamless pairing, voice control, or smart integration should guide your decision. We've kept all these factors in mind when making our selections, as most of you might have noticed.
Related Articles:
Ending on a Remote Note
When Logitech stopped making Harmony remotes, it felt like the end of the road for truly versatile universal remotes. This feeling only grew stronger when a few other competing brands also followed suit. It remains a niche product category with even fewer options than before, and good options are difficult to find.
Even though there aren't many choices available nowadays, those looking for a universal solution to control their home entertainment system and smart home appliances without shuffling among several remotes will find our picks for the best Logitech Harmony alternatives reassuring.