Football is back on the menu! The NFL regular season is nearly here, and with such an exhilarating schedule ahead, most of you are likely trying to figure out ways to tune into all the gridiron action from your favorite team. Our guide to watching NFL on Roku covers a lot of ground, but what about supporting your team from a different location?
Let's say you're a New England Patriots fan who recently moved from Massachusetts to California for work or personal reasons. You've spent years passionately following your beloved Patriots, but now you must deal with being outside the team's local broadcast area. Since local networks in California primarily focus on the West Coast teams, it leaves you with limited access to Patriots games.
That's where NFL Sunday Ticket becomes a game-changer for you. With Sunday Ticket, you can tune into every Patriots game and every other out-of-market, regular-season matchup every Sunday afternoon, even when you're far from home.
Gone are the days of relying on sporadic updates from online sources or settling for brief game highlights and recaps. With NFL Sunday Ticket on Roku, you can now experience the thrill of every pass, touchdown, and victory as if you were sitting in the stands. This guide will tell you more, so continue reading.
Where to Get NFL Sunday Ticket on Roku?
NFL Sunday Ticket is a premium sports package for accessing out-of-market games which aren't airing on your local CBS or FOX station during the NFL regular season. Following the 2022 season, Sunday Ticket left DIRECTV for YouTube, and it'll likely be like that for a while, given the seven-year contract Google struck with the NFL.
You can get NFL Sunday Ticket on Roku by signing up through YouTube TV or YouTube Primetime Channels. On YouTube TV, the channel package starts from $349, whereas it starts from $449 on the latter. It's valid for only one season.
The difference between the two is that with YouTube TV, you'll also be paying separately for the Base Plan ($73/mo). It gives you ABC, CBS, FOX, NBC, ESPN, and the NFL Network (and 100+ channels) for all-around NFL regular and post-season coverage. With the Sunday Ticket Primetime Channel, you can only access out-of-market football and not any of the local, national, and post-season games.
If you also want NFL RedZone for Scott Hanson's "whip-around" Sunday afternoon football simulcasts, you can bundle it with Sunday Ticket for an additional $40. The good news is both platforms are running a $50 discount deal until September 19, so you might save a buck on the subscription depending on when you're reading this.
How to Access NFL Sunday Ticket on Roku?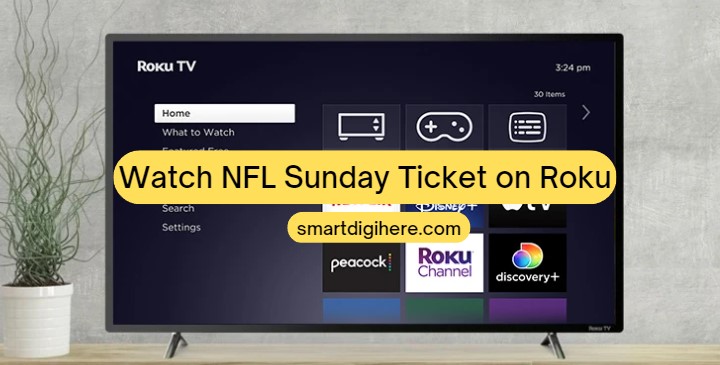 With NFL Sunday Ticket available on YouTube and its live TV counterpart, streaming the out-of-market NFL games on Roku hasn't been this easy. It's a matter of purchasing the sports package via either platform and logging into the respective app on your Roku streaming player.
Getting the standalone Sunday Ticket Primetime Channel via YouTube is straightforward. Search for "NFL" in the YouTube mobile app or website and click the "Get NFL Sunday Ticket" button. You can then continue buying the add-on package with or without RedZone with your preferred payment method.
Signing up for the NFL Sunday Ticket through YouTube TV is what most of you will likely end up doing. Visit tv.youtube.com from your web browser and "Get Offer Now" under the NFL Sunday Ticket banner. Once logged in with your Google account, you may bundle RedZone with the package and customize your YouTube TV membership.
If you already watch live TV on Roku with your existing YouTube TV subscription, open the mobile app or the website, navigate to your Profile at the upper-right corner to Settings, and select Membership. You can add NFL Sunday Ticket from the following list of services, for which YouTube TV will charge you via your linked payment method.
Once you've received your confirmation receipt for NFL Sunday Ticket in your mail inbox, launch the YouTube or YouTube TV app on your Roku and log in. Of course, you must have them added from the Channel Store first, and here's how:
Scroll down your Roku Home screen and select Streaming Channels.
Choose the Search Channels option on the Channel Store screen.
Enter "YouTube" or "YouTube TV" in the search field, then choose the top result in the right-hand pane.
Click Add Channel on the app preview page.
Open the newly-installed streaming app from the bottom of your apps list on the Roku Home screen. Both the YouTube and YouTube TV app offer signing in using the remote or via the seamless code-based activation process carried out on another device.
When you've successfully signed in, you can access the live Sunday afternoon games on the NFL channel on YouTube or YouTube TV's HOME or LIVE menu.
Note you'll still have to tune into your local CBS or FOX station for the local Sunday football broadcasts, which you won't be able to do unless you also pay for the YouTube TV Base Plan.
Learn More About NFL Sunday Ticket Features on Roku
Besides providing out-of-market football coverage, YouTube's rendition of NFL Sunday Ticket offers other cool features like Multiview, which allows you to play up to four live games simultaneously on one screen. It's like how the NFL RedZone broadcasts often go, but here, you're free to switch between the streams and go fullscreen on a single broadcast at any point.
There's also the option to record the Sunday football games for later on-demand viewing with YouTube TV's Unlimited DVR offering. The good news is you can utilize this feature even if you've bought the Sunday Ticket Primetime Channel.
It's worth noting that there's no limit on how many football streams are viewed from the same account as long as they're on the same network. For instance, if you're watching one out-of-market NFL game on your Roku, another family member can watch a different game on their preferred device. Two is the maximum number of simultaneous NFL Sunday Ticket streams outside your home.
Wrapping Up
That's everything we could tell you about NFL Sunday Ticket on Roku. For those wondering, the sports package doesn't offer a free trial and isn't available through any other provider but YouTube TV and YouTube Primetime Channels.
That said, if you aren't looking forward to paying the exorbitant price for the Sunday Ticket and aren't in a hurry to catch your favorite American or National Football Conference team playing live in a Sunday matchup, the NFL+ subscription is a significantly cheaper substitute for on-demand access to the out-of-market football games on Roku.