Oura Ring vs Fitbit: Which One Is Best? This comparison guide will put the two wearables head-to-head and help you choose the best option.
Smart wearables nowadays come in various flavors. The Oura Ring and Fitbit represent two distinct types of wearables: one's worn on the finger and the other on the wrist. Of course, the external appearance is where the two devices are vastly different, but the hardware is where both have plenty of things in common.
The Oura Ring, initially launched in 2015 with a Kickstarter campaign, didn't take off until 2020, the year in which the device gained massive traction after being used by professional athletes and celebrities.
The premise of the Oura Ring is that not everyone finds it appealing to strap a bulky smartwatch and have yet another screen to manage on the wrist. A ring blends in much better than a band or watch. The finger is also ideal for biometric sensors to collect accurate metrics.
On the other hand, Fitbit has always been about wearables for the wrist, blending in like an ordinary watch and allowing users to keep track of their daily activities. Fitbit also appeals to a wide range of demographics, available in watch and band forms.
One might wonder how the Oura Ring fares against Fitbit trackers concerning overall tracking capabilities and features. Continue reading for more information.
Oura Ring vs Fitbit: First Impressions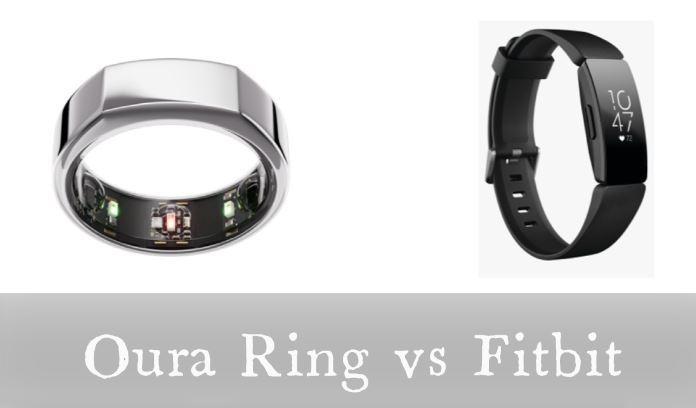 At first glance, these two wearables are immediately distinguishable from each other. One is for wearing on the finger, while the other is for the wrist. It's worth noting that you can wear some Fitbit trackers like the Inspire HR elsewhere on your body with the optional clip accessory the brand sells on their website.
With the latest generation of Oura Ring and Fitbit, one can expect premium built quality from both wearables. However, Oura does better in hiding its smartness under a normal-looking ring and is less likely to start a conversation. That said, the low-profile design of Fitbit trackers also makes them stealthy and comfortable to wear.
Oura Ring
With a 2.55 mm thickness and 7.9 mm width, the Gen 3 Oura Ring is slightly chunkier than a conventional wedding ring, but it's also lightweight at 4 to 6 grams (depending on the ring size). The lightness comes from the titanium construction, which also adds up to its durability factor. Speaking of which, it's water-resistant up to 100 meters or roughly 328 feet.
The Oura Ring lacks a display, meaning you'll need to use the Oura mobile app to monitor your health and fitness data. Thankfully, the companion app is available for both Android and iOS devices. You can download it from the Play Store or App Store.
The Gen 3 Ring is available in 6 to 13 US ring sizes. Oura also offers a free sizing kit if you're unsure about your ring size. Once you figure it out, Oura will ship you the actual device.
Fitbit
Fitbits come in various shapes and sizes, but they all sit on the wrist. The brand currently sells fitness bands and smartwatches under several different series, each catering to unique user needs.
From the somewhat rudimentary Inspire HR to the feature-rich Charge 5, all Fitbit fitness trackers come with a screen, allowing users to keep track of their health data and workouts without taking out their phones. Furthermore, users have the freedom to switch between different bands for matching looks.
There also are smartwatches with the Versa 3 and Sense, which provide users with a larger screen real estate to review biometric and exercise data, control music playback, and use various third-party apps.
Every Fitbit model introduced in recent years comes with a 50m water-resistance rating. You can wear them to the shower, pool, beach, and beyond without worrying about water damage. Some Fitbits even have auto swim-tracking capabilities, allowing you to track your laps, duration, distance, and more.
Oura Ring vs Fitbit: Fitness & Health Tracking
The two wearables from the outside, at least, are very different. But how they compare health and fitness tracking-wise is a separate topic to cover.
Oura Ring
Despite being extremely space-limited, the Gen 3 Oura Ring packs three times as many sensors as its predecessor. Firstly, there are motion sensors like accelerometer and gyroscope for tracking steps, which we also see on Fitbits and other smart wearables.
Secondly, there are infrared sensors measuring your heart rate, heart rate variability (HRV), and respiratory rate. The red infrared LED enables blood oxygen saturation (SpO2) tracking, while the green infrared LED enables 24/7 HR tracking. Oura claims that infrared sensors are more reliable as they better penetrate the skin and take accurate biometric readings regardless of skin tones.
The Ring can also track body temperature with seven onboard sensors. It also enables Oura's Period Prediction feature that detects different menstrual cycle phases. Having access to such information can help users physically prepare for the rest of the day. In contrast, some Fitbit trackers can only estimate skin temperature.
Unlike its predecessors, the Oura Ring (Gen 3) can monitor heart rate during workouts, naptimes, and relaxing periods throughout the day. There are many other things it can record and keep track of, including but not limited to:
Activity levels (step count, inactive times, total calorie burns)
Restorative time (physical and mental recovery)
Daily/weekly goal progress
Sleep and readiness scores
Fitbit
Fitbit trackers and smartwatches come with plenty of advanced health and fitness tracking sensors, all due to their more prominent form factors.
Like the Oura Ring, all Fitbit models are capable of tracking steps and sleep sessions. Moreover, Fitbits with optical heart rate monitors can actively track heart rate, breathing rate, and heart rate variability, assess heart rate zones during workouts, and even identify heart rhythm irregularities.
Similarly, Fitbit trackers and watches with the red infrared sensor can monitor blood oxygen saturation (SpO2) levels. Some even offer access to skin temperature variation and menstrual cycle tracking via the Fitbit app.
One advantage some Fitbit models have over Oura is built-in GPS. It lets users check their distance and pace on screen during outdoor activities like running and cycling, then log a map of the covered route in the app. The Oura Ring relies on your phone's GPS to deliver the same data. Below are other things Fitbits can keep track of:
Active zone minutes
Total calorie burnt
Irregular heart rhythm or atrial fibrillation (Afib)
Stress management and daily readiness scores
Peak oxygen uptake (VO2 Max)
One notable difference between the Oura and Fitbit is their integration with the Apple Health and Google Fit apps. The Oura works with both, while Fitbit is yet to support Google's health platform.
Oura Ring vs Fitbit: Sleep Tracking
Both wearables offer excellent sleep tracking with very similar feature sets. It ultimately boils down to comfort, which is where the Oura Ring has a clear advantage. And if you want a more detailed breakdown of your sleep sessions, Oura is once again worth considering.
Oura Ring
The Oura Ring logs a barrage of sleep data and provides a detailed analysis of sleep stages, similar to how Fitbits trackers record sleep. In the Oura app, you can view your overall sleep score based on your resting heart rate, respiratory rate, body temperature, sleep and wake time, and previously set baselines.
Oura uses the same sleep data to estimate your Readiness score, indicating whether you're physically ready for the day ahead. It also accounts for your sleep balance, previous day activities, body temperature deviation, and recovery index.
Fitbit
Users and tech journalists widely consider Fitbit's sleep monitoring accurate and insightful. With meaningful additions and modifications to its tracking algorithms over the years, Fitbit has come a long way in collecting sleep metrics from the wrist.
All currently-sold Fitbit models support auto sleep monitoring. And like Oura and Garmin, Fitbit culminates all collected data to provide a daily sleep score and detailed graphs of the time spent in deep, light, and REM sleep stages. It also counts the total time spent restlessly in bed, adding to your nocturnal activity assessment.
The new Fitbit Charge and Versa models use overnight SpO2 data to increase the accuracy of sleep quality data and identify signs of possible sleep disorders. And with the Fitbit Premium membership, users can unlock additional in-depth sleep analysis and guided sleep meditations.
Oura Ring vs Fitbit: Battery Life
The Gen 3 Oura Ring offers four to seven days of battery life, meaning it'll last you nearly a week on a single charge. The included charger fully recharges the Ring's battery in about an hour and twenty minutes.
The latest Fitbits have more efficient hardware, with most models claiming a solid 1-week battery life. However, when you account for features like GPS, Always-On-Display, and 24/7 HR monitoring, the runtime is reduced to 1-3 days and even lower.
One can expect the same tracking time from an Oura Ring and Fitbit. But the former can last longer in some situations as it doesn't have to power a display.
Read: Ways to Fix Oura Ring not Connecting Issue
Oura Ring vs. Fitbit: Pricing
Pricing-wise, Fitbit has the upper hand. Its cheapest tracker, the Fitbit Ace 3, at the time of writing, goes for five times less than the base price of the Oura Ring. However, the Fitbit Sense shares the same price as the Oura Ring (Silver/Black) and is the closest in terms of health and fitness tracking capabilities.
Both Oura and Fitbit offer premium membership plans for those wanting access to personalized guidance, advanced sleep and stress insights, daily readiness scores, wellness reports, and extra daily challenges. But unlike Fitbit, Oura locks many of the basic app features behind the monthly paywall.
Related: Is Oura Ring Waterproof?
Oura Ring vs Fitbit: Verdict
As far as hardware goes, the Oura Ring and Fitbit have similarities and significant differences. If you prefer comfort and discretion, the Oura Ring is your best bet. But if you prefer having a secondary screen on your wrist where you can check your health and activity metrics, you're better off with a Fitbit instead.
Other comfort features of Fitbit include watch notifications, contactless payments (NFC), music controls, apps, etc. The Oura Ring makes up for the lack of these features with highly-accurate biometrics, detailed sleep analysis, and wellbeing scores.
App experience-wise, both Oura and Fitbit present collected data in a streamlined manner that doesn't overwhelm the user. We personally find the Fitbit app to be more polished and reliable, given Oura still needs to work out a few bugs on its Android app.
Ultimately, both wearables offer a solid user experience as fitness trackers in their own ways. Our job was to discuss and compare them, but the question of which one to buy largely comes down to your preferences.