Fitness bands and smartwatches dominate the wearables industry and are here to stay. While a horde of start-ups keeps trying to innovate new types of wearables, make some noise, and prematurely exit from the market, Oura's "smart rings" still seem to be the future of wearable technology.
Smart rings have been around for almost a decade, but they only took off with the launch of Oura Ring (Gen 1) in 2015. The second and third-gen models came out in 2018 and 2021, respectively, shrinking the device's footprint to the dimensions of a wedding band.
Most still consider the Oura Ring a niche product, but the breakthrough and disruption it caused have brought many new players into the smart ring business. Sadly, some exciting competitors have already left the game, with the notable ones being Amazon and Motiv.
Nevertheless, there are plenty of worthy Oura Ring competitors on the market. This guide highlights the best of them. Take your wellness and productivity to the next level with the best Oura Ring alternatives.
Oura Ring Alternatives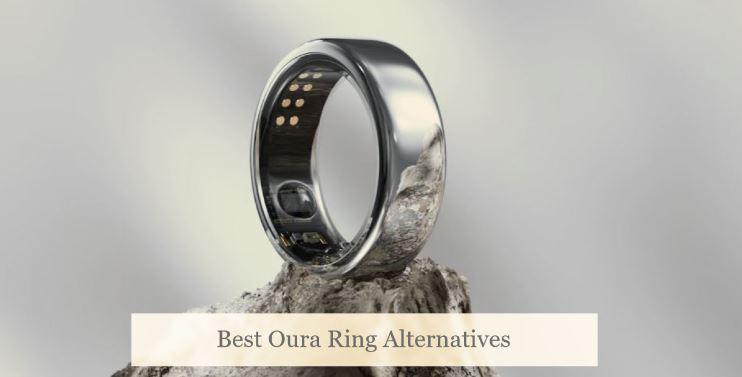 1. Prevention circul+
The Prevention circul+ Wellness Ring is a result of the collaboration between Bodimetrics and the American health-lifestyle magazine, Prevention. Today's high-end fitness trackers and smartwatches incorporate an ECG sensor for more advanced heart rate monitoring, but now you can also have it on the cicul+ smart ring.
Apart from single-lead ECG tracking, this clever ring can monitor your blood pressure and take electrocardiogram measurements simultaneously once calibrated with a cuff-style monitor. The circul+ advertises a ±2 bpm heart rate tracking and a ±3% blood oxygenation accuracy against medical-grade equipment.
Activity tracking-wise, the ring is pretty basic. It can record daily steps and calorie counts and track your running, biking, and hiking sessions, but that's about it.
Sleep monitoring provides a deeper insight into sleep duration and sleep stages (Awake, Light, Deep, and REM time) alongside overnight SpO2 level, heart rate, baseline skin temperature, and oxygen desaturation index (ODI) data.
Users can view all their activity, fitness, and sleep data in the circul+ Android / iOS companion app. Once you register for a free account, you can sync your data to the cloud or use the web dashboard to print or share the in-depth health metrics with your physician.
The Prevention cicul+ is available in three adjustable sizes and works on all fingers; no sizing kit is necessary. It only lasts about 16 hours per charge, so you may want to bring the included charger on the go.
| | |
| --- | --- |
| Pros | Cons |
| ECG and blood pressure monitoring | Awkward ring design |
| Advanced sleep tracking | Activity tracking is basic |
| Companion app requires no subscription | Subpar battery life |
| Works with Android and iOS devices | |
You may also wonder: Is Oura Ring Waterproof?
2. Circular Smart Ring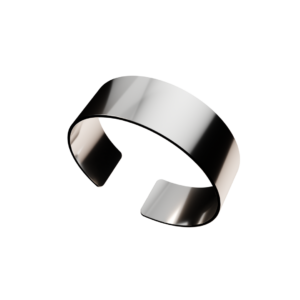 Circular, the newcomer in the smart ring business, didn't have smooth sailing, especially after the whole patent dispute debacle with Oura. However, the company has already started taking orders for its Circular Smart Ring and shipping them promptly against all the odds.
The Circular Ring squeezes in an array of infrared and motion sensors under a medical-grade, bio-compatible, hypoallergenic material, enabling 24/7 health and activity tracking. It monitors your well-being and estimates your energy level based on your activity and sleep data.
The device offers detailed insight into wellness metrics such as heart rate, respiration rate, heart rate variability, blood oxygenation, skin temperature variation, etc. It even has auto-activity recognition, and the Android / iOS app allows you to view your step and calorie count, VO2 max, heart rate zones, walking equivalency, and more.
Sleep-tracking is also there, with the ring analyzing your sleep stages, circadian rhythm, sleep duration, and chronotype alongside other health metrics to offer you a sleep quality score so that you know when to push yourself or take it easy.
One key feature of the Circular Smart Ring is the smart alarm. The ring uses its built-in vibration motor to wake you up gently without causing disturbance to your surroundings. Another cool feature is Kira, an AI assistant that delivers in-depth wellness reports tailored to you.
Circular claims up to 4 days of battery life at an hour of charging. It can also store ten days of analytics without syncing to the app over a Bluetooth connection. The ring has a scratchproof and water-resistant outer shell, which is also interchangeable.
The Circular Smart Ring is available in various fits. Those who don't know their ring size may order the sizing kit.
| | |
| --- | --- |
| Pros | Cons |
| Extensive health and sleep monitoring | Expensive for a first-gen product |
| Sleek and lightweight | Doesn't sync with Google Fit or Apple Health |
| Changeable outer shell | |
| Intuitive app experience | |
3. McLear RingPay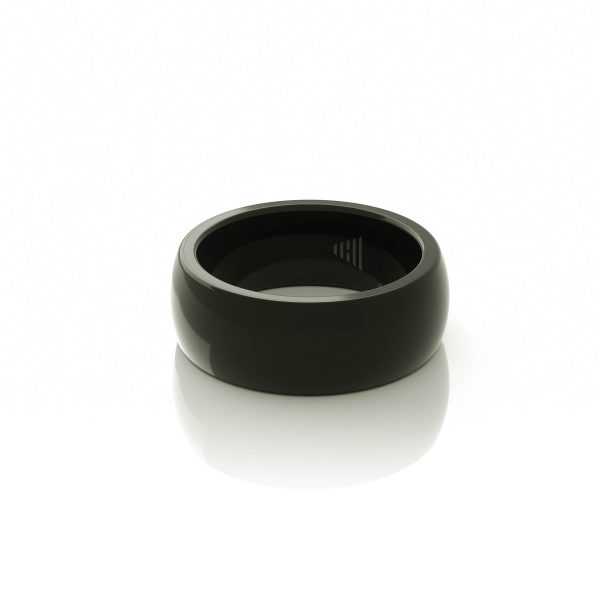 If you don't care about wellness tracking and are looking for a wearable that lets you pay from your finger, the McLear RingPay is worth considering. Available in two colors (black and white) and 4.5 to 16 ring sizes, it uses the same payment technology as contactless cards and other NFC-enabled devices but with added smart benefits.
Using the companion app for Android and iPhone, you can set up a secure RingPay account that links to your supported Visa or Mastercard credit/debit card.
Once you go through the account creation process, you're ready to make contactless payments at payment terminals with the ring. And when you sign up for RingPay+, you can earn cashback upon every qualifying purchase at participating retailers and unlock special rewards and exclusive discounts.
The app keeps track of all transactions, including your average spending and where you spend. Plus, it has an auto top-up feature that automatically tops up your RingPay account once your balance falls below a specified amount. It even allows for transferring funds between multiple McLear rings. You can place a temporary block should you misplace the wearable.
At the time of writing, the McLear RingPay is available only in the United Kingdom. However, the company promises to launch in other countries in 2023.
| | |
| --- | --- |
| Pros | Cons |
| Seamless contactless payments | No fitness or health tracking |
| Feature-rich Android / iOS companion app | Available only in the UK (for now) |
| RingPay cashback and rewards | |
| No charging required | |
Recommended reading: Oura Ring vs Fitbit: Which One Is Best?
4. SleepOn Go2sleep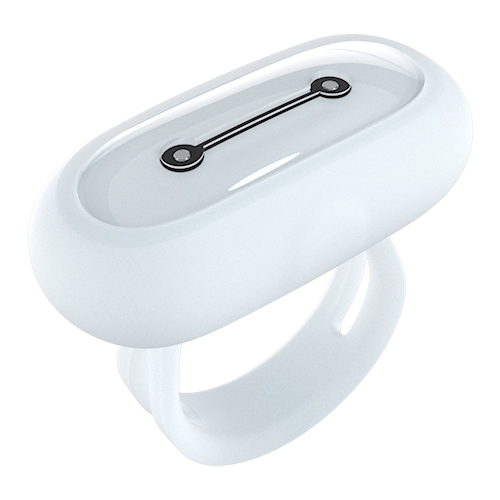 The Go2sleep is an advanced sleep tracker designed to monitor your heart rate, HRV, blood oxygen saturation level, perfusion index, and apnea-hypopnea index in real time.
It uses dual-wavelength PPG sensors to detect your finger's arterial capillaries and track your sleep metrics throughout the night. When your heart rate or SpO2 levels get abnormal during sleep, the integrated motor provides vibrotactile feedback to alert you. The wearable device is
lightweight at just six grams and sits comfortably on your ring finger, so it doesn't distract you while asleep.
Go2sleep is also titled the "2022 Best Value Sleep Tracker" by Sleep Foundation and for good reasons. The companion app clearly presents every metric with detailed graphs and overviews, including your sleep stage, duration, resting heart rate, and more. It even allows exporting user reports as CSV files for doctor's reviewal. Additionally, iPhone users can auto-sync their sleep data with the Apple Health app.
Pros
Cons
Cutting-edge sleep monitoring capabilities
Not suitable for daytime activity tracking
Specialized bio-alarm clock
SpO2 monitoring can be inaccurate sometimes
Compatible with Apple Health
Reasonable pricing
Related: Oura Ring not Connecting – How to Fix?
Oura Ring Alternatives: Wrapping Up
In our search for Oura Ring alternatives, we've found four of the following options to be the best for your needs. We might not have a smart ring made by Apple, Samsung, Fitbit, or Google yet, but the existing host of newcomers is already giving Oura a run for its money.
In our opinion, the Prevention circul+ is the closest competitor to the Oura Ring when it comes to health and fitness tracking. With that said, you're more than welcome to explore the other options in this buying guide.