It's an exciting time to be a football fan. Now that another thrilling NFL regular season is gradually unfolding, it's no wonder many of you are trying to figure out ways to watch the games involving your favorite team on your Roku device. Fortunately, with the right apps alongside streaming subscriptions, you can catch gridiron action live on all the NFL-airing channels without cable, including the NFL Network.
Any fan familiar with the league requires no introduction to NFL Network – the ultimate channel for everything football. With Thursday Night Football moved to Prime Video, the NFL's official premium sports network doesn't nearly gain the same traction as before. But it still broadcasts several games from the preseason and, during the regular season, a handful of match-ups from the NFL International Series.
Besides, NFL Network occasionally carries college football, plus live coverage of the NFL Training Camp, Scouting Combine, and NFL Draft during the offseason. Additionally, the channel airs analysis programs, highlights from recent games, and rerun broadcasts of classic matches – not to mention studio shows like Good Morning Football, NFL 360, NFL GameDay, NFL Roundtables, NFL Throwback, etc.
If you own a Roku streaming player or smart TV and are wondering whether it's possible to enjoy all this football-oriented goodness, we've got you covered. This guide will walk you through all the possible ways to watch NFL Network on Roku, beginning with the easiest choice, as highlighted below.
Watch NFL Network on Roku via NFL Plus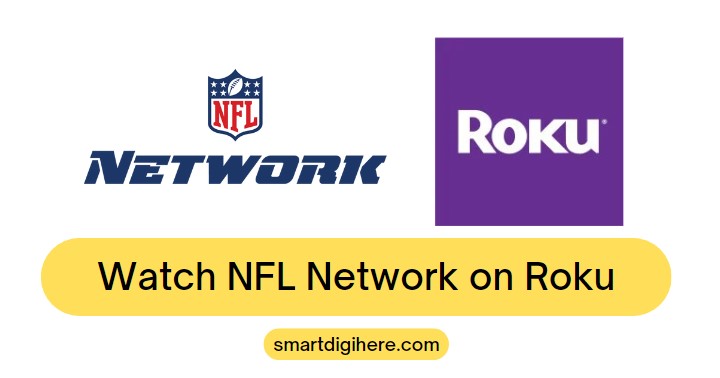 As discussed extensively in our guide to NFL Plus on Roku, NFL+ is a streaming platform owned and operated by the National Football League itself, offering a bevy of live and on-demand football content accessible via the NFL app on phones, tablets, browsers, and various connected TV devices, including Roku.
Starting with the 2023 season, NFL+ subscribers can tune in to the 24/7 live NFL Network channel on the big screen. It's a surprisingly solid offering, given the streaming subscription also carries every local and primetime game, but they're still only limited to mobile devices for viewers on the go.
If NFL Network isn't enough for you, the NFL+ Premium subscription carries the live RedZone channel. It's where host Scott Hanson kicks off Sunday afternoon football for seven straight hours, switching between up to eight games at once to bring you every touchdown and best play from every game.
Premium subscribers can also watch full and condensed game replays of every NFL game from the season, in- and out-of-market, and coaches films, plus a slew of original programs, documentaries, and other content from the NFL Network and NFL Films on-demand.
To watch the NFL Network on Roku, add the NFL app from the Channel Store and sign up for an NFL+ subscription. It's a relatively straightforward process, but if you're looking for comprehensive step-by-step instructions, check out our guide here.
Other Ways to Watch NFL Network on Roku
If you already get NFL Network through an existing cable or satellite TV connection in your household, there's no need to pay monthly for NFL+ again.
The NFL Roku app supports logging in with participating TV providers, so depending on your provider and package, you might be able to use your account credentials to authenticate and access the live NFL Network stream on the big screen. It also applies to RedZone and all the regular-season and post-season games streaming on the app, as long as they're available through your pay-TV package.
All you have to do is select the NFL Network channel on the app's Home page, and you'll see on-screen instructions for provider login. You must use another device to go to the given link and verify the code, after which you pick your participating provider and go through the authentication process.
Of course, besides NFL Network, five other channels are in charge of televising the National Football League: CBS, FOX, NBC, ABC, and ESPN. For all-encompassing coverage, you can subscribe to a cable-replacing streamer, such as DirecTV Stream, FuboTV, Hulu + Live TV, Sling TV, and YouTube TV.
Most of the following live TV providers bundle NFL Network with their entry-level monthly packages. Perhaps the cheapest and most sensible is Sling TV's Blue plan (40+ channels), which gets you not only NFL Network but also CBS, FOX, and NBC, though the availability of the latter three heavily hinges upon your location.
As for watching the NFL Network on Roku for free, your options are fairly limited. In fact, outside of the free promotional trials offered by NFL+ (7-Day Free Trial) and select streaming providers on special occasions, you've got no other choice.
The closest alternative would be to tune into the free, ad-supported NFL Channel on The Roku Channel (which, if you didn't notice, comes preloaded on your Roku device), the official source for NFL news, game-day coverage, real-time stats and score updates, highlights, fantasy football, and more.
The Extra Point
We've gone the extra mile to ensure you're all set to watch the NFL Network on Roku. As we wrap things up, remember: You can always refer to this guide later if you need help. Even better, you can leave a comment below to clear your doubts or describe your experience streaming NFL Network on Roku via your preferred method.