The NFL season is back on television, and millions of fans are eager to watch their favorite teams compete for glory. Some of you are already doing so by streaming your local Sunday afternoon games on Paramount+, Sunday Night Football on Peacock, Monday Night Football on ESPN+, and Thursday Night Football on Prime Video, but what about the International Series games?
The answer is NFL Network, the official channel of the National Football League. If you love football, it's the place to be, with football's top shows, live games, and all the latest news and analysis from the experts and insiders on the NFL.
NFL Network brings you the best of the league, from the NFL Draft to the Super Bowl, with several live pre-season and a handful of regular-season games along the way. Whether you want to follow your fantasy team, relive classic moments, or get ready for the playoffs, it's your ultimate destination for everything NFL all year long.
Your LG television is probably already the best screen in your house for media consumption, and you certainly won't mind watching football on it. This guide will show you how to watch NFL Network on LG Smart TV in various ways. Continue reading to enjoy the ultimate football experience.
Can You Watch NFL Network on LG Smart TV via NFL Plus?
Some of you already know that NFL+ now offers the live NFL Network channel stream. For those who don't, NFL+ is the league-owned streaming subscription service that lets fans enjoy every local and national NFL regular-season and post-season game on the go.
While NFL+ limits streaming these games live on mobile devices only, a.k.a. phones and tablets, the 24/7 NFL Network channel is accessible across other connected TV devices. The same applies to the RedZone channel, which goes live on Sunday afternoons during the regular season and is available to NFL+ Premium subscribers.
That's alongside the myriad of on-demand football content the service offers, including various NFL Network Originals and NFL Films productions, plus live game audio, ad-free match highlights, and, for NFL+ Premium subscribers, full/condensed game replays with coaches films.
Now, the major drawback is that the NFL app, the league's free app through which the premium NFL+ library is accessible, isn't officially supported on LG Smart TVs. We've previously discussed a workaround to this in our guide to NFL Plus on LG TV, which involves casting NFL+ content from the NFL iOS app to the big screen over AirPlay.
Unfortunately, as specified explicitly on the App Store, the NFL app allows using AirPlay only when viewing on-demand (e.g., replays, highlights, documentaries) and select live content. It doesn't permit outputting NFL Network or RedZone to external displays over either AirPlay or Chromecast – something related to rights restrictions.
Therefore, the answer is no, you can't watch NFL Network on LG TV via NFL+, at least at the time of writing when the NFL app still isn't available on the Content Store. But don't fret just yet, as you've still got other options, which we've highlighted in the next section.
Watch NFL Network on LG Smart TV Without Cable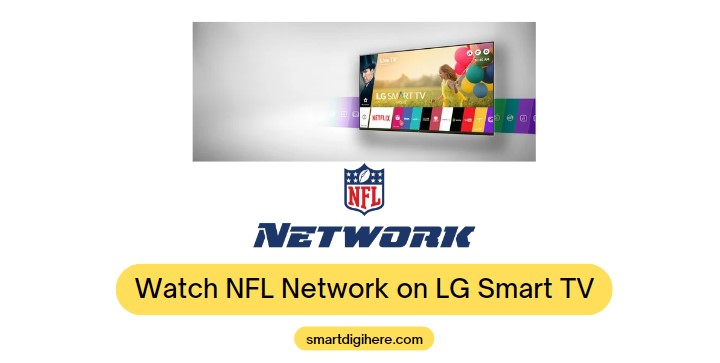 Even if you've stopped paying for a traditional cable or satellite TV connection in your home, you have streaming alternatives to watching your favorite sports, entertainment, and news channels on the big screen, including the NFL Network.
Getting NFL Network through Sling TV's Blue plan is the best route for football fans on a budget because it also carries other NFL-broadcasting channels like FOX and NBC, albeit that depends on where you live since Sling offers local affiliates in only a handful of markets.
Your second-best option is a tie between Hulu + Live TV and YouTube TV, as both include NFL Network with their base plans alongside ABC, CBS, FOX, ESPN, and NBC, ensuring season-wide football coverage minus a few streaming-exclusive games and Thursday Night Football, which is on Prime Video. You also get unlimited cloud DVR, so you can record and watch matches you otherwise won't be able to enjoy live later on demand.
Note:
The Hulu, Sling, and YouTube TV apps are downloadable via the LG Content Store on all 2016 and newer LG TVs running webOS 3.0 and above.
Sadly, there aren't any free options for watching the NFL Network on LG Smart TV. Since it's a premium sports network, it isn't free-to-air either, meaning even with an OTA antenna set up with your LG TV, you might only have access to your local ABC, CBS, FOX, and NBC affiliates but not NFL Network.
Wrapping Up
NFL Plus might not be available for your big screen yet, but with a Sling Blue, Hulu + Live TV, or YouTube TV Base Plan subscription, you can enjoy the 24/7 NFL Network channel and all its football-oriented programming on LG TV live – without renewing your pay-cable or satellite TV contract.
We've discussed everything about NFL Network on LG Smart TV in detail in our guide, though if the streaming landscape isn't still clear to you, check out our ultimate guide to watching NFL on LG Smart TV.