Can I wear a Fitbit Charge 2 in the Shower? Is Fitbit Charge 2 Waterproof? You can find out what you need to know here.
When Fitbit launched the Charge 2 in 2016, it quickly became one of the best fitness trackers in the mid-range segment. Tech reviewers praised its sleeker, more pronounced design, improved OLED screen compared to its highly-successful predecessor, the Fitbit Charge HR, and more accurate activity and sleep tracking.
Since then, Fitbit followed up with the Charge 3 in 2018 with a drastically improved suite of health monitoring sensors. In 2020, Fitbit released the Charge 4, essentially the same as the Charge 3 but with additional activity tracking features, built-in music controls, and Fitbit Pay contactless payments.
The following year saw the release of the Charge 5, representing a significant leap over its predecessors with onboard GPS and a stress-measuring EDA sensor. It's still the most recent Fitbit Charge, at least at the time of writing.
One common feature of the Charge 3, 4, and 5 is that they all have a 50-meter water resistance rating, but what about Charge 2? Can you wear the Charge 2 to the swimming pool, beach, or shower? And most importantly, is Fitbit Charge 2 waterproof? This guide answers all your questions.
Is Fitbit Charge 2 Waterproof?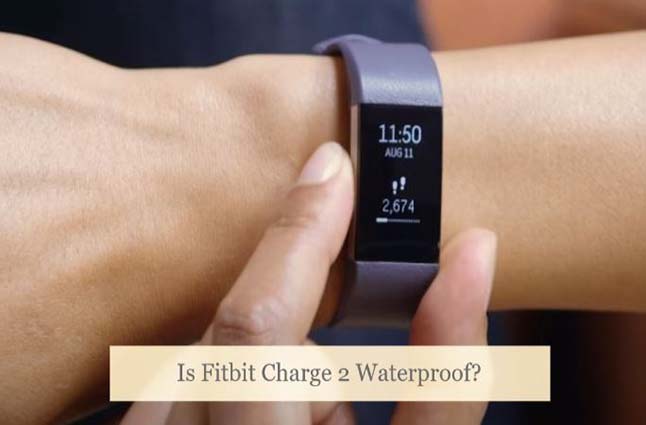 Like most fitness trackers, the Fitbit Charge 2 can track your steps, calories burned, floors climbed, distance traveled, heart rate, and sleep quality. You might wonder why we didn't mention swim-tracking, and it's because the Charge 2 only sports a "splash-proof" rating and doesn't have water resistance capabilities. The fitness band isn't designed to withstand full submersion and is highly susceptible to water damage.
Unlike the Flex 2, which came out around the same time, the Charge 2 isn't water-resistant and can only handle a few splashes, accidental spills, light rain, or sweat during heavy workouts. You can't wear the band in the shower or when swimming, recreational diving, participating in water sports, and similar activities.
A "waterproof" wearable should be impermeable, meaning it's impossible for water to make its way into the internals under any circumstances. On the other hand, the term "splashproof" suggests that the device is quite vulnerable to water damage.
The Charge 2 doesn't meet the standard 5 ATM water resistance rating that today's Fitbits usually have. So if you're into snorkeling or swimming in deep water, the Charge 2 isn't for you.
Also See: Tips to Extend Fitbit's Lifespan
Can I wear the Fitbit Charge 2 in Hot Tubs or Saunas?
We strongly advise against wearing the Charge 2 in a high-humid, high-temperature environment, such as in a hot tub or sauna. According to Fitbit, the Charge 2's operating temperature range is (-10)°C to 45° C or 14°F to 113° F.
Apart from having no water-resistance seal, the temperatures at which traditional hot tubs and saunas work exceed well beyond the tracker's maximum operating range. Hence, wearing the Charge 2 in such conditions can cause permanent damage to the device and also put your life at risk.
What to do if the Fitbit Charge 2 Gets Wet?
If you somehow manage to get your Fitbit Charge 2 wet, take it off immediately, put it between a towel to absorb the excess water, and dry it thoroughly with a soft, lint-free cloth before putting it back on.
If your Charge 2 comes into contact with any other liquid, clean it with a lightly-damped cloth and then with a dry one. You may also use a soap-free cleanser (Fitbit officially recommends Cetaphil), though avoid pouring too much of it directly on the tracker.
More Fitbit Guides
To Conclude
The Charge 2 is one of the few Fitbit models that doesn't come with a 50-meter water resistance rating. It isn't suitable for swimming and equivalent water activities and is designed only to brush off splashes.
Still, the Charge 2 has plenty to offer even six years after its release, whether it's the sleek design, interchangeable bands, multi-line OLED display, or activity and health tracking features. Despite its lack of proper water resistance, the Fitbit Charge 2 makes an excellent introductory smart wearable for kids and seniors.