Football has made a triumphant return to television, but this year, there are more streaming options than ever – a bit too many, in fact. Gone are the days when the NFL was airing only on a handful of broadcast channels, as more traditional and digital platforms serve steaming hot gridiron action this regular season than ever before.
We're talking about CBS, FOX, NBC, and ESPN/ABC, alongside their individual streaming apps, on top of which Amazon's Prime Video has also joined the broadcasting lobby this season. Meanwhile, the league runs its own NFL+ streaming plan, whereas the NFL Sunday Ticket has moved to YouTube and YouTube TV with its out-of-market offerings.
Throw in the numerous streaming-only games scattered across the multitude of streamers, plus NFL Network and RedZone, and fans have gotten themselves in quite a complicated mess of play sheet. With so many different broadcasting channels and streaming services, many of which you may be hearing about for the first time, keeping track of where to watch the NFL on TV means serious business.
The good news is: If you own any recent Android TV, Fire TV, or Roku-powered TCL Smart TV models, your options for viewing season-long pro football extend beyond the traditional picks. Below, you can check out our recommendations for watching the NFL on TCL Smart TV this season, including local, national, and out-of-market match-ups.
Where to Watch NFL on TCL Smart TV?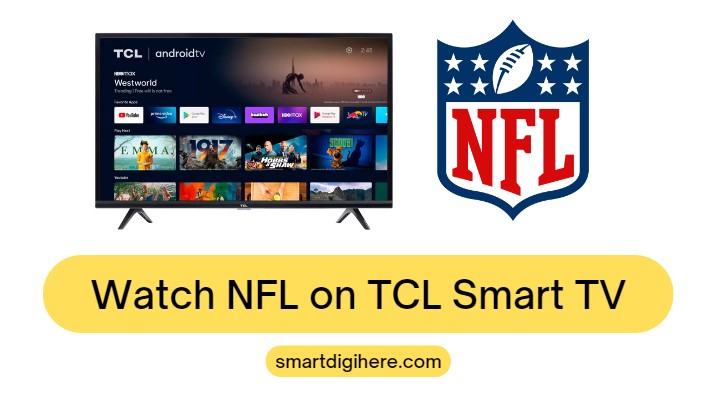 For cord-cutters, cable-replacement streaming services like DirecTV Stream, FuboTV, Hulu + Live TV, Sling TV, and YouTube TV offer contract-free, monthly-rolling "skinny bundles," with even the basic plans carrying the essential NFL-broadcasting channels. These services provide official support for various TCL Smart TVs.
All the above streamers bundle ABC, FOX, ESPN, and NBC, and all but Sling have CBS. Conversely, all but DirecTV Stream provides NFL Network with their base packages. NFL RedZone, which goes live on Sunday afternoons and switches between all the NFL games taking place at that time, is an optional add-on available with all the above providers.
Before subscribing, you must ensure channel availability by visiting the providers' websites and entering your ZIP code.
For a refresher: Most NFL match-ups commence on Sunday, with a primetime game on Monday and Thursday nights every week of the regular season. CBS airs the AFC team, and FOX airs the NFC team matches.

As in earlier seasons, NBC remains home to the Sunday Night Football games. Monday Night Football is also on ESPN, with select fixtures simulcasted and airing exclusively on the free-to-air ABC affiliates.
With the exception of the NFL Kick-off and Thanksgiving Games on NBC, the remainder of Thursday Night Football is streaming on Prime Video. For the 2023 season, it's also showing the Black Friday game between the Dolphins and the Jets. Existing Amazon Prime members should have access to these matches at no extra cost.
If you don't want to go down the live TV subscription route, there are a handful of other options similar to Prime Video. Paramount+, for starters, gives you access to your local Sunday afternoon contests on CBS with its Essential and Paramount+ with Showtime monthly subscription plans.
Similarly, NBCUniversal's Peacock, which offers its Premium or Premium Plus subscribers access to a vast library of on-demand titles and live sports, also provides streaming access to every Sunday Night Football game airing on NBC, plus a streaming-exclusive match-up and a few play-off fixtures.
ESPN+, The Walt Disney Company's sports-streaming platform, is streaming ESPN and ABC's Monday Night Football telecasts and an exclusive International Series game. It also makes ESPN2's Monday Night Football with Peyton and Eli alternative feed available for some matches. However, unlike Peacock, not all MNF broadcasts make it to the service.
A glaring omission you may have noticed is with FOX's Sunday afternoon coverage, as the network doesn't have its own streamer like the others. However, with a subscription from any streaming live TV provider highlighted above, you can verify your credentials on the FOX Sports app and enjoy your local NFC match-ups.
Can You Get NFL Network on TCL Smart TV?
NFL Network, the league's official football-oriented sports channel, has broadcasting rights to eight NFL games throughout the regular season, and yes – you can stream them on your TCL Smart TV by subscribing to one of the five streaming TV providers discussed in the above section.
A cheaper way to get access to the NFL Network is the NFL+ subscription. While it limits streaming of all the local and national football games only to phones and tablets, when you link the subscription to the NFL app for Smart TVs, you can enjoy the NFL Network telecasts live on the big screen.
Upgrade to the NFL+ Premium subscription, and it'll also give you the RedZone channel, where you can further catch all the early and late Sunday afternoon games in a whip-around format hosted by the one-and-only Scott Hanson. The plan will also allow you to stream full and condensed replays of every game from the NFL regular season and post-season.
Like the other streaming apps and services we've discussed, the NFL app is downloadable from the Play Store, Amazon Appstore, or Roku Channel Store of your TCL Smart TV.
What's Best For Watching NFL on TCL Smart TV?
Besides the handful of streaming-only games, if you're looking for an all-around National Football League regular season coverage, YouTube TV is the best you can get. Its Base Plan carries ABC, CBS, FOX, and NBC in most markets; so are ESPN and the NFL Network. Plus, you can record unlimited hours of football for watching later on-demand.
NFL Sunday Ticket, the out-of-market premium sports offering, has recently moved to YouTube TV after 30 years of DirecTV exclusivity. It's available for a hefty price with and without RedZone (which itself is available with a separate add-on), allowing you to stream every game airing on Sunday afternoons during the regular season.
On a related note, NFL Sunday Ticket is also available outside YouTube TV as a Primetime Channel on YouTube, on which eligible students can get a special discount, as we've discussed extensively here.
The second best to YouTube TV is Hulu Live TV, which offers the same lineup of channels for football enthusiasts but also includes access to ESPN+, home to the streaming-exclusive NFL games we were talking about earlier.
Those looking to save some cash should check out Sling TV's Orange & Blue plan, which comes with ESPN, ESPN2, the NFL Network, and, in select major markets, ABC, FOX, and NBC, though still no CBS. If you aren't interested in Monday Night Football, Sling Blue is an even cheaper package with FOX and NBC.
FAQ: Can I watch the NFL on TCL Smart TV for free?
A digital TV antenna like the Mohu Leaf 30 is a no-brainer purchase, provided you live in an area with a strong broadcast signal reception and a few miles within affiliate stations. With an over-the-air antenna connected, you can set your TCL Smart TV to auto-scan for all the basic channels, including ABC, CBS, FOX, and NBC, where you can then enjoy the NFL all season long (and more) without a single penny required.
You can use the FCC's (Federal Communications Commission) DTV Reception Maps program to check for the broadcast TV signals available at your location. An amplified TV antenna like the Mohu Leaf Plus will allow you to tune in to even more channels than shown in the coverage map, possibly in high-definition, too.
Notably, for the 2023 season, Amazon will be airing the first Black Friday game for free on its Prime Video streaming platform, though you might also be able to sign up for an Amazon Prime free trial to watch the other Thursday Night Football games until that comes to an end.
Huddle Up!
At the intensity of which another fierce season is brewing up faster than coffee in the kettle, that's all you need to know to watch the NFL on TCL Smart TV. With so many games going live every week, it can be tricky to keep up with the action, and this guide hopefully streamlines some of that mess.
You'll find all the best NFL-streaming apps and subscriptions, and their live and on-demand football offerings easily accessible from your TV's built-in Android TV, Google TV, Fire TV, or Roku interface, as long as it's connected to the internet.