The good thing about today's high-end smartwatches is that they can do what a smartphone can, including playing music. With Pandora on Fitbit, users can download and listen to their favorite Pandora stations or popular Workout stations directly from Versa, Sense, or Ionic series of watches.
If you want to use Pandora on your compatible Fitbit smartwatch but don't know how to add it, you've arrived at the right place. This guide has everything you need to know about Pandora on Fitbit.
Which Fitbit Models Support the Pandora App?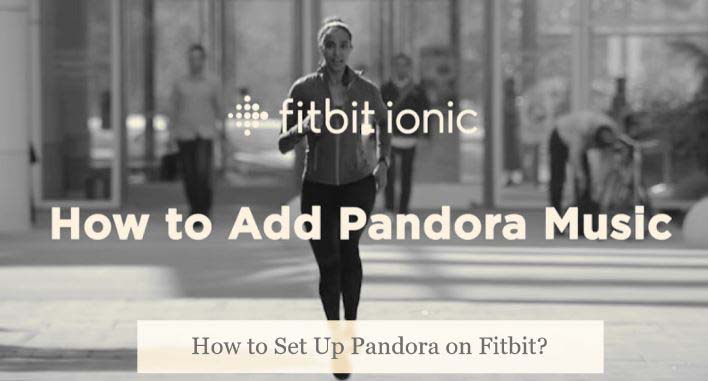 Before we proceed, note that Pandora is unavailable on the Fitbit Versa Lite Edition and the latest Fitbit Versa 4. However, the music streaming app is accessible to all Versa, Versa 2, Versa 3, Sense, and Ionic owners in the United States, assuming they have an active Pandora Plus or Pandora Premium subscription.
Before you can start downloading Pandora stations to your Fitbit, you'll need to create a Pandora account. Existing Pandora users, on the other hand, may have to upgrade their subscription plan.
Which Pandora Stations are Downloadable on Fitbit?
You have two choices for the Pandora content you can download on your Fitbit smartwatch. It can be your most-played Pandora stations or the professionally-curated Fitbit Workout stations; up to 3 at most to download and sync to your Fitbit.
Whichever you choose, your Fitbit will also sync your personal Thumbprint Radio station for offline listening. Note you can't remove it without unlinking your Pandora account from the Fitbit app, which will result in the deletion of all stations from your watch.
As long as there's enough storage on your Fitbit device, your Pandora stations will automatically download when it's plugged in or connected to a Wi-Fi network.
How to Set up Pandora and Download Stations on Fitbit?
Setting up Pandora on Fitbit and downloading your favorite stations is a straightforward process. Here's what you need to do:
First, ensure your Fitbit's on a Wi-Fi network. You can connect your watch to a Wi-Fi network from the Fitbit mobile app.

Go to the Today dashboard in the Fitbit app and tap your profile photo above.
Tap your Versa, Sense, or Ionic watch tile, then select the Wi-Fi Settings option.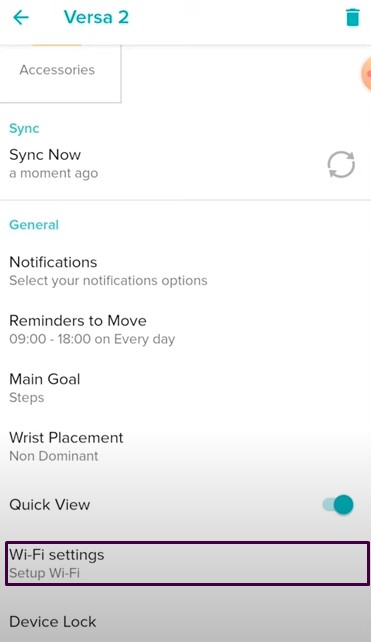 Select Add Network and go through the on-screen prompts to connect your Fitbit to an available Wi-Fi hotspot.

Return to the watch settings in the Fitbit app, then go to the Media > Pandora menu.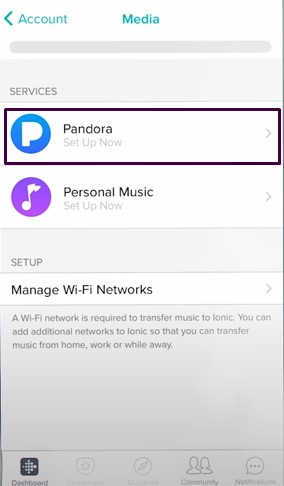 Perform the on-screen prompts and sign into your Pandora account. Those who don't have an account must register for one via Pandora mobile app or website, then return to the Fitbit app and go through the login process. If you don't have a Pandora Plus or Premium subscription, you'll need to upgrade your existing account first.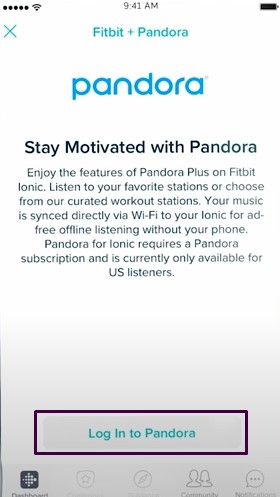 Next, choose three of your favorite Pandora stations or the curated Workout stations to auto-sync with your Fitbit.
Regardless of the selected stations, if you use Pandora's Thumbprint Radio feature, your personal station will auto-download to your watch.
Now leave your Fitbit plugged into its charger and let it download the Pandora stations automatically over Wi-Fi.
When not charging your Fitbit, you may also navigate to the Media > Pandora section of the Fitbit app and tap Force Sync to start the station downloads manually.
Downloading a Pandora station may take several minutes, depending on the number of tracks. You can check the download progress on your Fitbit's screen or the companion app. It's also worth mentioning that your watch will refuse to download music when the battery percentage is less than 25%.
How to Listen to Pandora on Fitbit?
If you've already synced and downloaded your most-played Pandora stations on Fitbit, begin with pairing a Bluetooth audio device to your watch. Here's how to do it on compatible Fitbit models:
Fitbit Model
Steps to Pair Headphones or Speakers
Versa
Versa 2Ionic
●     Put your Bluetooth earbuds, headphones, or speaker in pairing mode.

●     Wake your Fitbit screen, go to the Settings app, and tap Bluetooth.

●     Tap the "+ Audio Device" option and let your Fitbit scan for Bluetooth audio devices nearby.

●     From the list of available devices, tap the one you'd like to pair.

Versa 3
Sense
■     Activate pairing mode on your Bluetooth speaker or headphones.

■     On your Fitbit, navigate to Settings and select Vibration & Audio.

■     Now head over to the Bluetooth menu and then tap Manage devices.

■     Swipe up to view the "Other devices" section, where you should see all the Bluetooth audio devices nearby.

■     Finally, tap the name of the headphones or speaker that you wish to pair.
Once you successfully connect your Bluetooth headphones or speaker to your Fitbit, open Pandora from your watch's apps list. All your synced Pandora stations should be right at your fingertips. Simply tap a station to start Listening to Pandora on Fitbit.
When playing music from Pandora, you can swipe to Fitbit's music controls to play/pause the track, skip to the previous or next track, and adjust the playback volume. You can switch to a different station from the app's main menu. Note that you don't need your phone nearby to listen to Pandora on fitbit.
How to Add or Delete Pandora Stations on Fitbit?
If you have the auto-sync feature enabled, the Pandora stations on your compatible Fitbit watch update on their own based on what you most listen to on the service. However, if you want to manually add or delete Pandora stations, perform the following steps:
Open the Fitbit app on your phone and go to the Today tab.
Tap your Fitbit profile photo, followed by the image tile of your watch.
Go to the Media section and select Pandora from the list of available services.
Find the option to add or delete a station under the "Selected Stations" section.
And that's it! You may now put your Fitbit on charge and let it auto-download the stations over Wi-Fi, or tap "Force Sync Now" in the Fitbit app's Pandora section to sync the updated stations immediately to your watch.
Related Guides
How to Get Pandora Music on Fitbit (Video Guide)
Conclusion
This is how you use Pandora on Fitbit and add Pandora stations for offline listening. Sometimes you may lose access to Pandora stations on your watch, which is likely because you exceeded the device limit or your Pandora subscription has expired. So make sure to sync your Pandora stations over Wi-Fi at least once every month.