In this step-by-step guide, we will show you how to watch sky sports on Hisense Smart TV.
If you ask any sports fanatic in the UK or Ireland what their go-to television channel is for enjoying their favourite sporting events, it'd most likely be Sky Sports.
After all, It's home to a broad range of high-profile sports leagues, championships, and tournaments, most notably the Premier League, English Football League, PGA Tour, Ryder Cup, and Formula 1, plus cricket, rugby, boxing, MMA, darts, and much more.
It used to be that Sky Sports was very much exclusive to traditional pay-TV subscribers, and fans had no choice but to pay for a long-term contract on Sky TV, BT TV, or Virgin Media for comprehensive sports coverage. However, with the streaming market overgrowing the former, more flexible options are now open to those looking to enjoy their favourite sports live on Sky Sports– all without breaking the bank.
Sky Sports serves loads of live sports throughout the year, and there's plenty to be excited about for viewers across the spectrum. Our guide explains how you can catch all the action and analysis Sky Sports offers on Hisense Smart TV.
Where is Sky Sports Streaming?
NOW (formerly NOW TV), Sky's over-the-top subscription-based streaming counterpart, provides viewers with the flexible option to sign up for monthly-recurring memberships to watch live Sky channels and on-demand content without committing to long-term dish contracts.
Besides Entertainment and Cinema, NOW also offers a Sports Membership that allows streaming all 11 Sky Sports channels, catch-ups for recently-aired matches and events, and over 1,000 hours of sports highlights and documentaries. Here are the Sky Sports channels you gain access to and what they show:
Sky Sports Main Event: It airs the biggest and most important live events from Sky Sports, such as exciting Premier League match-ups, The Ashes cricket series, or a Formula One race that decides the World Driver's Champion.
Sky Sports Premier League: If you're an avid English football fan, you can watch lots of live matches and also catch the condensed replays later on this channel. Sky airs 128 Premier League fixtures every season, more than TNT Sports and Prime Video combined, plus behind-the-scenes features and interviews with players.
Sky Sports Football: Here, you can watch a good amount of football even though TNT Sports has the rights to the UEFA Champions and Europa League. You'll see matches from the English Football League, EFL Cup (or the Carabao Cup), and the Scottish Premiership.
Sky Sports Cricket: For cricket enthusiasts, Sky Sports Cricket offers exciting content, including the ICC Cricket World Cup, The Ashes, The Hundred, the Indian Premier League, and all home ODI, test, and T20I matches from England cricket teams.
Sky Sports Golf: You can watch events like the PGA Tour, European Tour, US Masters, US Open, British Open, Ryder Cup, and many more.
Sky Sports Formula 1: For motorsports fans, this channel offers an excellent variety of Formula One races, with live broadcasts and replays of every Grand Prix, along with practice sessions and qualifying rounds.
Sky Sports Action: Primarily home to American football, you can watch the most anticipated games in the NFL season, starting in September and leading up to the Super Bowl in February.
Sky Sports Arena: Enjoy major boxing matches, as well as darts, both rugby union and league, and the NBA regular season and playoffs.
Sky Sports Racing: Primarily focused on horse racing in the UK, it broadcasts select races from the USA and Australia.
Sky Sports Mix: Somewhat comparable to the Main Event channel, Mix is mainly for sports highlights and select live games that don't fit into any other specific channel.
Sky Sports News: Lastly, Sky Sports News provides round-the-clock coverage of the most current and trending news from the world of sports.
There's also a Sports Day Membership, which gives you 24-hour access to the live Sky Sports channels for a one-off payment. It's a viable option for occasional sports viewers.
And for those wondering, no, the Sky Go app doesn't work on Hisense TVs. If you get Sky Sports with your Sky TV connection, you're better off switching to your Sky Q box or Sky Stream puck source to enjoy your favourite sports.
Is NOW Available For Hisense TVs?
Yes! Amongst the vast range of devices NOW supports, Hisense TVs are included, albeit only the Roku TV models. Unfortunately, if you have a Hisense Smart TV that runs on the VIDAA U platform, you won't be able to watch Sky Sports via NOW.
Instead, you'll have to invest in an external streaming player, such as an Amazon Fire TV Stick, Android TV box, Chromecast with Google TV, or a Roku Streaming Stick, to use with your Hisense TV, so you can use the NOW app to watch the Sky Sports channels.
NOW is also accessible via modern web browsers, e.g., Chrome, Edge, Firefox, and Safari. Therefore, you can connect your PC or laptop to your Hisense TV over HDMI and stream Sky Sports live.
With that said, select Hisense VIDAA TVs, like the A63H and U7H, now support AirPlay, with firmware updates rolling out for more models, adding the functionality. Assuming your TV supports AirPlay, and you own an iPhone or iPad, you can use the NOW mobile app to cast Sky Sports to the big screen.
How to Watch Sky Sports on Hisense Roku TV?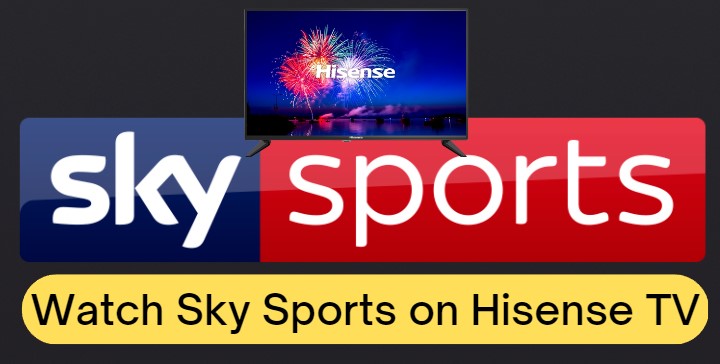 First, you must sign up for NOW's Sports Membership. Go to nowtv.com/sports-purchase from your phone or computer web browser and choose the Month Membership. Select Continue to checkout and enter your personal details for the account creation. You'll also need to provide your billing address and pay for the subscription with your preferred method.
You should pretty much immediately receive a welcome email from NOW regarding the activation of your Sports Membership, after which follow these steps to add the NOW app to your Hisense Roku TV:
Press the Home remote button, then scroll down and select Streaming Channels to launch the Channel Store.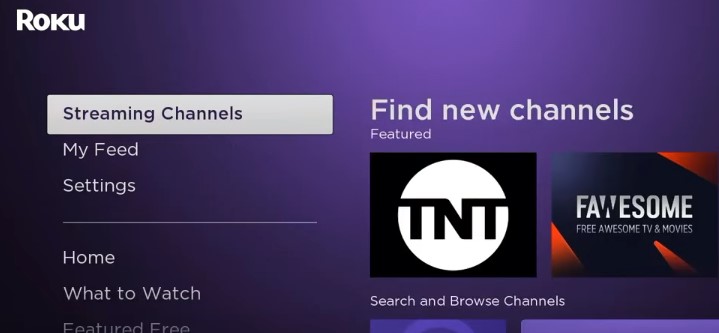 Navigate to the TV & Video category and select the NOW Or go to the Search Channels menu to find the app quicker.
Once you're on the app's preview page, select Add Channel. Enter your Roku account PIN if prompted.
With the NOW app added successfully, return to your Roku Home screen and scroll down to the bottom of your apps list to launch it. Finally, go through the on-screen prompts to sign in to the app with the username and password you used to create your NOW account.
You can also continue with the option to log in from a different device. Go to nowtv.com/tv from your PC or mobile, enter your six-digit code shown on your Hisense TV screen, and provide your NOW account credentials.
And that's it! From the NOW app's Home page, scroll to the Sports section to access the Sky Sports channel streams. You'll also see all the live and upcoming sporting events, replays and highlights from past games, and categories tailored to your flavour of sport.
Your first month of Sports Membership also includes NOW Boost, meaning you can watch all 11 Sky Sports channels (and the bonus red button streams) in Full HD (1080p) with Dolby Digital 5.1 surround sound on your Hisense Roku TV. You won't also find any ads on the on-demand sports content.
Steps to Watch Sky Sports on Hisense Smart TV via AirPlay
If you have an iPhone or iPad, and your VIDAA or Roku-powered Hisense TV supports AirPlay, perform these steps to enjoy Sky Sports using AirPlay:
Ensure your Hisense TV is up to date and is on the same Wi-Fi network as your iPhone or iPad.
Get the NOW app from your iPhone or iPad App Store and log in with your account details.
Tap Devices (TV icon) at the upper-right corner right beside the Settings option.
Next, choose AirPlay devices, followed by your Hisense Smart TV.
Once connected, go to the Sports tab from the navigation bar above the app's Home page and select the Sky Sports channel to play on the big screen from the "Watch live" section. It's that easy, and you can use your Apple device as a remote!
The only downside is the live and on-demand sports streams are limited to HD (720p) and stereo audio over AirPlay, as the NOW Boost benefits are unavailable for the iPhone or iPad you're casting from.
Enjoy Sky Sports on Hisense Smart TV!
Sky Sports is where you can enjoy a cornucopia of sports programming, and a Sports Membership on the NOW streaming service is all you need to watch Sky Sports on Hisense Smart TV. That's as long as it runs Roku OS and not VIDAA U, which is currently unsupported. However, AirPlay is a workaround for Hisense VIDAA TVs that do support it.
The following guide has ample details and step-by-step instructions, but if something is unclear to you or you need further assistance, we're here to help. Do let us know in the comments below!