Formula One is the most exhilarating motorsport competition on the planet, with nail-biting qualifying sessions, lightning-fast pit stops, skilful overtaking manoeuvres, and heart-stopping race-winning strategies that keep us fans on the edge of our seats.
Over the decades, the number of Grands Prix held per season has fluctuated, followed by a steady increase in recent years. Every F1 season adheres to a standard schedule, beginning early in the year and concluding at about eight months.
22 Grands Prix took place in the 2021 F1 season, with 2022 following suit. This year marks the 74th edition of the Formula 1 World Championship, featuring the highest number of Grands Prix ever held, with 23 races set across the globe.
Nowadays, catching all the F1 races online is a straightforward affair, thanks to the emergence of streaming services. Formula 1's official global streaming platform, F1 TV, makes live Grands Prix broadcasts more accessible to the masses than ever before. You likely already know a fair bit about it and are especially interested in the F1 TV Pro subscription.
The question you're here to know the answer to: "Can I get F1 TV on your Xbox One, Series X, or Series S console?" We've prepared this guide to let you know.
Can You Get F1 TV on Xbox One / Series X / S?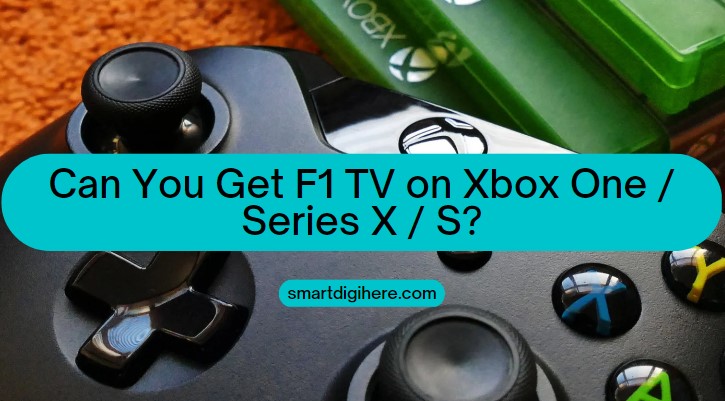 F1 TV's premium F1 TV Pro plan offers live and on-demand streaming access to every GP track session (incl. practice and qualifying races), with the added benefit of switching between 20 onboard camera views and team radios – plus original documentaries, exclusive shows, and archives of historical races from the base F1 TV Access tier.
Of course, playing Codemasters' F1 racing games on Xbox is one thing, and streaming the real deal is another. Sadly enough, the F1 TV app isn't available for the older Xbox One, One S, and One X or the current-gen Xbox Series X and S consoles, at least at the time of writing. It's the same for Sony's PlayStation consoles, for those wondering.
In that case, you could get the F1 TV Pro subscription and stream the races on the official F1 TV website via Microsoft Edge on Xbox, right? Unfortunately, we're sad to report that this potential workaround is also a no-go.
Initially, user reports suggested streaming from the web version of F1 TV via the Edge browser (Chromium-based) on the Xbox One and Series consoles as an alternative, with the trade-offs of fiddly navigation and fullscreen quirks. But it did the job for the most part.
However, we tried it ourselves and can confirm that it's no longer possible due to either unsupported video codec, DRM restrictions, or some artificial limitation enforced by the streaming platform. It's despite F1 TV vaguely stating Edge support (version 85 or above) on their support FAQ post.
What Other Devices Does F1 TV Support?
You can't get F1 TV on your Xbox, but you may still have a chance if you own one of the following TV devices:
Chromecast (2nd Gen or newer)
Apple TV
Amazon Fire TV
Roku (model 3900X or newer)
Formula One's official streaming app is also available for Android phones and tablets (7.0 or above) and iPhones and iPads (iOS 10 or above).
Your best alternative to streaming the exciting races on the big screen is to connect your PC or laptop to your television and visit f1tv.formula1.com via up-to-date web browsers like Chrome, Firefox, Edge, or Safari.
Other Ways to Watch Formula 1 on Xbox
Let's say you use your Xbox One or Series as the central media hub and refuse to purchase a standalone streaming device just to access F1 TV. That's a fair argument because the console already supports the majority of streamer apps you use. Fortunately, you've got several viable alternatives to watch Formula 1 on Xbox One, S, X, and Series X and S.
For instance, in the United States, ESPN is at the broadcasting helm of F1 until 2025. You may think, "Well, isn't that a cable channel?" And you're correct to assume so.
But now, over-the-top TV providers also offer streaming access to ESPN, ESPN 2, and many other channels at plans that cost less than cable and are free from long-term contracts. Even better, they natively support Xbox!
If you're looking for what might be the most affordable way to catch the upcoming Grands Prix on Xbox, Sling TV is your best option. It currently offers three plans, but for watching F1, you'd want to go with Sling Orange as it carries ESPN and ESPN 2 alongside 30 channels.
Other options carrying the ESPN network include fuboTV and YouTube TV. Both offer over 100 channels, with additional perks like DVR and multi-device streaming. Moreover, you can try them out for free for a few days before paying the full price.
If you're looking for an all-rounder streaming deal, check out Hulu + Live TV. Bundling 85+ channels (incl. ESPN and ESPN 2), unlimited DVR, access to Hulu's on-demand titles, and Disney+ and ESPN+ services, it's a no-brainer for most.
You might also want to know: Watch F1 TV on Samsung Smart TV
What about the UK?
British TV provider Sky is airing the F1 races in the United Kingdom and has the media rights to the motorsports events till 2029.
With NOW on Xbox, catch Sky Sports F1's coverage of every practice and qualifying session and the entire 23-race season live. All you need is the NOW Sports Membership (nowtv.com/watch-f1-online), which you can get as a monthly subscription or daily pass.
Not only does NOW provide bonus streams with multiple onboard camera angles, but with the optional NOW Boost add-on, you can also watch the races at 1080p@50 FPS. Besides Sky Sports F1, the membership includes ten other Sky Sports channels.
If you're a paying Sky TV customer with the Sky Sports package in your contract, sign in to the "TV From Sky" Xbox app with your Sky ID and watch the Grand Prix events on the Sky Sports F1 channel. The app is officially available on the Microsoft Store for both Xbox One and Series consoles.
Channel 4's catch-up service, All 4, offers free-on-demand access to highlights of every GP event from the 2023 season. While it'll also stream the British Grand Prix live, the Xbox app doesn't offer access to the live Channel 4 broadcast.
Final Lap
While you can't have F1 TV on Xbox One, Series X, and S, you have plenty of options when it comes to watching this year's Formula 1 Grands Prix via your console. Though we could only discuss the options for our fellow British and American F1 fanatics, you may tune into the races through your regional streaming apps, provided they're available for Xbox.