With the closure of NBCSN in 2021, most of its sports rights migrated to NBCUniversal's other platforms. NBC, CNBC, and the USA Network, alongside the Spanish-language Telemundo and Universo channels, serve as the outlets for its programming.
NBC Sports airs a diverse array of sporting events. It includes Major League Baseball, the Premier League, National Football League (Sunday Night Football), the French Open, NASCAR, Tour de France, PGA Tour, and WWE, among others. It's also home to Summer and Winter Olympics through 2032.
Of course, you already know most of this if you regularly tune into NBC Sports programming. But whether you use your living-room PlayStation game console to stream your favorite sports events live on NBC and its sister channels is a mystery. Luckily, we're here to solve it for you. Keep reading this guide to NBC Sports on PS4 and PS5 to learn more.
Is the NBC Sports App Available For PS4 & PS5?
The NBC Sports app allows paying subscribers (whether through cable, satellite, or streaming) complimentary access to live NBC Sports streams, including the MLB, NFL, USFL, NASCAR, Premier League, and other high-profile sporting events, plus regional football, basketball, baseball, and soccer games. It even offers on-demand access to full replays, highlights, and clips from past events.
Despite being available for a wide range of devices, including connected TVs, streaming media players, mobile devices, and even Xbox consoles, the NBC Sports app is nowhere to be found on either generation of PlayStations. It isn't surprising, given the already limited number of streaming apps on the PlayStation Store.
However, there are other ways you can enjoy most of NBC Sports' broadcasts (and more out-of-market streams) on your PS4 or PS5. Peacock, NBCUniversal's video-on-demand streaming platform, is one of them. More on that in the following section.
Watch NBC Sports on PS4 & PS5 via Peacock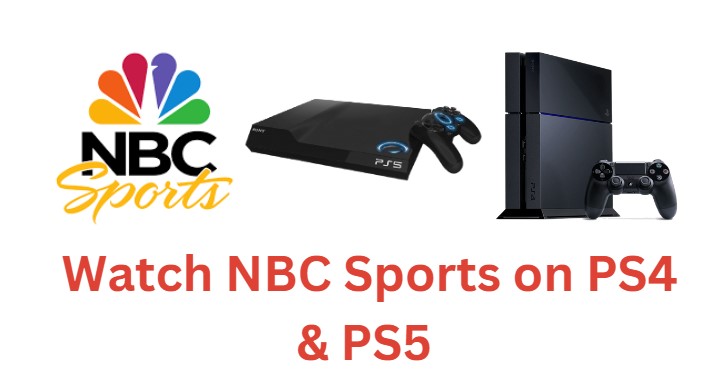 Peacock, home to 80,000+ hours of captivating on-demand movies, shows, and originals, also streams live sports. In fact, after NBCSN and NBC Sports Gold dissolved, most of their sports rights transferred to the following streaming platform. Now it hosts every NFL Sunday Night Football matchup, MLB Sunday afternoon games, IndyCar Series races, and most notably, over 2,000 hours of Premier League soccer broadcasts every season.
The good news is the Peacock app supports PlayStation consoles, so all you have to do is download it, create a Peacock account, sign up for the Premium subscription, and log in. Here are the steps in more detail:
Get Peacock on PS4/PS5
If you have a PlayStation 4 or PlayStation 4 Pro, use these steps to download Peacock:
Navigate to the PlayStation Store from your PS Home screen.
Search for the Peacock app in the Media You can also manually search for it by typing the app's name.
Select Download on the Peacock app preview screen.
Once finished installing, you can access the app from your PS4's Library menu under the Applications tab. It's also accessible from the TV & Video app.
Those with a PS5 can follow these instructions:
Browse to the Media tab from your PS5 Home screen.
Select All Apps, then scroll down the list and choose
Select Download on the Peacock app overview page.
To launch Peacock on PlayStation 5, return to the Media menu and select the app icon.
Sign Up For Peacock Premium
Peacock offers two subscription tiers: Premium and Premium Plus, which offer live sports. The latter costs double the standard $4.99 monthly plan but provides ad-free access to the on-demand titles and a live stream to your local NBC affiliate station. Regardless of the plan you go for, live NBC Sports streams will still have adverts.
Browse to peacocktv.com from your PC, phone, or tablet and select Get Started. Once you pick your preferred Peacock plan, create an account, and finish paying for the subscription following the website prompts, you're ready to log into the Peacock app on your PlayStation.
Note Peacock offers neither a free tier for new users nor any live sports streams outside the Premium subscription.
Activate Peacock on PS4/PS5
The activation/sign-in steps apply across both PlayStation consoles. Launch the Peacock app on your PS4 or PS5 and do the following:
Select Sign In at the upper-right-hand side of the welcome screen. The app will generate a device code.
Go to peacocktv.com/tv from your mobile or PC browser, enter the device code shown in the Peacock app, and select Continue.
Proceed to Sign In with your Peacock account email and password.
Upon successful sign-in, select your Profile from the "Who's Watching" screen on your Peacock PlayStation app, after which you're good to go! Pick the live NBC Sports program you want to watch from the Home page or navigate to the Sports section from the sidebar to further explore Peacock's live and on-demand sports offerings.
Other Ways to Catch NBC Sports on PS4 & PS5
Cable TV replacement services such as Hulu + Live TV and YouTube TV bundle your local NBC channel, CNBC, and the USA Network. With a streaming subscription to either of the services, you can enjoy NBC Sports programming live as everyone else across the country. Telemundo and Universo are also within your reach with the Spanish Add-on.
Additionally, you can tune in to more sporting events airing on CBS, FOX, ESPN, and other premium American sports networks, along with the top entertainment and news channels. Then comes the convenience of unlimited cloud DVR for recording games for later viewing and simultaneous device streams.
Both the Hulu and YouTube TV apps are officially compatible with the PlayStation 4 and 5 game consoles. The latter also offers a free limited-time trial for new subscribers, followed by a discount for the first three months.
However, considering the steep monthly prices across the live TV services, you're better off paying for a Peacock Premium plan for your sports fix.
In Summary
The NBC Sports app, while unavailable on PS4 and PS5, still leaves you with plenty of options to enjoy your football, baseball, or soccer programming. As highlighted above, Peacock is your ultimate streaming destination to live NBC Sports streams, on-demand replays, and highlights, whereas Hulu and YouTube TV offer a more traditional viewing experience. It's up to you to decide which fulfills your needs.