In 2021, Sky's over-the-top streaming television brand NOW announced the discontinuation of NOW TV devices. So, you might wonder whether you can access ITV's all-new VOD platform ITVX on NOW TV Smart Sticks and Smart Boxes. Luckily, you can.
NOW has effectively stopped selling hardware, but that doesn't mean they're ceasing support for its NOW TV-branded Roku streaming players anytime soon. Despite their limited app support, users can continue to enjoy their favourite ITV programmes and box sets on-demand via ITVX.
So how does one get ITVX on NOW TV Smart Sticks and Boxes? You'll find all the relevant information in this guide.
What Does ITVX on NOW TV Devices Offer?
With ITVX on your NOW TV Smart Stick or Smart Box, you can watch thousands of hours of TV shows, box sets, and movies at no cost – assuming you don't mind adverts.
It includes an enormous back-catalogue of original ITV programmes and acquired content alongside the latest catch-ups of your favourite ITV shows. New streaming-exclusive series are also available to watch every week before they air on the broadcast channels.
Furthermore, you can tune into ITV, ITVBe, CITV, and 20+ new streaming TV channels live via the ITVX app on your NOW TV player. The free ad-supported channels have a non-stop linear programming schedule that runs some of ITV's best shows 24/7. And it fulfills your occasional news, weather forecasts, and live sports needs.
The new ITVX Premium tier gets subscribers 6,000+ hours of content from another one of ITV's streaming platforms, BritBox, which specialises in classic British TV box sets and even more original series and shows from ITV, BBC, Channel 4, Channel 5, etc. Plus, it enables ad-free viewing.
How to Get ITVX on NOW TV Smart Stick / Box?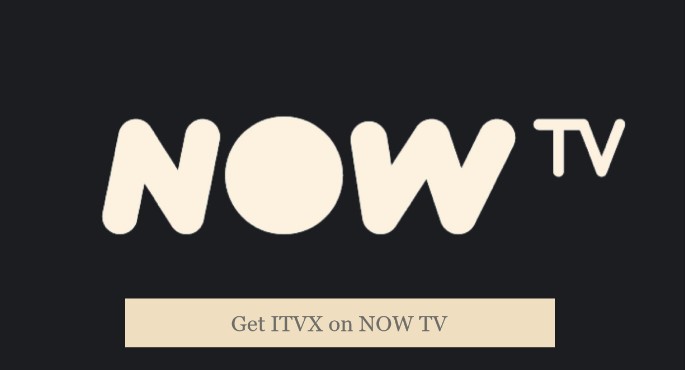 Since the UK broadcaster has nearly finished rolling out ITVX across all supported platforms, you should already have received it on your NOW Smart Stick or Box by now.
Provided it has internet access over Wi-Fi or Ethernet, your NOW TV device will automatically download the ITVX app to replace the older ITV Hub. If you still see the latter on your NOW TV apps list, your player didn't auto-download the app update, or its firmware version is below ITVX's minimum requirement (v11.0.2).
To manually check for app/firmware updates, scroll to the bottom of your NOW TV Home page and click Settings, then System, followed by the "System update" option. After that, select "Check now" and allow your device to look for and install the necessary updates.
If you don't have the ITVX app installed on NOW TV Smart Stick or Box, here's how you can get it:
Open your NOW TV Home screen and navigate to the App Store.
Browse the apps list in the NOW TV App Store and select ITVX.
Click Add app on the following ITVX app preview screen.
Once downloaded, you'll find the ITVX app in your "My Apps" section of the NOW TV Home screen.
With ITVX highlighted in your apps list, press the Star (✱) button on your NOW TV remote, select "Move app" from the context menu, and use the directional pad to move the ITVX app to the top for quicker access.
Activate ITVX on NOW TV Smart Stick / Box
The NOW Smart Sticks and Boxes are among the first devices to receive the complete ITVX app experience, including access to live TV channels and Premium content. But to enjoy the most of the ad-supported library on your NOW TV player, you must first activate the app with an ITVX account.
Fortunately, it's free and only takes a few minutes to register for an ITVX account. Open a new tab in your browser and visit itv.com/watch/user/register, and continue with the registration by entering your email, password, and personal details (including your UK postcode). ITVX will send you a mail to your email address for account verification.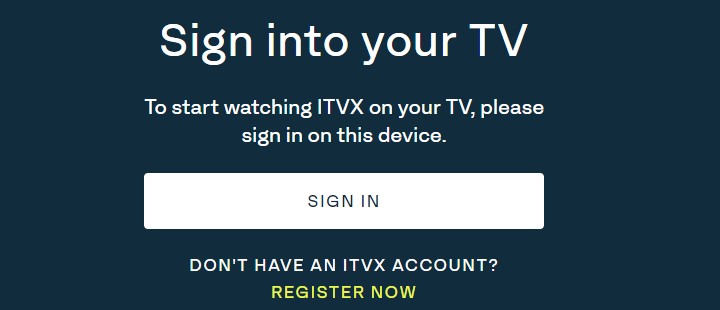 Once you have an account, ITVX will give you two options: Either stick with the Free tier or try the Premium subscription for a week. Should you choose the latter, you'll need to set the billing period and provide your card details for the free trial. You can cancel ITVX Premium before the trial ends. Otherwise, ITV will charge you the subscription fees after the trial expires.
To activate ITVX on NOW TV Smart Stick or Box, use these step-by-step instructions:
Open the ITVX app from your "My Apps" section of the NOW TV Home page.
Select and click the cog icon in the left-hand sidebar. It'll lead to ITVX's Settings menu.
Find and click "Sign in", followed by "Sign in on another device". Note down the pairing code shown on your TV screen.
Go to itv.com/watch/pair from your phone or computer web browser and sign in with your ITVX account (if prompted).
Finally, enter the pairing code generated by ITVX NOW TV app and click Continue.
Voila! You can now enjoy streaming ITVX on your NOW Smart Stick or Box, including the latest catch-up TV show episodes, iconic box sets, blockbusters, and live TV channels. If you're a Premium subscriber, you'll also be able to watch the best of the BritBox library without ad interruptions.
Which NOW TV Devices Support ITVX?
If you have a Black NOW Box, NOW Smart Box with Freeview, NOW Smart Box with 4K, or the NOW Smart Stick, you'll be able to stream from the ITVX app. The installation and activation steps for ITVX on NOW TV apply to all the supported players.
However, If you have a 2013 White NOW Box model, it won't work since Sky ended support for it back in 2020.
Related: ITVX on PS5
Bottom Line
ITVX is now available on a large number of streaming media devices and smart TV platforms, and now you can get it on your NOW player too. This guide to ITVX on NOW TV Smart Sticks and Boxes should come in handy if you're eager to try out ITV's new and improved live and on-demand video platform.