Most of the time, the best way to watch your favorite NFL team is in the living room with a few buddies around with lots of snacks and beverages and the game streaming live on your Hisense Smart TV. It's the football season, of course, and your Hisense Smart TV is just up to the task.
Whether it's an Android TV, Google TV, Fire TV, or Roku-powered model, your Hisense Smart TV is your best bet for an immersive football-viewing experience in your home. Streaming the NFL, especially in the United States, has become simpler. All you really need is a monthly subscription to a particular streamer and your TV connected to the internet.
For those of you looking for all the ways to watch NFL on Hisense Smart TV, we've got you covered. This guide will take you through all the options, some of which you may find viable to your gridiron coverage this season. Read on to learn more.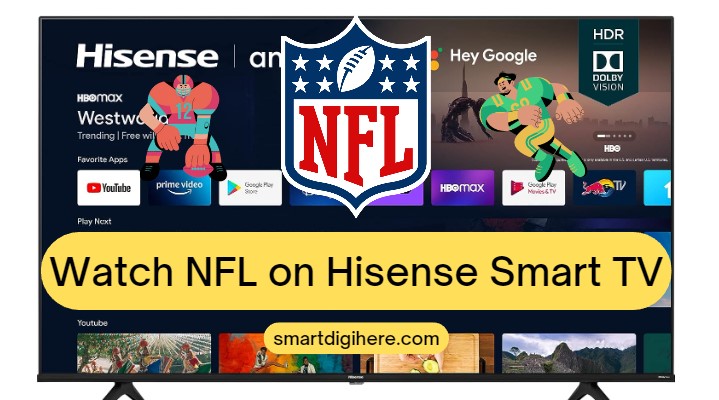 Watch Monday Night Football on Hisense Smart TV
As most of you know, ESPN is home to the primetime Monday Night Football coverage. If you plan to stream these games on your Hisense Smart TV, subscribing to ESPN+ is your cheapest option. It's available as a standalone monthly/annual plan and part of the Disney bundle, which also comes with Disney+ and Hulu for your on-demand entertainment fix.
The Disney-owned sports streamer is offering select MNF games, including the ones airing on ABC and a platform-exclusive International Series match-up, with access to ESPN2's Manningcast feeds.
All you have to do is download the ESPN app from the Play Store, Amazon Appstore, or Roku Channel Store on your Hisense TV and follow the on-screen steps to sign up and log in, after which you're set to watch Monday Night Football in Full HD.
Watch Thursday Night Football on Hisense Smart TV
Some of you may already have access to the live Thursday Night Football streams; you just don't know where. If you're an Amazon Prime member or pay for the standalone Prime Video subscription, you can watch every TNF game this NFL season via the Prime Video app on your Hisense Smart TV, except the two match-ups NBC has the rights to.
If you don't have access to Prime Video, the good news is you may be eligible for a 30-day Amazon Prime free trial, meaning you can enjoy some of the Thursday Night Football games live without paying a single penny. That's assuming you remember to cancel your membership before the billing date.
Watch Sunday Night Football on Hisense Smart TV
Sunday Night Football, perhaps the most popular primetime NFL game of the week, is NBC's portion of the National Football League coverage. Therefore, it makes sense for Peacock, NBCUniversal's streaming service, to be the streaming provider for these exciting fixtures.
Unlike ESPN+ and Prime Video, which misses out on select Monday and Thursday night match-ups, Peacock allows Premium (or Premium Plus) subscribers to stream every SNF game of the season, plus two Thursday fixtures and a streaming-exclusive national game before Christmas Eve – in both English and Spanish commentary.
Since the Premium Plus subscription also includes access to your local NBC station, you can watch NBC's live coverage of Sunday Night Football with their pre- and post-game studio shows on your Hisense Smart TV without cable.
Where to Watch In-Market NFL Games on Hisense Smart TV?
The streaming landscape gets a tad bit complicated when it comes to watching the early and late afternoon NFL games on Sundays. A Paramount+ Essential or Paramount+ with Showtime subscription will give you access to your local AFC football match-ups on CBS. However, no similar monthly streaming plans are offering the local NBC games on FOX.
The good news is if you get CBS and FOX with an existing cable or satellite TV subscription in your household, you won't have to pay extra to catch the in-market NFL games on the big screen. Simply download the CBS Sports or FOX Sports app on your compatible Hisense Smart TV, launch it, and follow the on-screen instructions to authenticate your TV provider credentials.
The list of participating TV providers extends beyond the usual AT&T, Cox, DirecTV, Dish, Optimum, Verizon, and Xfinity brands. As long as your cable or satellite TV package includes the channels, you're good to stream them on your Hisense TV via the following streaming apps.
Note: Conversely, if you get ABC, ESPN, and NBC with your pay-TV subscription, you can download and sign into the ABC, ESPN, and NBC Sports apps on your Hisense Smart TV with your provider credentials to access their coverage of the NFL season.
Those who don't have a cable/satellite TV connection and aren't willing to renew their contract aren't missing out either. There are live TV streaming services offering all six NFL-broadcasting channels, including ABC, CBS, FOX, NBC, ESPN, and the NFL Network, and even NFL RedZone, known for its whip-around Sunday afternoon football coverage.
These live TV services include DirecTV Stream, Sling TV, Hulu Live TV, FuboTV, and YouTube TV, with the final one home to NFL Sunday Ticket, a one-time purchase of which will give you access to all the out-of-market Sunday afternoon football matches blacked out on your CBS and FOX affiliates.
Speaking of: NFL Sunday Ticket is also available as a YouTube Primetime Channel that you can purchase and access via the YouTube app on your Hisense Smart TV, with features like Multiview and Key Stats View enhancing the experience. It's also available with and without RedZone across YouTube and YouTube TV for those who take delight in Scott Hanson's uninterrupted play-by-play casting of the Sunday afternoon match-ups.
The above live TV streamers offer more than just NFL, as you can watch other live sporting events alongside your favorite entertainment and news channels. And with cool features like cloud DVR and on-demand catch-ups, you'll unlikely miss out on thrilling football action anytime soon.
Just be sure to verify the channels available in your area before signing up for any of the services since some of your local stations may be absent. Sling TV, for instance, offers ABC, NBC, and FOX only in a handful of designated market areas (DMAs), with CBS completely missing from the lineup.
Is NFL+ Available on Hisense Smart TV?
Yes! You can access the NFL+ catalog on your Hisense Smart TV, provided it's one of the supported Android/Google TV, Fire TV, or Roku-powered models. However, do note that the NFL+ subscription only offers live access to the NFL games on phones and tablets, and you must pay for the NFL+ Premium subscription to watch the on-demand replays on your TV.
If you're a casual football enjoyer who doesn't mind streaming the games later at your own leisure, this is the cheapest way to enjoy the NFL regular season on your Hisense TV. The best part is zero commercials and the "Spoiler-Free" feature you can enable to hide the scores for the replays.
Other Ways to Watch NFL on Hisense Smart TV (For Free)
In the United States, the National Football League airs nationally on the "Big Four" free-to-air broadcast television channels: ABC, CBS, FOX, and NBC, with some of them even hosting the playoffs and also the most-anticipated annual football event, the Super Bowl.
Assuming you live in an area with affiliate broadcasting TV towers nearby (use FCC's Reception Maps tool to verify the channels available), you can tune into these local affiliate stations on your Hisense Smart TV with a digital HDTV antenna set up. Some of them may be available in high-definition if you're lucky enough.
Unfortunately, those who can't be bothered buying and configuring an antenna don't have any other "free" options for watching the NFL, at least when strictly speaking about legal ways. A quick search on the web should bring up some alluring third-party alternatives, but we strongly discourage using them for your own privacy and security's sake.
Instead, if you get creative with virtual payment methods and email addresses, you can utilize the free trial of some of the streaming services mentioned above (e.g., Prime Video, YouTube TV) to enjoy the NFL on your Hisense Smart TV for free, potentially till the end of the NFL regular season!
Enjoy the NFL on Hisense Smart TV!
Your Hisense TV can do more than streaming just on-demand movies and shows. Now you can watch live sports as well, including the National Football League games throughout the season and beyond.
This guide has discussed all the feasible options for streaming the NFL on Hisense Smart TV. However, if you have a VIDAA or Xumo TV-powered model, some of the following apps may not be accessible without using an external streaming media player, e.g., Amazon Fire TV Stick, Roku Premiere, Chromecast with Google TV, etc.
While you're here, we also recommend you check out our guide to watching NFL games in 4K if you own a Hisense UHD Smart TV.