Philips makes Smart TVs that combine an excellent picture and neat design while offering good value for money. They're good for watching movies and TV shows, and even better for live sports, especially if you're into fast-paced gridiron action.
There has recently been this more aggressive shift towards streaming for sports leagues. With numerous streamers bulking up their offerings with live sports offerings and even exclusive games, it's easier than ever for connected TV device owners to enjoy football without obligations to a long-term pay-cable or satellite TV contract.
Now that the National Football League regular season is well underway, you're likely looking for ways to catch the games involving your favorite teams/players on that big-screen Philips TV of yours in the living room. You've found yourself in the right place, as we'll walk you through all the possible ways to watch the NFL on Philips Smart TV in this guide.
Where to Stream Local Sunday Afternoon NFL Games on Philips Smart TV?
You see, throughout the NFL regular season, most of the match-ups commence on Sunday afternoons on either CBS or FOX, with the former covering the AFC road team broadcasts and the latter airing the NFC ones. Since many games are played simultaneously at this time, viewers at home can only watch the ones involving their local team.
The good news is you can stream the Sunday afternoon matches shown on your local CBS station via the Paramount+ app on Philips Smart TV – yes, the same service you probably already pay for your Star Trek fix. The bad news is that FOX, which also has coverage rights to the Sunday NFL match-ups, doesn't offer the same convenience.
However, if you still happen to have a cable or satellite TV connection in your household, you can use your TV provider account credentials to authenticate your subscription in the FOX Sports app, which will let you stream the in-market Sunday afternoon NFL games.
Also, with FOX being one of the only NFL broadcasters airing a handful of games in 4K HDR (upscaled from 1080p), you can enjoy a pristine image that immerses you into every play, touchdown, and tackle on your Philips UHD Smart TV, as if you're dropped right in the middle of the action.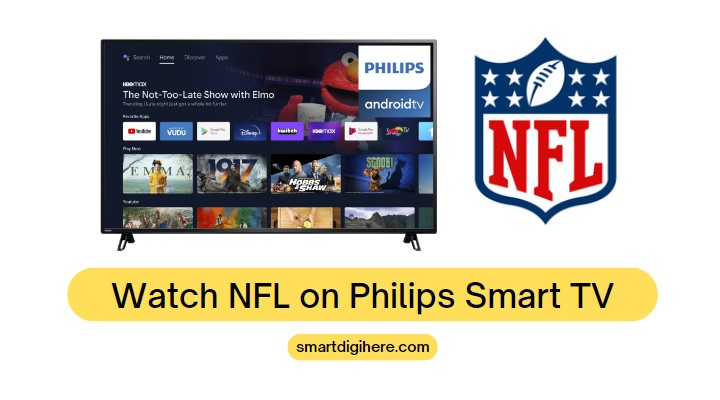 How to Watch NFL on Philips Smart TV Without Cable?
The ideal way to ensure comprehensive coverage of the NFL regular season to the Playoffs and the Super Bowl is to subscribe to a streaming television service. This includes the likes of YouTube TV, Hulu Live TV, Sling TV, FuboTV, and DirecTV Stream, all of which offer live TV bundles alongside useful benefits like cloud DVR and multi-device streaming and none of the contractual nonsense associated with traditional providers. You pay on a monthly basis and can cancel anytime.
Perhaps the best option for watching the NFL on Philips Smart TV without cable is YouTube TV, and it's easy to see why. Its Base Plan lets you tune in to over 100 top American channels at any time, which includes all six NFL-broadcasting networks: ABC, CBS, FOX, NBC, ESPN, and the NFL Network. Plus, with unlimited cloud DVR, you can schedule recording for upcoming games and enjoy them later at your leisure.
YouTube TV is also the new home to NFL Sunday Ticket, the out-of-market premium football add-on package that allows fans to catch the Sunday afternoon NFL match-ups that aren't airing locally on their CBS and FOX affiliates.
It's available with and without NFL RedZone (which itself is available separately with the Sports Plus add-on on YouTube TV), enabling exciting features like Multiview and Key Plays View, enhancing your football-watching experience.
Note:
NFL Sunday Ticket is also available as a standalone Primetime Channel on YouTube for those interested in catching only the out-of-market fixtures during the NFL regular season.
If you're on a tighter budget, Sling TV has more affordable plans for your football needs. Just make sure you verify the channel lineup by entering your zip code on their website before signing up for the Orange, Blue, or the combined Orange & Blue plan, as Sling TV offers ABC, FOX, and NBC in only a handful of areas. Note it doesn't have CBS.
Also Worth Noting…
Remember about the FOX Sports app we mentioned earlier? You can use your live TV streaming subscription, be it YouTube TV, Sling TV, or Hulu Live TV, to sign in to the app on your Philips Smart TV and watch your local Sunday afternoon NFL games without cable. It even goes beyond that.
If your streaming television plan includes CBS, you don't have to pay separately for a Paramount+ subscription and can simply authenticate your account details in the CBS Sports app, available for both Android and Roku-powered Philips TVs. The same applies to ABC, ESPN, and NBC, all of which stream NFL games through their authenticated apps!
Where to Stream Thursday Night Football on Philips Smart TV?
If you haven't noticed already, neither of the six primary NFL broadcasters in the US has Thursday Night Football on the schedule, except maybe two scheduled primetime fixtures on NBC. That's because Amazon is broadcasting (or rather streaming) the majority of these games during the regular season on their Prime Video platform.
With the Prime Video app available for a wide range of devices, including connected TVs and streaming media players, watching Thursday Night Football on Philips Smart TV is as easy as downloading the app from the Google Play Store or Roku Channel Store and signing in with an Amazon Prime membership.
One can also register for Prime Video on its own for a cheaper monthly fee without the other benefits of the Prime membership. Of course, you must have an Amazon account to access the primetime NFL games and the streamer's other live sports and on-demand offerings.
Where to Stream Sunday Night Football on Philips Smart TV?
Paramount+ is where you can watch all your local in-market CBS broadcasts of the Sunday afternoon games, but what about Sunday Night Football? Well, the top-rated primetime football programming has also recently found its place on Peacock, the streaming platform that hosts NBCUniversal's vast catalog of content.
The Peacock Premium subscription is all you need to catch SNF on your Philips Smart TV, including a streaming-exclusive match and Peacock's own exclusive post-game studio show. Premium Plus, the costlier plan, offers streaming access to your local NBC station if you prefer its traditional NFL coverage.
Once again, the Peacock app is available for all Philips Smart TVs powered by Android TV, Google TV, and Roku OS. If you already get NBC with your cable, satellite, or streaming TV provider, use the NBC Sports app instead.
Where to Stream Monday Night Football on Philips Smart TV?
ESPN presents a good deal of Monday Night Football games on TV, with select match-ups also streaming for ESPN+ subscribers. Home to a diverse range of sporting events and original documentaries, the Disney-owned streamer has its own monthly and annual subscription plans.
However, you can also get it as a bundle with the Hulu + Live TV plan, which offers 80+ live TV channels, including the six prominent US broadcasters of the National Football League. Similarly, it's part of the Disney Bundle alongside Disney+ and Hulu.
The ESPN app is where you can access ESPN+'s live Monday Night Football streams, with ESPN2's Manningcast feeds available for select games. The app also allows authentication with a TV provider for those interested in tuning in to the ESPN and ESPN2 channels for the MNF broadcasts.
Can You Watch NFL on Philips Smart TV via NFL Plus?
Formerly known as NFL Game Pass in the States, NFL+ lets subscribers stream every local and primetime football game during the regular season live – but only on a phone or tablet. An upgrade to the NFL+ Premium tier still doesn't allow viewing the games live on other supported TV devices, but you can at least enjoy them on-demand.
If you often find it difficult to sit through a live game or usually have work to finish around the time of the broadcasts, NFL+ on Philips Smart TV makes perfect sense, especially given its affordable subscription fee. Simply sign up for NFL+ Premium, download the official NFL app on your Philips Android or Roku TV, and log in.
Other perks of the plan include access to full replays of the out-of-market Sunday afternoon match-ups, Coaches Films, exclusive features and documentaries, etc.
Are There Ways to Watch the NFL on Philips Smart TV For Free?
If strictly speaking about streaming, signing up for the free trials on services like Prime Video and YouTube TV are your best options. Of course, you also have to be aware of when to cancel the subscription to avoid being charged, but that's a nuisance worth tackling if your wallet is currently on the lighter side.
Alternatively, you can spend less than the amount of a live TV plan today to get yourself a digital TV antenna, which, once you set up with your Philips Smart TV, should give you access to the free-to-air broadcast stations in your area.
Depending on your market and reception quality, you may be able to tune in to ABC, CBS, FOX, and NBC, where the majority of the NFL season is broadcast nationally. You can feed your address or zip code to the Federal Communications Commission's DTV Reception Maps site to verify which channels might be available for you.
End Zone
With the following options mentioned above, you can catch nearly every heart-pounding action of the NFL on Philips Smart TV from the comfort of your favorite living room couch. We've discussed apps and streaming services that expand your options beyond traditional means, so you don't have to miss another crucial play from your favorite team now that football is back on the menu.