Channel 4 is one of the primary broadcast television networks carrying a wide variety of compelling programming. It includes English and American dramas, comedies, thrillers, reality and game shows, factual docuseries on current affairs and true crime investigations, and made-for-TV indy films.
Like its competitors, BBC and ITV, Channel 4 has its own video-on-demand service, All 4, offering free-ot-charge streaming access to most of the network's content. The best part is it doesn't ask viewers for a TV licence, unlike BBC iPlayer and ITVX. Besides on-demand titles, you can tune into Channel 4's live stream alongside its sister channels.
Folks interested in giving Channel 4's streamer app a shot will most certainly appreciate its compatibility list. It encompasses phones, tablets, web browsers, streaming media players, and smart TV platforms. Samsung Smart TV is one of them, which is why you're here.
In this guide, you'll find everything related to All 4 on Samsung Smart TV, including what it offers, how to install and activate the streaming app and watch the Channel 4 live stream.
What do you get with All 4 on Samsung Smart TV?
As mentioned earlier, All 4 is Channel 4's on-demand service, which is completely free and provides access to a diverse library of network-owned and acquired programmes.
At the time of writing, All 4 offers 1,500+ on-demand titles spanning several genres, including but not limited to comedy, drama, thriller, lifestyle, reality, etc. Here are some of Channel 4's most popular TV shows to stream on the service:
Modern Family
The Handmaid's Tale
Gogglebox
Hollyoaks
Taskmaster
The Simpsons
Rick and Morty
The Great British Bake-Off
Married at First Sight
Below Deck
All 4, for the most part, offers 30 days of catch-up episodes for Channel 4's current lineup of programming. However, it also has a sizeable back catalogue of box sets covering complete seasons of well-received shows, including Wolf Creek, ER, The West Wing, Orphan Black, The Light in The Hall, Friday Night Dinner, and even famous American sitcoms like The Big Bang Theory, Frasier, and The Goldbergs. Additionally, you get to pick from a revolving selection of movies and documentaries.
But that's not all, as All 4 also offers live streams of the linear Channel 4 television broadcast alongside its sister networks: E4, More4, Film4, 4seven, and E4 Extra. It means you can tune into the latest episodes of your favourite Channel 4 programmes just as they air live on TV, plus occasional coverage of football, motorsport, rugby, cricket, and other sports.
Features of the All 4 App on Samsung Smart TV
Stream all the latest catch-ups and box sets of Channel 4's most popular series, and revisit hundreds of recent and classic hits – with bonus clips, trailers, and exclusive sneak peeks from upcoming titles.
Watch Channel 4 live on your Samsung Smart TV and its sister networks via the All 4 app.
Log in with your My4 account to keep track of your favourites and resume playing titles you've gone partway through across your Samsung TV and other screens.
Parental controls allow locking access to programmes otherwise deemed unsuitable for younger audiences.
Enjoy movies, shows, and documentaries with subtitles and audio description tracks.
How to Install All 4 on Samsung Smart TV?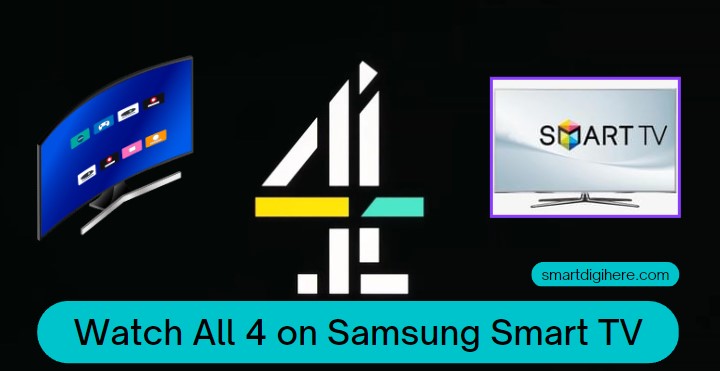 Samsung's Tizen-powered Smart TVs feature a rich selection of streaming apps, including Channel 4's VOD service. Here's how you can install All 4 on a Samsung Smart TV model powered by the latest version of Tizen OS:
Press the Home button on the remote control to bring up your TV's Home page.
Select Apps in your application row. It should open up the Samsung TV Apps Store.

Look for the "All 4" app in the various categories.

Can't find it? Navigate to the Search menu in the upper-right corner. It appears as a magnifying glass.
Type "All 4" with the on-screen keyboard and choose it within the results bar.

Once you're on the app's preview screen, click the Install
After the installation, select Add to Home to add All 4 to your TV's Home page.
You may now launch All 4 from the pinned application row of your Samsung Smart TV. To move the app along the row, highlight the app icon, press and hold the Select remote button, and click Move in the context menu that appears. After that, rearrange and put All 4 in your desired spot.
Recommended Reading: Watch All 4 on LG Smart TV
How to Activate All 4 on Samsung Smart TV?
All 4 is an ad-supported streaming platform, so you don't require a subscription to access its offerings. What it does ask for, however, is for you to sign into the app. Provided you don't have a My4 account, use these steps:
Go to channel4.com/register from a new browser tab on your mobile device or computer.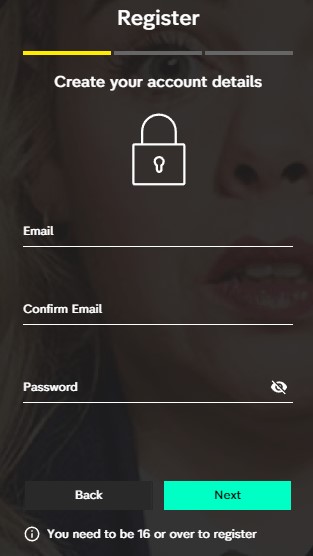 Confirm your email address and password to create your account details.
Note you must be 16 or above to register.
Provide your name, date of birth, and address (search by postcode) to proceed further through the registration.
Check your email inbox for a confirmation mail from Channel 4. Open it and click where it says "Confirm my email address" to complete the verification.
It's worth highlighting the premium All 4+ tier Channel 4's streamer offers. All it does is allow subscribers to stream the majority of on-demand titles without adverts and other commercials. If you hate ads interrupting your binges and movie nights, consider upgrading to the monthly or annual plan.
Now that you have your login details, here's how to sign in/activate All 4 on Samsung Smart TV:
Open All 4 from your Samsung TV's Home apps row.
Move to the left side of the app's Home page to open the navigation panel.
Choose My4 at the top, followed by the "Sign in" option.
Use the on-screen prompts to log in with your account details (email and password).
Once you're signed in, you can discover All 4's featured titles and curated recommendations right from the Home page or dive through the Categories section (accessible via the navigation panel) to pick something of your interest. You can also find your favourite programme from the app's Search menu.
Check out: Does Samsung Frame TV Come with a Wall Mount?
How to Watch Channel 4 Live on Samsung Smart TV?
With All 4 on Samsung Smart TV, you can watch the live Channel 4 broadcast online – and that's without an aerial or pay-cable connection. Simply navigate to the app's Live TV section from the left-hand sidebar and click the Channel 4 icon at the top of the TV guide interface.
If you miss out on the live broadcast of your favourite Channel 4 programme, you can always search for the title in All 4's catalogue and stream up to 30 days of catch-ups on demand.
Read also: Cast Meta Quest Pro to Samsung Smart TV
Wrapping Up
That's all we have to tell you about All 4 on Samsung Smart TV. It's worth highlighting that Channel 4's VOD app no longer works on connected Samsung TVs from 2012 and older due to fundamental upgrades within the streaming service.
Also, the installation steps in this guide apply to newer Tizen-powered Samsung Smart TVs only. Therefore, it may be different for your particular model. And in some cases, All 4 may be already installed on your Samsung TV. If any problem arises, we're here to help. Just let us know in the comments!