It's time to welcome the new year 2023 with open hands. You may plan a midnight dinner or drinks with friends and family. All of us know the tradition of the Ball Drop on New Year's Eve, and its excitement will never last.
During the 2020 pandemic, we all experienced it from our couches, and it was a better experience to enjoy drinks and food with loved ones in our own space. The fun of owning space with the essence of tradition is an ultimacy to have. I hope you are again excited for the Eve and celebrations to start.
We are here to let you know, how you can stream New Year's Eve 2023 ball drop on smart TV. Excessing this article, you will know where to watch on cable, and stream for free on your smart TV.
How to Watch New Year's Eve 2023 Ball Drop in Times Square
You may look for channels to watch the ball drop on smart TV. As per records, these channels are going to broadcast the show this year as well:
Clark's New Year's Rockin' Eve 2023: This is one of the best places to watch the ball drop on smart tv. Rayan Seacrest, with co-hosts Liza Loshy and Powerball co-host Jessie James Decker, will be hosting the show starting at 8:00 pm ET. The supporting co-host at Disneyland is Ciara, at Los Angeles is D-Nice, and at New Orleans by Billy Porter. The show can be viewed on ABC Live.
Miley Cyrus New Year's Eve Special: Miley Cyrus, with co-host Dolly Parton, will be broadcasting the show on NBC starting at 10:30 pm ET.
CNN New Year's Eve ball drop 2023 Live Stream: The yearly tradition of live streaming on CNN will continue in 2023 as well Anderson Cooper and Andy Cohen are the hosts again, being the best hosts for New Year's Eve. The show will get broadcast at 8:00 pm ET on CNN.
There is always an additional option in your hand to stream online. You will need broadband to connect your smart TV, and you are good to go. Being such a big tradition in the nation, live streaming can be easily fetched on various Twitter, and Facebook handles.
How To Watch New Year's Eve Ball Drop on Smart TV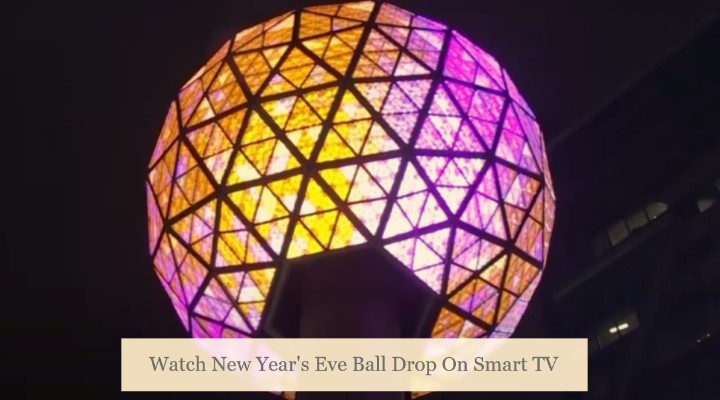 Now, you know where you can watch the broadcast over your smart TV, but how you can access those channels is the point of concern. Below I am mentioning the source where you can watch and get details on how to setup:
Clark's New Year's Rockin' Eve

https://www.newyearsrockineve.com/
–

Register here on the link to get updated with the newsletter regarding updates and setups.

Miley Cyrus' New Year's Eve Special

It will be aired on the NBC channel. You can download the app from Playstore on your TV.

CNN New Year's Eve 2023 Live Stream

It will be aired on the CNN channel. Download CNN App from Playstore.
Streaming ball drop 2023 with loved ones is going to be fun. The exciting evening is less than a month away to experience the thrill. We are all waiting, and so do you. You can also subscribe to the email newsletters by Clark and more to stay tuned with the upcoming events, and it will remind you not to miss even a second of the show on your auspicious evening.
What Will You Watch In The Show?
The Time Square Ball is a kind of time ball designed in Time Square in Ney York City; It's one of the significant parts of the new year celebration in New York. According to the rituals, it's a symbol stating starting of the new year in the entire city.
The ball starts to descend at 11:59 pm ET from the specially designed flagpole and rests at midnight, stating the start of the new year. This time ball is stated to be the ball drop as the state of the rest of the ball is signified as a symbol.
With the growing time, the rituals are mixed with entertainment. In recent years the ball drop has been celebrated with music shows and many more, and the streaming of this show has become a great joy of the evening.
So, in this broadcast, you will adhere to the same show in your own private space.
You May Like: Watch F1 on Smart TV from Anywhere
How To Stream Ball Drop on Smart TV Without Cable Subscription?
Smart TV allows you to browse over your television with just an internet connection. If you don't have your cable subscriptions, then don't worry. We are here to help you out.
You can use Hulu+Live TV. It will cost you $69.99, and you are good to go.
You also have a secondary option of YouTube TV to stream live. It will charge you $64.99.
You can also stream the show on fuboTV at just $69.99.
Whatever platform you choose will charge you the same but make sure that you complete your setups before the show so that you don't have a chance to miss even a part of it.
How To Watch New Year's 2023 Eve Ball Drop Free on Smart TV?
You can join to free commercial webcast by Times Square on their official site. You can even watch the live stream without spending a cent from your pocket. As per the schedule, the streaming will start at 6 pm ET.
You can also stay tuned with the significant events on Facebook ( at facebook.com/timessquarenyc/ ) and on Twitter.
Read: How to watch UFC Live on Smart TV
Concluding Points
This New Year's Eve will be exciting with such live hosts and their co-hosts. The live show at Time Square, as well as the streaming, are going to huge at a prominent center of attention for the citizens of New York City. The entire world has its eye on how it will be then; why miss a chance? Just have your schedule for midnight and get all plannings in touch to enjoy the evening with family and your favourite snacks and drinks.
Stay tuned we will come up with more updates. Have a jolly evening. Happy new year!