There is no doubt that Jio has taken the telecom sector by storm. And it has not stopped at telecom. Jio has its online streaming service- JioCinema. This service is available on all devices that support JioApps. This includes smartphones, tablets, laptops, smart TVs, and even set-top boxes. In this article, we will see how to install and watch JioCinema on LG Smart TV.
What Does JioCinema on LG Smart TV Offer?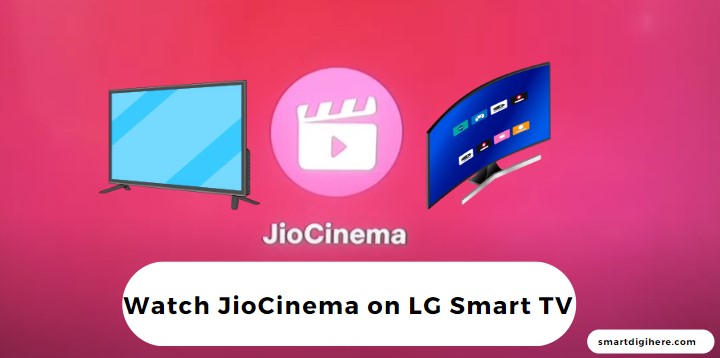 JioCinema offers Live Sports streaming, many movies, and TV shows, including new releases and old classics. You can also watch trailers, read reviews, and learn more about the cast and crew.
The JioCinema app is easy to use and provides a great watching experience. You can watch movies and TV shows in HD quality, with no ads or interruptions. Plus, you can pause, rewind, and fast-forward as you, please. You can also watch content offline to enjoy your favorite shows even when you're not connected to the internet.
With the JioCinema app, you can easily keep up with your favorite TV shows and movies.
How to Install JioCinema on LG Smart TV?
LG Smart TV users can now enjoy watching their favorite movies and shows on JioCinema. This application can be easily installed on your TV screen & Here are the simple steps to follow:
First, Switch ON your LG Smart TV.
Now press the HOME button on your TV remote.
Now select the LG Content Store from the menu.

You can see the JIO Cinema app there, OR you can search it from the search box & click on it.
And then click on the Install Button.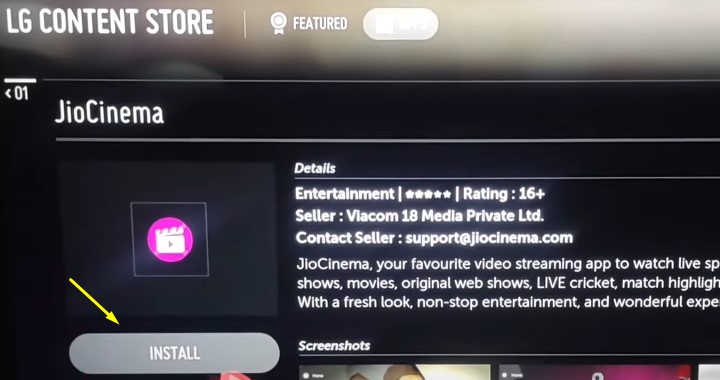 The App will begin installing. After fully downloaded, it will automatically be installed.
That's it! You have now successfully installed JioCinema on your LG Smart TV.
Read: Why is JioCinema Live not working?
How to Log into JioCinema on LG Smart TV?
Now launch the app from the launch button, or you can also find it in the Menu.
After opening the app, click on the settings icon.
You will see my account page now click on the Sign In Button.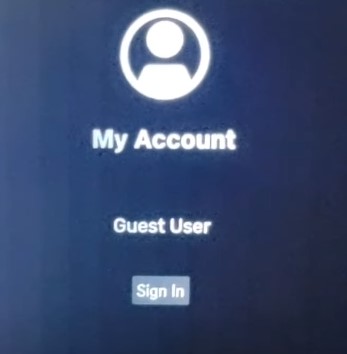 Now enter your mobile Number. (you don't have to be a Jio customer to enjoy its content)
After entering the mobile number, click on the Continue Button.
After clicking on continue, you will get an OTP on your mobile number (If you do not get OTP, you can try to resend the OTP).
Enter the OTP and click on continue.
Now you got the sign-in to your JIO Cinema account.
Now Pressback the button And Enjoy your Movies & TV Shows.
JioCinema vs. Other Streaming Services on LG Smart TV
There are a lot of streaming services available on LG TVs. But, JioCinema is the best one. Here's why:
JioCinema offers the best content & It has a huge collection of movies and TV shows. You can find anything you want to watch on JioCinema.
JioCinema is very user-friendly. The user interface is easy to use, and you can quickly find what you want to watch.
JioCinema is very affordable. It offers great value for your money.
JioCinema is available on a wide range of devices & You can watch it on your phone, laptop, or smart TV.
JioCinema is the best streaming service available on LG TVs. Try it today, and you won't be disappointed!
Read also:
Conclusion
Installing and watching JioCinema on LG Smart TV is a simple process that can be completed in a few easy steps. With the Jio Cinema app on LG TV, users can enjoy various movies, TV shows, Live Sports, and much more. The app offers a user-friendly interface, HD-quality streaming with no ads, and the ability to watch content offline. By following the steps outlined in this article, LG Smart TV users can easily install and log into JioCinema to enjoy their favorite shows and movies anytime.