STV, formerly known as Scottish Television, is one of Scotland's oldest broadcast channels operated by ITV. Like other free-to-air public TV networks in the UK, it has its own catch-up streaming service aptly named STV Player, where digital viewers can enjoy STV programmes live and on-demand.
STV Player is available to access free of charge all across the United Kingdom and supports all major platforms, including mobile, tablet, connected TVs, streaming media players, and computers via web browsers.
Naturally, you'd be interested to know whether STV Player on LG Smart TV is available too so that you can watch the latest episodes of your favourite show and beyond on the big screen. We're glad to tell you that you can most definitely access STV Player on your LG-branded TV in just a few steps, which we've outlined in this guide.
What Does STV Player on LG Smart TV Offer?
STV Player is your go-to destination for drama, documentaries, soaps, entertainment, and sports content. With over 3.5 million registered users, it's one of the prime video-on-demand platforms in Scotland.
With STV Player on LG TV, you can stream your favourite Channel 3 shows and box sets on demand. It includes popular soaps like Coronation Street and Emmerdale, hit dramas such as DI Ray and Grace, and recurring hits like Britain's Got Talent and The Masked Singer.
Original homegrown productions, which ITV's new ITV Hub replacement, ITVX, streams across England and Ireland, are available for Scots to binge via STV Player. It includes A Spy Among Friends, Litvinenko, Riches, The Confessions of Frannie Langton, A Year on Planet Earth, and more exclusives.
STV Player also offers thousands of hours of critically-acclaimed domestic and international box sets starring some of the biggest TV stars. Its extensive on-demand catalogue includes a sizeable selection of iconic classics like High Road and Taggart.
The best thing about STV Player is that it's ad-supported, meaning you can watch all its content for free. However, there are some limitations around the webOS version, which we've discussed below.
Limitations of STV Player on LG TVs
The complete STV Player experience includes access to the live STV and STV +1 channels and some of the nation's most-anticipated sports events on STV Sport. The webOS app on LG Freeview Play TVs lacks the live TV feature, supposedly due to technical limitations.
One way to get around the unavailability of live STV channels is through a Freeview aerial ( in the Scotland broadcast area) connected to your LG TV. That way, you'll be able to tune into STV's linear programming and live sports coverage and enjoy up to 30 days of catch-ups, on-demand box sets, and original exclusives on the broadcaster's streaming service.
Another missing feature of STV's streamer app on LG TV is the STV Player+ subscription service, which removes adverts from catch-up episodes, box sets, and archived programmes. At the time of writing, STV Player+ subscribers can't use the benefits on Freeview, but they've promised to bring support in the future.
How to Install STV Player on LG Smart TV?
STV Player is supported on LG Freeview Play-certified TVs (2016 or newer) running webOS 3.0 or later. In fact, every retail UK unit comes preloaded with STV Player alongside other catch-up TV apps. However, if you don't have the app installed on your LG Smart TV for some reason, follow these steps to get it:
Press the Home button on your LG TV remote to open the dashboard.
Scroll down to the "App List" section on the dashboard and click Apps.
On older webOS versions, find and click the LG Content Store.
Go to the Entertainment tab in Content Store and navigate the catalogue to find STV Player.

Alternatively, click the Search (magnifying glass) option above, then type "STV Player" in the search box using the onscreen keyboard.
On the STV Player app preview screen, click Install. It shouldn't take much longer to complete.
Click Launch to open STV Player directly from the Content Store page. Alternatively, return to your TV dashboard and navigate to the right end of the "App List" row, where you'll see the STV Player app icon.
Click the Edit App List option, select STV Player, move it to the front of the App List, and press the OK button on your remote to confirm the change. This way, you'll have quick access to the app.
Note: The above instructions are performed on an LG Smart TV running webOS 22, but they also apply to models running webOS 6.0 and older versions to some extent. Older NetCast models are unsupported.
How to Activate STV Player on LG TV?
The next step to streaming STV Player content on LG TV is to activate it. Here's what you need to do:
First, launch STV Player from your LG TV dashboard. You can also launch it from your TV's Freeview Play (Channel 100) interface.
Navigate to the Settings tab in the upper-right corner and click where it says "Join STV/Sign in". A unique 5-digit code will appear on the screen.

Go to the URL: my.stv.tv/activate from your mobile or computer. If not signed in, enter your email address and click Continue.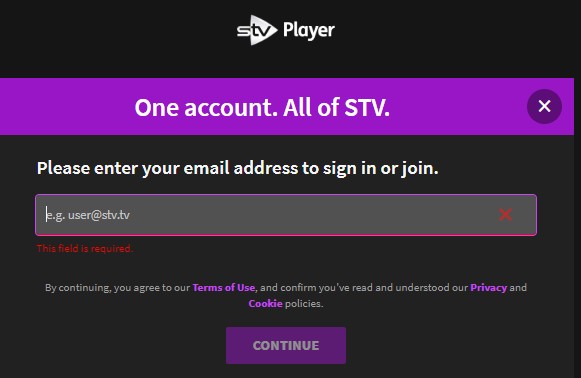 If you haven't signed up for STV Player before, it'll lead you to the registration form, where you'll need to enter your name, date of birth, postcode, and create password.
Once you fill out the form, choose your marketing preferences, and click the Join STV.
Proceed entering the 5-digit code displayed in the STV Player app on your TV and click Continue.
Upon seeing the confirmation message on the activation website, you'll be auto-signed into the STV Player on your LG TV. Now you can enjoy your STV dramas on demand and discover all its free, ad-supported exclusive content – category and alphabetical-wise.
Watch STV Player on LG Smart TV via AirPlay
If you have an LG Smart TV model with AirPlay 2 built-in, you're in luck. With the STV Player app on your iPhone or iPad (running iOS or iPadOS 12.0 or later), you can cast catch-ups, box sets, and live TV streams to your big screen.
Watching STV Player on a compatible LG UHD, NanoCell, or OLED series television via AirPlay is a matter of a few steps. Upon making sure your iPhone/iPad and LG Smart TV are on the same home network, follow these instructions:
Open the STV Player app from your iPhone or iPad Home screen.
Select the live channel or on-demand content you want to play.
The AirPlay icon should appear under the playback bar. Tap it and choose your AirPlay 2-enabled LG TV.
Unfortunately, if you have an Android phone or tablet, you won't be able to cast from the STV Player app onto your LG TV because AirPlay is unsupported on Android. And while STV Player supports casting via Chromecast, no LG Smart TV models currently have Chromecast built-in.
Enjoy STV Player on LG TV!
Offering over 1,500 hours of free on-demand box sets, documentaries, and the last 30 days of catch-ups, STV Player on LG Smart TV is a must-have streaming app – whether you reside in Scotland or elsewhere in the UK. For the best streaming experience, you'll need a broadband connection of at least 5 Mbps.
If you have an older model or a non-smart LG TV, get a streaming media device. Android TV, Chromecast, Fire TV, Roku, or a supported Freesat, Freeview Play, or YouView box is ideal for accessing STV Player and countless other streaming apps. Note STV Player is also available on Sky and Virgin Media set-top boxes.