The following guide will show you the top 5 most reliable TV brands in the market. Furthermore, we will review some of the top models of each brand so that you can choose the TV that offers you the best value for your money.
Televisions have been integral to people's lives for the last few decades. In recent years, TV technology has improved a lot. Whether you want to watch that new season of your favorite Netflix show, enjoy the most anticipated sports events, or immerse yourself in the latest AAA video games, there are many good TV brands to choose from.
However, a TV is a big purchase, similar to a vehicle. You must choose a model that fits your needs and budget, and, most importantly, it has to be reliable. The last thing you want is to end up with a TV that doesn't work well.
You might have already been looking at several options based on how big you want the TV to be, the picture quality, connectivity, and smart features. But how do you know which ones are the most reliable?
It isn't hard to go through the options and select the best one that checks all the boxes, but knowing about the most go-to TV brands can help you narrow the list of choices. Plus, knowing which brands maintain flawless quality and excellent aftersale service will save you time and trouble.
Just because you hear lots of good things about that one TV maker from your co-worker or friend doesn't always guarantee that all its TVs are good, especially their cheaper models. And now, with more entry-level brands gaining popularity, some offering better models than the pricier ones, it can be difficult to judge.
That's why we've compiled this buying guide to only the most reliable TV brands on the market to help you decide. Keep reading as we discuss each brand in detail and showcase their current-best offerings.
Most Reliable TV Brands (Reviews)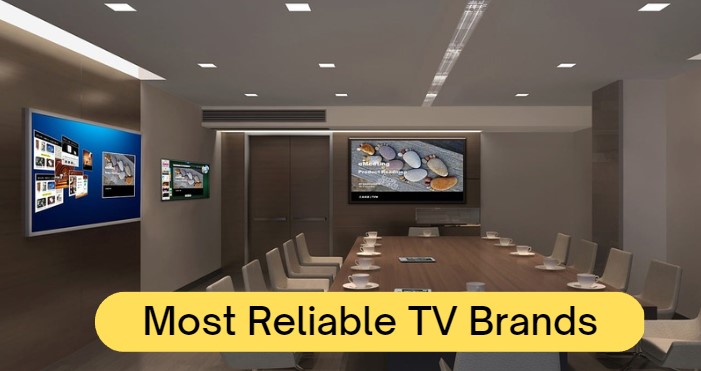 1. Sony
Since 1960, Sony has been a leader in the AV market. Most consider it a luxury brand, so their BRAVIA TVs are a bit more expensive than the competition.
However, the price is justifiable because Sony TVs are reliable and deliver breathtaking picture quality, with the best-in-class image processing and accurate color reproduction vetted by Pantone themselves.
If OLED TVs pique your interest, Sony offers a solid lineup, thanks to its deal with LG Display. These TVs present amazing contrast and details, especially in darker rooms, where the punchy colors within pitch-perfect blacks stand out.
Last year, Sony also shook things up with the Bravia A95K, its first QD-OLED TV using Samsung Display's panel, blending OLED's deep blacks with QLED's brightness, color performance, and wider viewing angles.
Sony is also venturing into Mini LED technology. It's like a budget-friendly version of MicroLED, where the LEDs are a tad bigger but still offer similar perks: improved local dimming, brightness, and contrast. Sony's processor plays a vital role here, with intelligent backlight algorithms making the most of these smaller LEDs.
As expected from Sony's musical origins, these TVs also shine in audio tech. Top models use Acoustic Surface Audio+ for sound from the screen itself, not regular speakers. They also pack built-in woofers for strong bass.
And if you're a gamer and have a PlayStation console, you'll be happy to know that Sony offers special features for the console, like Auto HDR Tone Mapping and Auto Genre Picture Mode that work great with their first-party AAA exclusives. Higher-end models also offer a 120 Hz output with VRR (Variable Refresh Rate) for a tear-free gaming experience.
Best Sony TVs to Buy
Sony A95K OLED (Recommended)
The top Sony TV available is the Sony A95K OLED. It uses a Samsung QD-OLED panel, offering rich blacks, vivid colors, and stunning HDR visuals. Combined with Sony's image processing prowess, it's perfect for movie enthusiasts looking for a top-notch home theater experience.
It's also excellent for gaming due to the OLED's near-instantaneous response times and silky-smooth 120 Hz 4K output, though slightly lagging behind other TVs in the same category.
Sony A90J OLED & A80K OLED (budget-friendly)
The A95K OLED is costly and mainly meant for those who want the finest movie-viewing quality. If you're keen on OLED technology but aren't keen on burning a hole through the wallet, consider the Sony A90J OLED, or the more budget-friendly option, the A80K OLED.
Sony X95K
The following two models feature WOLED panels, meaning they lack the vibrancy of the A95K OLED. Their gaming performance falls slightly short, but they retain Sony's renowned processing power nonetheless. For well-lit spaces, Sony also offers Mini LED models, such as the Sony X95K.
2. Samsung
Samsung, the South Korean tech giant, is the undisputed leader in the global television market for nearly two decades so you can add Samsung to the list of the most reliable TV brands. They secured the top position, surpassing brands like Sony and LG in overall sales last year, not because of their larger scale but primarily for excellent TVs focusing on ease of use and reliability.
Each year, the company unveils state-of-the-art TVs, as demonstrated by their 2023 Neo QLED and OLED models. Samsung also has a distinctive offering: the widely acclaimed The Frame TV, which serves a dual purpose as a TV and a picture frame, displaying digital art when not in use.
Going with Samsung means getting a top-notch television loaded with excellent features, all at a reasonable cost. Its premium QD-OLED TVs offer dazzling brightness and high contrast output, and thanks to Quantum Dot, you can count on vibrant, accurate colors.
One remarkable aspect is how well Samsung's Tizen TV platform integrates with the rest of the ecosystem, including SmartThings, Smart Connect, etc. You can mirror content from your phone (including iPhones) to your TV or stream TV content directly to your compatible Samsung phone.
Furthermore, Samsung's more recent models come with One Connect Box, designed to tidy up cable clutter behind TVs and facilitate cleaner wall mounting.
Regardless of whether you opt for a LED, QLED, Neo QLED (Mini LED), or OLED model, you'll enjoy exceptional picture fidelity that enables a cinematic and immersive viewing for years to come.
Related: Does Samsung Frame TV Come with a Wall Mount?
Best Samsung TVs to Buy
Samsung S95C OLED
The Samsung S95C OLED is an incredible TV known for its outstanding picture quality. It offers deep black levels in dark rooms you'd expect from OLED, and there's no blooming or distracting halo effect around bright objects.
Moreover, its HDR performance shines with impressive peak brightness and exceptionally vivid colors that make bright highlights pop, delivering a picture that accurately represents the filmmakers' vision.
This TV offers a 4K@144 Hz output, a boon for PC gamers seeking to utilize their new high-end NVIDIA or AMD GPUs to the full extent. It also accommodates current-gen PlayStation and Xbox consoles with 120 Hz support, VRR, and ALLM (Auto Low Latency Mode) technologies.
Samsung QN95B QLED
For those who typically don't watch TV in dimly lit rooms, the advantages of an OLED might diminish. In that case, the Samsung QN95B QLED could be a slightly better option. Though there's a touch more blooming in darker scenes, it compensates with higher peak brightness compared to the S95C, effectively fighting ambient glare.
S95B OLED
If you're after a premium OLED model but aiming to be budget-conscious, consider the S95B OLED from 2022. It's nearly as bright as its newer counterpart but is available at a steep discount.
Samsung S90C OLED
There's also the less expensive Samsung S90C OLED. Its 77" variant features a revised 2nd-gen QD-OLED panel, while the 55" and 65" variants are essentially rebranded S95B with 4K@144 Hz support, powered by the 2023 Tizen OS version.
3. LG
Also hailing from South Korea, LG might not operate at Samsung's scale, but being the pioneer behind OLED display technology does help. The company produces OLED panels not only for its own use but also for competitors.
In fact, it played a pivotal role in reviving interest in OLED technology, even when it was losing popularity. Does this imply that LG produces the finest and most reliable OLEDs? Well, OLEDs aren't exactly what we'd call reliable in the longer run due to being prone to burn-ins, but LG's 5-year warranty on newer models is certainly reassuring.
Today, LG OLED TVs face limited competition in terms of top-tier picture quality. You'll enjoy stunningly vibrant colors, impressive contrast, and deep blacks. LG TVs also tend to exhibit colors with more vividness, creating a noticeable visual impact, especially when compared to the more dulled tone mapping found in budget OLED sets from other brands.
LG OLEDs are also the go-to for gamers, primarily due to the recent models offering high refresh rates, instant response times, and ultra-low input lag.
Game Optimizer and Game Dashboard provide quick access to neat features like VRR (incl. G-SYNC and FreeSync Premium), ALLM, black/white stabilizer, and genre-specific picture modes, so you can quickly set up your TV to collectively enhance colors, contrast, and on-screen action for an ultimate gaming experience.
Newer models also support Dolby Vision HDR and Dolby Atmos sound and give you access to over 300 free LG channels. All these things make LG a reliable TV brand.
Also, Read: Enable Game Mode on LG Smart TV
Best LG TVs to Buy
LG G3 OLED
The LG G3 OLED is the best TV to date from the brand, offering out-of-this-world visual clarity, especially in dark, gloomy scenes. Of course, it's all thanks to OLED's nearly limitless contrast ratio and flawless black uniformity.
Being one of the brightest OLEDs available, the TV provides a captivating HDR experience in a low-light environment. Besides Dolby, it also supports DTS audio formats, making it an excellent choice for a home theater setup.
The G3 OLED boasts a sleek, stylish, contemporary design that remains appealing even when you aren't watching anything. It's a completely flat design without any bulges on its back. The TV doesn't include a stand and is designed to be wall-mounted.
It's also packed with excellent gaming features, including support for 4K@120 Hz output over HDMI 2.1, which works flawlessly with current-gen game consoles or modern PC graphics cards. Plus, its quick response time ensures smooth motion without any blurry distractions.
However, it comes with a high price tag. If the cost is a concern, the LG C3 OLED is a more affordable pick that provides an experience close to the G3, at least for most films and TV shows.
C2 OLED
The C2 OLED, LG's top-selling 2022 model, is still in stock. While not as bright as the G3 and lacking DTS audio support, its evo OLED panel goes toe-to-toe with the C3 and is notably more affordable.
Additionally, there's the LG G2 OLED, which is now available at a steep discount. If you're not aiming for the absolute brightest screen but still desire a minimalistic wall-mounted "Gallery" TV, consider exploring this option.
4. TCL
Not long ago, TCL hardly caught the attention of seasoned TV reviewers. But in just a few years, with about 10% of the global TV market, this Chinese electronics brand has quickly become a reliable household name. It has positioned itself right after Samsung and LG in size, providing us with some of the finest TVs on the market at unbelievably low prices.
TCL aims to deliver affordable TVs that perform similarly to pricier options while taking cost-cutting measures in the right places. Sure, overall image fidelity and processing aren't its strongest suit, but given the worth you get for your money, there's little to complain about.
If you're working with a limited budget but still looking for the rich goodness of a Mini LED QLED TV, along with sublime picture quality that can compete with pricier models from the "Big Three," TCL is the smart choice. You aren't missing out on core features either, such as HDR10+, Dolby Vision, and FreeSync Premium.
While all smart TVs support popular streaming services, they use different systems, some easier to navigate than others. Android/Google TV and Roku OS are particularly the most popular choices, with their user-friendliness and wide content selection. TCL uses both for its TVs, allowing buyers to go with what they prefer.
Best TCL TVs to Buy
TCL QM8/QM850G QLED
The TCL QM8/QM850G QLED has received a positive reception from several prestigious reviewers for its remarkably high brightness in both SDR and HDR, up to 2000-nits peak, effectively handling glares and reflections in even the sunniest rooms.
The QLED panel boasts full-array local dimming with up to 2,300 zones (varies by screen size), achieving excellent black uniformity and native contrast with minimal blooming, ideal for watching in dark rooms. Its use of Samsung's Quantum Dot enhancement layer provides a wide color range for HDR content.
The QM8 QLED is powered by Google TV, which is smooth and user-friendly, with Google Play Store offering a wide range of apps (and games). It's also exceptional for multiplayer gaming, delivering up to 4K @ 120 Hz / 144 Hz and 1080p@ 240 Hz based on the input, plus VRR for a smooth, tear-free experience. For a VA QLED panel, it delivers amazingly low response time and input lag in Game Mode, ensuring any fast-paced action, including sports content, remains blur-free.
The TV does have a few cons, like its mediocre content upscaling, narrower viewing angle, and inability to have Game Mode on with 4:4:4 Chroma Subsampling. Despite that, it's still a solid performer.
TCL 5 Series/S555 2022 QLED
If you're looking for a more wallet-friendly option, the TCL 5 Series/S555 2022 QLED is a stellar TV that provides picture quality akin to the pricier 6 Series, such as the R655 2022 QLED, though it isn't the best for gamers. Also, keep an eye out for discounts on earlier TCL 6 Series models, such as the R646 2021 QLED.
5. Hisense
Despite initial challenges, Hisense has made strides and established a solid reputation for producing high-quality TVs equipped with the latest technology. These TVs offer excellent picture and sound quality, all at a value-conscious price.
Much like TCL, Hisense stands out for not relying on a single operating system for its range of TVs. Some of its TVs run Android TV, while others feature Google TV, Roku TV, and Fire TV. Its cheaper models use VIDAA and XClass OS, which are more on the barebones side. Given these various options, consumers can opt for the platform they prefer.
Once again, similar to TCL, Hisense utilizes mini-LED QLED panels or what the brand calls ULED for their top-tier TVs, which we'll delve into in the following section.
The Best Hisense TVs to Buy
Hisense U8H
Priced at $1500 for the 75″ version, the Hisense U8H is the brand's top-tier option. It offers exceptional picture quality in both well-lit and dim rooms. The TV boasts impressive contrast, thanks to its 528 Mini LED dimming zones that produce inky blacks without significant blooming around bright sections of the screen.
With its high peak brightness and wide color reproduction, HDR content appears striking and is displayed at the correct brightness. It has a dedicated Filmmaker Mode that disables all post-processing to accurately capture the creator's artistic direction. The matte, anti-glare screen coating also helps reduce distractions.
The U8H achieves a fluid 120Hz refresh rate at 4K and is compatible with both Dolby Vision HDR and Dolby Atmos audio. Its Game Mode Pro optimizes TV settings for responsiveness by minimizing input latency. The TV also supports Variable Refresh Rate, effectively reducing screen tearing at unlocked framerates.
The Hisense U8H operates on the Google TV OS, making streaming content from various services easily accessible, while the voice-controlled remote allows for seamless navigation. You'd be hard-pressed to find a TV with such features at this price from other prominent TV brands.
Hisense U7H
The Hisense U7H is another decent TV option, and it comes at a significantly lower cost than the U8H. Although it's a step down from the latter with only 120 local dimming zones, it's worth thinking about if you're aiming to save some money.
Note:
You might also come across the
Hisense U9DG
on sale. It's quite a unique TV in its own right, with a dual-layer IPS-grade LCD panel that delivers incredible contrast and full-array local dimming performance like no other LCD/LED TV. However, considering the half-baked nature of the implementation, you might as well avoid it.
Final Remarks
Searching for a new TV can be quite a task. With numerous makers to choose from, figuring out which TV brand to put your faith in and where to begin your search can be a tough nut to crack. Of course, every television has its pros and cons, and there's no way for us or anyone else to guarantee a flawless experience.
Nonetheless, our roundups above represent the most reliable TV brands and their best models accessible to most individuals in various price ranges. Through careful research and our own experiences, we've thoroughly evaluated each TV maker's reputation, customer feedback, specifications, overall value, and more.
It's worth noting that the TVs highlighted in this buying guide have been carefully selected to provide a representation of the different makes and models tailored to the US market.