Onewheel is a crucial player in the plug-in electric vehicle business and the maker of the popular self-balancing single-wheel electric skateboards.
Boardsport enthusiasts love these things because of their speed, agility, and maneuverability. They're also suitable for commoners looking for an economical and climate-friendly transporter for day-to-day commutes.
With every new model, Onewheel has improved the range of their single-wheel boards by fitting in a larger and more efficient battery in the chassis. However, there can be days when you don't plug in your Onewheel and end up exhausting its battery in the middle of your commute. Or you may be planning to bring your board on a trip.
And so you may wonder whether it's worth buying a Onewheel electric board if it's too heavy to carry around in such situations. The very question that brings you here is, "How much does a Onewheel weigh?" This informative article will answer it, discussing the weight differences between every Onewheel model.
Onewheel Weight Guide: (GT, Pint X, Pint, Plus XR & Onewheel Plus)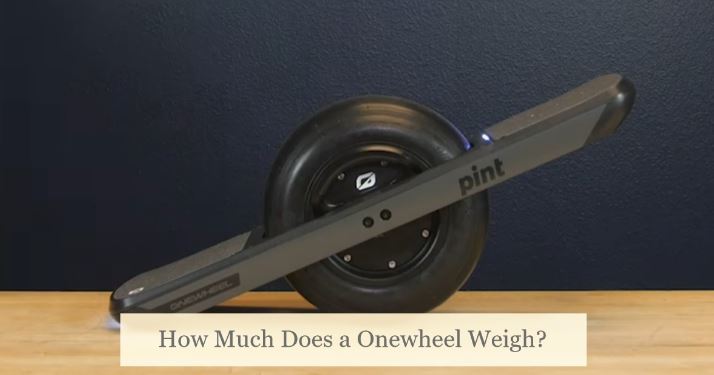 How Much Does a Onewheel GT Weigh?
Weighing 35 lbs (16 kg), Onewheel GT, the company's current flagship board, is bigger, better, and faster in nearly every conceivable way than its predecessors. And with the improvements come more weight, meaning you may need to catch your breath once in a while when carrying it around.
Onewheel GT Weight Limit
How Much Does a Onewheel Pint X Weigh?
Onewheel Pint X weight: In 2021, Onewheel released the Pint X alongside the GT, packing a much larger battery in the same footprint as the original Pint model. Onewheel Pint X weighs 27 lbs (12.5 kg), about four pounds heavier than the 2019 Pint. The Pint X is much lighter than the GT, making it easier to travel with for the user.
How Much Does a Onewheel Pint Weigh?
Onewheel Pint weight: As of 2022, the original Onewheel Pint remains in production due to its immense popularity. It's portable and has a smaller battery, so the board is the lightest in the Onewheel bunch at just 23 lbs (10.4 kg). The built-in handle also makes it easy to carry.
Onewheel Pint Weight, Range, Lightbar, Maghandle, Simplestop & More
How Much Does a Onewheel+ XR Weigh?
The 2018 Onewheel+ XR (Extended Range) is the most beloved Onewheel board in the riders' community due to its ruggedness and the modding opportunity it provides. The 27 lbs (12.5 kg) weight puts the XR in the same ballpark as the newer Pint X, though it's slightly faster and has a less prominent pushback than the latter.
How Much Does a Onewheel+ Weigh?
The Onewheel Plus, the subsequent release to the original 2014 version, is ever-so-slightly heavier than the 2019 Pint at 25 lbs (11 kg). The smaller power pack makes it convenient to stow, but its limited range will see you carrying the board more often than you expect.
How much does
Onewheel XR Weight? Can you Still Buy it?
Onewheel XR weighs 29 lbs. No, you can not buy it because Onewheel XR is Discontinued.
Related: Onewheel Range
In Summary
As you can see, the Onewheel weighs roughly between 23 to 35 pounds (10.4 to 16 kilos), varying from model to model – with the heaviest and lightest being the Onewheel GT and Pint, respectively. It's worth noting that adding accessories like a rail guard, bumper, stand, fender, rack, and footpad will further increase your Onewheel's weight.
Covering long distances on foot with one of these electric boards is no joke nonetheless. Thus, we highly recommend using the built-in handle or buying a carrying sling, Maghandle add-on mount, or the official backpack for your Onewheel.
And to avoid being stranded with a dead board, always check whether your board has enough charge left before taking it for a ride. We also strongly suggest bringing the charger on long commutes so you can charge your Onewheel while at a friend's house or work.