Mobile technology is integral to our daily lives, and wearables have become increasingly popular. Smartwatches are equipped with various features to help us lead healthier lives. The Venu 2 Plus and Forerunner 265 come from two of Garmin's most popular wearable lineups.
Both watches from Garmin cater to different user groups. The Venu 2 Plus targets the general consumer market, offering health tracking, music storage, and contactless payments. The Forerunner 265, on the other hand, is designed primarily for runners, with features like GPS tracking, advanced running metrics, and workout planning.
Historically, the Venu and Forerunner series had distinct designs and features with little overlap. But with the launch of the Forerunner 265, we see a move toward the convergence of the two series. The FR 265 adopts some features of the Venu 2 Plus, like the AMOLED display and an updated UX, making it a more versatile option than its predecessor.
This comparison guide of Garmin Venu 2 Plus vs Garmin Forerunner 265 takes a closer look at the features, pros, and cons of the Garmin Venu 2 Plus and Garmin Forerunner 265 to help you decide which device best suits your needs. Whether you're looking for a smartwatch to help you track your health and fitness goals or train and improve your running performance, we've got you covered.
Venu 2 Plus vs Forerunner 265: Pricing
With the Garmin Venu 2 Plus and Forerunner 265 (and the smaller 42 mm FR 265S) priced similarly around $450 in the United States, comparing these two models becomes more intriguing. We'll cut through the clutter to highlight the similarities and differences between the two devices.
It's worth noting that the Forerunner 265 is the newer model of the two, released in March of 2023, whereas the Venu 2 Plus launched in January 2022. Therefore, depending on where you're from and when you're looking to buy any of the Garmins, the price difference may be slight to significant.
Garmin Venu 2 Plus vs Garmin Forerunner 265: Design & Display
Garmin Venu 2 Plus
Garmin Forerunner 265 (46 mm)
Dimensions & Weight
43.6 x 43.6 x 12.6 mm
51 grams
46.1 x 46.1 x 12.9 mm
46 grams
Display
1.3" AMOLED Touchscreen

416 x 416 Resolution

Build Materials
Stainless Steel Bezel

Corning Gorilla Glass 3

Silicone Band (22 mm)

Fiber-Reinforced Polymer Bezel

Corning Gorilla Glass 3

Silicone Band

IP Rating
5 ATM
Colors (Bezel / Case)
Slate / Black

Silver / Powder Gray

Cream Gold / Ivory

Aqua / Black

Black / Powder Gray

Whitestone / Tidal Blue
The design and build are where the similarities between the two watches outweigh the differences. Apart from the stainless-steel bezel and minor distinctions such as the 3-button vs. 5-button navigation, both share nearly identical characteristics.
The Garmin Venu 2 Plus has a sleek and refined design with a 43mm diameter and a higher screen-to-body ratio than its predecessor. The bezel is slick and has a durable PVD coating, while Gorilla Glass 3 protects the screen. The rear portion and display surround use a steel construction sandwiched between a reinforced plastic frame.
While these are similar materials to those Garmin use for their costlier models, the overall build is far from the most durable we've seen from the brand. There's no lip protecting the watch dial, and the lens protection is older than the Gorilla Glass DX used in Fenix 7.
On the other hand, the Forerunner 265 keeps some design cues from its predecessor, with a casing and bezel made from fiber-reinforced polymer (in simple words, plastic) and a screen made from toughened Gorilla Glass 3.
The absence of a stainless steel bezel in the Forerunner 265 helps keep the weight low at just 46 grams. The Forerunner 265S weighs even less at 40 grams and has a smaller 42 mm diameter. Both are lightweight and offer a comfortable fit, although the supplied silicone band can leave indentations on your wrist.
Both have a 5 ATM water resistance rating, meaning they're suitable for daily showers and pool swimming but not diving and extreme water sports.
Coming to the display side of things, the Garmin Venu 2 Plus has a sharp, bright, and bold 1.3" AMOLED screen with a 416 x 416 resolution, far superior to the transflective MIP displays used in other Garmin watches. It's bright enough to be legible under sunlight, which is how most people would see it.
However, the watch's battery life drops significantly with the always-on display feature enabled, reducing it from well over a week to around 3 to 4 days.
The Forerunner 265, on the other hand, comes in either a 1.3" 416 x 416 or a smaller 1.1" 360 x 360-pixel AMOLED screen, depending on the version. It's crisp, vivid, and bright enough to view under daylight exercise sessions. It's a massive improvement over the Forerunner 255's transflective panel.
But just like the Venu 2 Plus, using the always-on mode reduces the battery life by more than half, but it also makes the Forerunner 265 a much better watch to read the time off alongside tracking your runs.
It's clear that the mid-range Forerunner watches have now achieved a level of similarity with the Venu series. While the Garmin Venu 2 Plus houses an AMOLED display and a sleeker build, the FR 265 still holds its own with a smaller but equally impressive screen and a lightweight, comfortable design.
Venu 2 Plus vs Forerunner 265: Activity, Fitness, & Health Tracking
Garmin Venu 2 Plus
Garmin Forerunner 265
Activity Tracking
Step Counter, Move Bar, Auto Goal, Calorie Burned, Floors Climbed, Distance Traveled
Gym Profiles
Breathwork, Cardio, Yoga, HIIT, Elliptical, Floor Climbing, Pilates, Strength, Indoor Rowing, etc.
Run Profiles
Running, Indoor Track Running, Treadmill Running
Running, Indoor/Outdoor Track, Treadmill, Trail, Virtual, and Ultra Running
Cycling Profiles
Biking, Indoor Biking
Biking, Indoor Biking, Mountain Biking, eBiking, eMountain Biking
Outdoor Profiles
Golfing, Bouldering, Hiking, Skiing, Indoor Climbing, Snowboarding, Stand Up Paddleboarding, Rowing
Same as Venu 2 Plus except for Golfing
Health Monitoring
Heart Rate, Respiration Rate, Pulse Ox (SpO2), Body Battery, All-Day Stress, Sleep Score, Hydration, Women's Health, Health Snapshot
When comparing the fitness and health tracking capabilities of the Garmin Venu 2 Plus and the Garmin Forerunner 265, it's clear that both watches offer a wide range of features to support various workouts and health metrics.
The Venu 2 Plus has over 25 preloaded workout modes and over 1000 additional presets available for download, including proper form animations for 75+ workout types. It's also equipped with GLONASS and GALILEO, making it suitable for running and other outdoor activities.
On the other hand, the Forerunner 265 is designed primarily for serious runners and athletes who want to track their training progress and improve their performance. It features a multisport mode tracking just about every outdoor sport (and indoors). You also enjoy the liberty of customizing every data field from the Garmin Connect companion mobile app or the watch itself.
Besides features like Performance Condition and Traning Readiness, it offers a Training Readiness score that helps you monitor your overall health and readiness for a challenging training day based on factors such as sleep, stress, recovery time, heart rate variability status, acute load, etc.
The Forerunner 265 lives up to its name by providing advanced running metrics like cadence, ground contact time, and stride length from your wrist without needing apps or additional ANT+ or Bluetooth equipment. It also has multi-band GNSS with SatIQ support.
If you play golf, however, the Venu 2 Plus is what you'd pick since the Forerunner 265 misses out on Garmin's golfing features.
Both include Garmin's advanced health-centric features, including Health Snapshot, which logs a two-minute window of key health metrics, and Body Battery energy monitoring score that estimates how exercise, sleep, and stress impact your daily readiness. Plus, the Morning Report feature gives you a snapshot of your sleep quality, training load, and weather forecast for the day ahead.
Both watches offer sleep tracking, with the added benefit of monitoring your sleep stages, blood oxygen saturation, and respiration levels overnight. The Forerunner 265 features Garmin's latest Elevate V4 sensor, which records heart rate, blood oxygen levels, breathing rate, HRV, and stress more accurately than ever.
That said, Garmin added clinically-validated ECG capabilities to the Venu 2 Plus in January 2023, making it their first smartwatch to have so. It requires a Garmin Connect update and a new ECG app and is only available in the States (at least at the time of writing). The Forerunner 265 lacks the necessary hardware for this feature.
Overall, the Garmin Venu 2 Plus and Forerunner 265 offer comprehensive fitness and health tracking suites. The former represents the needs of everyday users who want a stylish and versatile smartwatch with a range of activity-tracking and wellness-monitoring options, whereas the latter better suits serious athletes and runners who need advanced training metrics and features.
Garmin Venu 2 Plus vs Garmin Forerunner 265: Battery Life
| | | |
| --- | --- | --- |
| | Garmin Venu 2 Plus | Garmin Forerunner 265 |
| Smartwatch Mode | Up to 9 Days | Up to 13 Days |
| GPS Mode | Up to 22 Hours | Up to 20 Hours |
| GPS Mode + Music | Up to 8 Hours | Up to 7 Hours |
The Venu 2 Plus and Forerunner 265 have different battery life measurements depending on the usage patterns.
The Garmin Venu 2 Plus can last up to nine days in smartwatch mode (no GPS), up to 10 days in battery saver mode, up to a day with GPS and no music, and up to eight hours with GPS and music.
In our real-life tests, the Venu 2 Plus exceeded the stated figures, with a battery drain rate of around 10% daily when used with all-day Pulse Ox (SpO2 reading) disabled and one daily workout tracked. That's quite impressive for a wearable with an AMOLED screen, especially compared to the latest Fitbits.
The Forerunner 265, on the other hand, promises to last for 13 days in smartwatch mode and up to 20 hours in GPS mode, with the 265S variant advertising 16 days and up to 24 hours, respectively.
In practice, The watch lasted around ten days on a single charge, with roughly seven hours of GPS usage during that time. The battery takes less than an hour to recharge fully with the supplied USB-C cable, which is great for runners in a hurry.
Now mind you, these figures aren't as exciting as some of Garmin's other models but impressive nonetheless for sub-$500 smartwatches with power-hungry screens. Both offer strong battery performance, and the choice between the Venu 2 Plus and FR 265 may come down to individual needs and desired features beyond battery life.
Venu 2 Plus vs Forerunner 265: Smartwatch Features
Garmin Venu 2 Plus
Garmin Forerunner 265
Connectivity
ANT+, Bluetooth, Wi-Fi
Music Storage
Yes (Up to 650 Songs)
Yes
Garmin Pay
Present
Connect IQ App / Widgets
Supported (On-Device Store on FR 265)
Smart Notifications
Yes
On-Wrist Phone Calls
Yes
No
Voice Assistant
Google Assistant, Siri, Bixby
Not Available
Safety & Tracking
LiveTrack, Incident Detection, Assistance
LiveTrack, Incident Detection, Assistance, Live Event Sharing, Spectator Messaging
Sensors
Garmin Elevate HR, Pulse Ox, GPS, GLONASS, Galileo, Compass, Gyroscope, Accelerometer, Barometric Altimeter, Thermometer, Light Sensor
Same as Venu 2 Plus w/ Multi-Frequency Positioning and SatIQ Support
In smartwatch features, the Garmin Venu 2 Plus offers more than the Garmin Forerunner 265.
One of the most significant upgrades of the Venu 2 Plus from the Venu 2 and 2S is the built-in mic and speaker, allowing you to access your phone's voice assistant and make and receive calls within the device's Bluetooth range. That speaker also allows for notification tones if that's what you want.
Additionally, the watch supports automatic incident detection that activates when it senses a fall, making it a valuable safety feature for anyone engaging in outdoor activities.
The Venu 2 Plus has onboard storage for up to 650 songs, eliminating one's need to bring their phone when running or working out. It even features Garmin Pay for contactless payments, convenient for those who prefer not to carry cash or cards when commuting or making purchases. However, its availability depends on the supported banks in your region.
The Forerunner 265 has fewer smartwatch features compared to the Venu 2 Plus. It allows you to see smartphone notifications on the watch but can't respond to them from the watch itself. However, it features Garmin Pay and onboard music storage for Spotify, Amazon Music, Deezer, or your own tunes and podcasts.
What you're missing out on with the FR 265 is the ability to make and take phone calls. Additionally, the watch's touchscreen may not feel as responsive as the Venu 2 Plus, making it feel less premium.
Nonetheless, the Forerunner 265's features are more exercise and sports-focused, making it an excellent choice for those who prioritize training and workout data over smartwatch features.
Related: Garmin Instinct 2 vs 2s (Comparison): Which is Better?
Garmin Venu 2 Plus vs Garmin Forerunner 265: Which One to Get?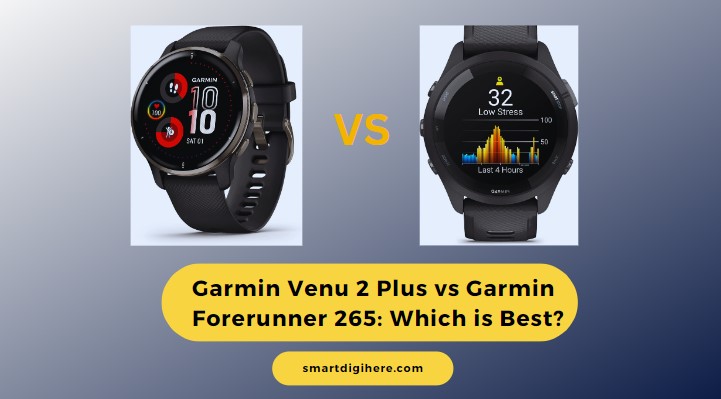 In comparing the Garmin Venu 2 Plus and Garmin Forerunner 265, there are a few key differences to consider. The former is more of a smartwatch, with features like voice assistant support and on-wrist phone calls, while the latter is more focused on training and coaching features for intermediate athletes.
The Venu 2 Plus is a solid choice if you're looking for an all-around smartwatch with a bright and punchy screen, a wide range of sports regimens, and third-party app support. It's a good pick for those who want to start a fitness routine and are looking for Garmin's comprehensive health-tracking suite, including ECG for AFib detection.
Think of the Forerunner 265 as a Venu 2 that trades some design gloss and extra smarts for more advanced coaching and guidance features. It's a fantastic running watch in its own right. It's slender and lightweight, with all the signature capabilities of the Forerunner series. The AMOLED touchscreen alone is a step up from the FR 255. Its Training Readiness feature is handy for analyzing data like sleep scores and HRV to maximize training efficiency.
In summary, both are excellent options that close the gap between the Venu and Forerunner series, but each is better suited for different demographics. Venu 2 Plus is better looking, but you get some of the more advanced activity and fitness metrics with the Forerunner 265.  Since they both hit the same $450 price point, the decision ultimately comes down to personal considerations.