If you're in the market for a new high-end Garmin wearable, it's tough to decide between the Forerunner 965 and the Fenix 7. Both are top-of-the-line watches with similar features. However, they also have some notable differences that may sway your decision.
This comparison guide of Garmin Forerunner 965 vs Fenix 7 offers a closer look at both watches, highlighting their strengths and weaknesses to help you make an informed choice. Whether you're a runner, triathlete, or outdoor enthusiast, we'll help you decide which watch fits your needs and budget. So, let's dive in and explore what separates the two impressive wearables.
Garmin Forerunner 965 vs Garmin Fenix 7: Pricing
When it comes to pricing, both the Garmin Forerunner 965 and the Fenix 7 fall into the high-end category.
In the States, the Forerunner 965 has a $600 base model of the Fenix 7 can set you back up to $700. However, the situation is quite different in the UK, with the Fenix 7 being slightly less expensive than the Forerunner.
As for the watches themselves, the Forerunner 965 is the newer of the two, launched in March this year. It comes in a single model without solar charging, which helps to keep its cost at around $600 USD.
In contrast, last year's Fenix 7 offers a range of options, including 42, 47, and 51 mm case sizes and Solar and Sapphire editions. The price starts at $700 and goes up to $1000 for the top-of-the-line Fenix 7X Sapphire Solar Edition, which has a power glass screen to extend battery life and a titanium bezel, ensuring durability during extreme sports like surfing and rock climbing.
In terms of affordability, the Forerunner 965 wins out by offering high-end features at a $100 lower price than the Garmin Fenix 7.
Garmin Forerunner 965 vs Garmin Fenix 7: Design & Display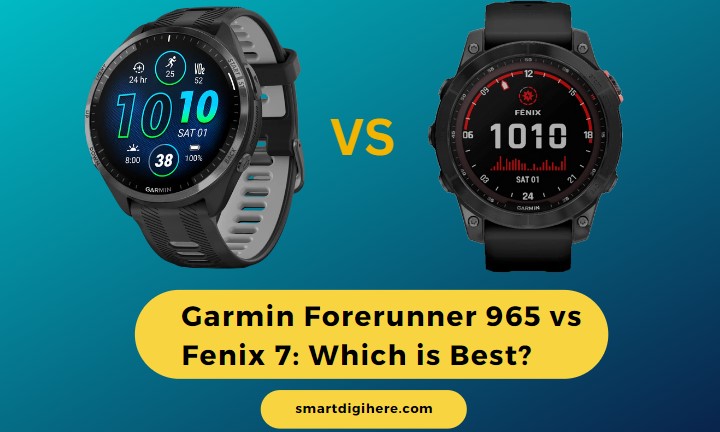 | | | |
| --- | --- | --- |
| | Garmin Forerunner 965 | Garmin Fenix 7 (47 mm) |
| Dimensions | 47.2 x 47.2 x 13.2 mm | 47 x 47 x 14.5 mm |
| Weight | 53 grams | 79 grams |
| Bezel Material | Titanium | Stainless Steel |
| Lens Protection | Corning Gorilla Glass DX | Corning Gorilla Glass 3 |
| Strap Material | Silicone (22 mm) | Silicone / Leather / Fabric / Metal (22 mm) |
| Display | 1.4" (35.4 mm) 454 x 454 AMOLED Touchscreen | 1.3" (33.02 mm) 260 x 260 MIP Touchscreen |
| Water Rating | 5 ATM | 10 ATM |
In terms of design and display, the Forerunner 965 and Fenix 7 have some similarities but also some notable differences.
The Forerunner 965 offers a choice of three distinct colors: Black, Whitestone, and Amp Yellow, providing options for varying tastes and preferences. The color options for the Fenix 7 vary depending on the chosen size and edition, offering a wider range of options.
The Garmin Forerunner 965 boasts various upgrades in comparison to the Forerunner 955. While the internal components remain relatively unchanged, Garmin has revamped the external features to improve the watch's functionality and visual appeal.
The Forerunner 965 sports a 1.4-inch 454 x 454 AMOLED touchscreen. It surpasses most Garmin watches in size. The reinforced titanium bezel assures its durability, with Corning Gorilla Glass DX protecting the front. It's one aspect where the Forerunner 965 matches and even exceeds the base models in the Fenix 7 series.
The larger display of the Forerunner 965 offers several advantages. It enhances the watch's aesthetic appeal with bright and vivid visuals and allows for cramming a broader range of data for the user's convenience. The screen has an always-on mode, though you may turn it off to conserve battery life.
The Forerunner's AMOLED display is undoubtedly more appealing than the Fenix 7's transflective MIP (Memory-in-Pixel) 260 x 260 touchscreen display. The latter has a stainless steel bezel and uses Gorilla Glass 3 protection for the screen, making them the most significant differences between the two models.
The Forerunner 965 only comes in a single variant, and its size can be a dealbreaker for those with slender wrists. The Fenix 7 series is more accommodating with a smaller 42 mm size option, while the larger 47 and 51 mm sizes are better suited for those with bigger wrists. However, even if you opt for the smallest Fenix 7, the Forerunner 965 still feels light on the wrist, 53 grams compared to the Fenix 7S, which weighs 62 grams.
Moving on, the Fenix 7 boasts a remarkable 10 ATM rating, providing nearly twice the protection against water ingress compared to the Forerunner 965's standard 5 ATM rating.
Recommended Reading: Garmin Vivoactive 4 vs Apple Watch Series 7
Garmin Forerunner 965 vs Garmin Fenix 7: Battery Life
Before we get into the details, note we compared the battery statistics of the base 47 mm Fenix 7 model and the Forerunner 965. Since both models are the same size and lack solar charging support, it's fair to compare their battery performance. Needless to say, both offer impressive endurance in their own right.
The Forerunner 965 promises a 23-day battery life in smartwatch mode, reduced to about a week with the always-on display activated. Nevertheless, the Forerunner 965 is still ahead of other sports watches on the market in terms of battery life, and it can last for at least seven days with heavy usage. The Forerunner 965 charges using a USB-C cord and is compatible with older cables.
On the other hand, the Fenix 7 lasts even longer thanks to its solar charging capabilities. In GPS mode, the basic Fenix 7 model can go for up to 37 hours, but solar charging on Solar Sapphire Edition extends it to 46 hours, longer than most GPS-enabled watches. The solar charging elements of the Fenix 7 Solar have been improved, with up to 50% more surface area for the solar panels, increased efficiency, and reduced power draw.
In our testing, we only had to charge the Fenix 7 once a week of use, even with at least half an hour of daily GPS usage. The charger shipped with the Fenix 7 uses the same proprietary cord as with the newer Garmins.
Battery-wise, the Fenix 7 emerges victorious over the Forerunner 965.
| | | | |
| --- | --- | --- | --- |
| Battery Modes* | Forerunner 965 | Fenix 7 47mm | Fenix 7 Solar 47mm |
| Smartwatch Mode | Up to 23 Days | Up to 18 Days | Up to 22 Days |
| Battery Saver Watch Mode | NA | Up to 57 Days | Up to 173 Days |
| GPS-Only (Without Music) | Up to 31 Hours | Up to 57 Hours | Up to 73 Hours |
| All Satellite Systems | Up to 22 Hours | Up to 40 Hours | Up to 48 Hours |
| All Satellite Systems + Music | Up to 8.5 Hours | Up to 10 Hours | Up to 10 Hours |
*Battery life across the models will vary depending on your usage pattern and chosen battery mode.
Learn more: Garmin Forerunner 935 Vs 945: Which One Is Best?
Garmin Forerunner 965 vs Fenix 7: Activity & Fitness Tracking
The Garmin Forerunner 965 and Fenix 7 are high-end sports watches offering extensive activity and fitness tracking.
One of the standout features of the Forerunner 965 is its vast array of sports modes, with over 50 different activities to choose from, including popular options like running, cycling, swimming, and golf, as well as more niche activities such as bouldering and snowshoeing. These modes are customizable on the watch itself and via the Garmin Connect app, allowing users to tailor their workouts to their specific needs and preferences.
The Forerunner 965 also boasts fast and accurate GPS tracking, plus detailed mapping capabilities, thanks to its 32 GB of storage and pre-loaded maps for various regions. Its AMOLED screen is easy to read under bright lighting conditions; highly suitable for outdoor activities like skiing and trail running.
On the other hand, the Garmin Fenix 7 offers a similarly extensive range of sports modes, including recent additions like adventure racing, kite surfing, cyclocross, commuting, and eBiking. It also features updates to its mapping functionality over the Fenix 6, allowing users to download maps for multiple regions and access detailed course points during activities.
New features unique to the Fenix 7 include customizable watch settings through the Garmin Connect app, a stamina-tracking feature for monitoring exertion levels during workouts, and an "Up Ahead" feature for ultrarunners that displays upcoming course points. The visual race predictor is another addition, providing users with predicted race finish times based on their running history and fitness level.
Both watches offer robust activity and fitness tracking features, with the Forerunner 965 excelling in its range of sports modes and fast GPS tracking. The Fenix 7 has a handful of exclusive sports modes, provides additional customization options, and features geared towards more advanced runners and athletes.
Check out: Oura vs Garmin Comparison
Garmin Forerunner 965 vs Garmin Fenix 7: Wellness Monitoring
| | | |
| --- | --- | --- |
| | Garmin Forerunner 965 | Garmin Fenix 7 |
| Heart Rate Monitoring | Advanced | Advanced |
| Respiration Rate | Yes | Yes |
| Pulse Ox (SpO2) | Yes | Yes |
| Sleep Score and Insights | Advanced | Advanced |
| Garmin Body Battery | Yes | Yes |
| All-Day Stress Monitoring | Yes | Yes |
| Female Health Tracking | Yes | Yes |
The Garmin Forerunner 965 and Fenix 7 offer a wide range of health and wellness features, including heart rate monitoring, sleep tracking, stress tracking, and more.
The Forerunner 965 comes with Garmin's Morning Report, which provides a daily summary of your sleep quality, recovery, and training intensity. There's also Health Snapshot, which measures your blood oxygen saturation level, heart rate, HRV (heart rate variability), stress, and respiration rate in a two-minute period.
Forerunner 965 features Garmin's Training Readiness metric, which shows how ready you are for a workout based on acute load, HRV status, stress, sleep, and recovery time. The watch also includes Chronic Training Load, which estimates your training load over 28 days.
The Fenix 7 has the same Elevate V4 sensor (as seen across Garmin's other models) for heart rate and Pulse Ox (blood oxygen) monitoring, as well as the Health Snapshot feature, which measures heart rate, SpO2 levels, respiratory rate, stress, and HRV.
Both watches feature Body Battery, Garmin's recovery tracking system that gives you an indication of your energy levels throughout the day and provides in-depth sleep information to help you improve the quality of your sleep.
All things considered, both the Garmin Forerunner 965 and Fenix 7 are highly capable of wellness monitoring, offering a similar feature set. Ultimately, the choice between the two comes from personal preferences and specific use cases.
Read also: Whoop vs Garmin Comparison
Garmin Forerunner 965 vs Fenix 7: Smartwatch Features
| | | |
| --- | --- | --- |
| | Garmin Forerunner 965 | Garmin Fenix 7 |
| Connectivity | ANT+, Bluetooth, Wi-Fi | ANT+, Bluetooth, Wi-Fi |
| Connect IQ Support | Yes | Yes |
| On-Watch App Store | Yes | Yes |
| Notifications | Yes | Yes |
| Text Response (Android) | Yes | Yes |
| Music Storage | Yes | Up to 2,000 Songs |
| Contactless Payments | Yes (Garmin Pay) | Yes (Garmin Pay) |
The Garmin Forerunner 965 and Fenix 7 are two GPS sports watches with a great deal of smartwatch features.
The Forerunner 965's bright and cool AMOLED touchscreen makes the interface navigation delightful. You can also view mobile notifications but can't respond to them if you're an iOS user. Additionally, Garmin Pay allows you to make contactless payments on the go, and you can download music from Amazon Music, Deezer, Spotify, etc.
Similarly, the Fenix 7's touchscreen makes it easier to navigate around the GarminOS UX. It also has the Connect IQ Store built-in, allowing you to install fancy third-party apps directly from the watch rather than syncing from your phone. Garmin Pay and music downloading are also available on the Fenix 7.
Although the voice assistant and on-wrist calling features aren't present on the Fenix 7 (likely to maintain its higher waterproofing standard), Garmin has still managed to make it a more capable smartwatch than its predecessor.
All in all, the smartwatch features are where the Forerunner 965 and Fenix 7 are pretty much identical.
Reading Tip: Garmin Instinct 2 vs 2s: Which One is Better?
Garmin Forerunner 965 vs Garmin Fenix 7: Which One Is Best?
After comparing the Garmin Forerunner 965 to the Garmin Fenix 7, it's clear that both watches have their pros and cons.
The Forerunner 965 has a stunning AMOLED screen and is loaded with features to help with training and recovery. However, not much has changed from its predecessor, and it lacks certain functionalities (e.g., ECG sensor, wireless charging) available on other Garmins.
On the other hand, the Fenix 7 has a touchscreen and customizable features that make it easier to use and more visually appealing. It also has a faster GPS connection and, with the Solar Edition, the power of the sun on your wrist – meaning less time spent plugged into the wall. Although it may not be worth upgrading from a Fenix 6, it's definitely an upgrade from the previous Forerunner models.
In conclusion, choosing between the Forerunner 965 and Fenix 7 comes down to personal taste and what features are essential to the user. There's also the fact that the Forerunner 965 is $100 cheaper than Fenix 7, but the latter also offers better battery performance and has a few more sports profiles.
If budget is a concern, the Garmin Epix and the older Forerunner 945 are also great options with good displays, minimal design, and long battery life.