Garmin Forerunner 935 and Forerunner 945 are Excellent smart running watches. Primarily they are used for recording the running metrics of a person. One of the significant differences between these two watches is their performance and GPS features. Forerunner 945 is powered by an enhanced GPS system, which can be a massive banger for people considering these two. Garmin Forerunner 935 vs 945 is a hot topic of discussion and today we will compare both these watches in detail.
Garmin Forerunner 935 Overview
Garmin Forerunner 935 is a complete fitness watch packed with the latest technology for tracking every aspect of your training. They are comfortable to wear the whole day with a better battery backup. It can be a perfect smartwatch for people looking for long-lasting Battery life. The cost of this model is slightly lower than the latest version Forerunner 945.
Technical Specification of Garmin Forerunner 935
Garmin Forerunner 935 is a perfect smartwatch for you as it offers a lot of advanced systems such as running and multisport features. The advanced features also provide you with greater comfort and make it the perfect watch for you to wear all day. In addition, the weight of the watches is 49 grams which does not feel heavy at all.
It is also known for providing elevation changes with some built-in altimeter, electronic compass, and barometer, which is necessary to keep your bearings. In addition, it offers an additional performance monitoring feature which helps you evaluate your training sessions and their status, whether you are undertraining or overdoing it.
Users are also provided with advanced dynamics for their swimming, cycling, and training sessions, in addition to ground contact time balance, stride length, and many more. It is powered with a bigger battery life which can go up to 2 weeks while in watch mode.
However, using your watch in GPS mode will provide only one day of battery backup. With a few changes, you can also make your watch work up to 50 hours while using it in ultra-track mode and heart rate sensor on. Finally, you can make it more prominent for up to 60 hours while the heart sensor is not working.
Why should you Consider Buying the Garmin Forerunner 935?
1. Perfect fit with your fashion sense
The Forerunner 935 GPS watch features a comfortable and lightweight design making it ideal for you to where it all day. You can easily change your bands with quick adjustment settings. You can quickly replace the sporty band with classic leather or any other material according to your cup of tea.
2. Monitors your performance excellently
To know how your current training plan is going, the smartwatch will help you monitor your recovery in training sessions. For example, you can easily rely on the smartwatch to prepare for a swimming race or cycle training.
In addition, the performance monitoring tool known as training status will allow you to check out your recent exercise history and performance to enhance the productivity of your training.
The aerobic training effect metric lets you know about insights into every critical dimension during your training time. The real-time stats will help you to push the limits of your training to achieve something better.
If you like to compare your previous training session with the current one, then the smartwatch is the perfect option as it makes it possible for you to compare your activities.
3. Bigger and better battery life
One of the best things about the Garmin Forerunner 935 is that it has better battery life than the Forerunner 945. Although, the battery life in ultra-track battery setting mode is entirely the same. But using it on GPS mode will give you a better life of around 24 hours, much more than Garmin 945. Moreover, you can get up to 2 weeks from a single charge while using it in smartwatch mode.
Garmin Forerunner 935 Detailed Review (Video Guide)
Garmin Forerunner 945 Overview
There are several new features in the latest Garmin Forerunner 945 compared to its previous model. One of the most notable features is it comes with 8 GB of internal storage to support songs. You can even connect your watch via headphones with the help of Bluetooth, which allows you to play music while working out.
Several significant changes exist, such as using Garmin pay for the contactless NFC payment option. In addition, there are tons of changes while tracking your progress, including heat map data.
Technical specification of Garmin Forerunner 945
With the latest feature's help, it can sync music from premium streaming services such as YouTube Music, Spotify, and many more. However, if you want to go offline, you can store up to 1000 songs on your watch with the help of the inbuilt 8 GB of internal memory that comes with the watch. Connecting your watch with your headphones would be ideal for listening to phone-free music.
It Includes features such as VO2 max and training status with adjustments of heat maps, training load focus, recovery time, and aerobic training effect, allowing you to monitor your performance with some excellent states. You can make convenient payments with your watch with the help of the latest contactless payment solutions through Garmin pay.
Additionally, the onboard mapping guide will never let you forget about your states during your workout. For users, safety companies have added some safety and tracking features, such as incident detection, helping you to send your real-time location to emergency contacts that you can select while installing your watch.
It also provides a 2-week battery backup in smartwatch mode, but it only allows you to run your watch for 10 hours in GPS mode, less than the Forerunner 935. However, with the ultra-track mode, the battery backup remains the same as 935.
Why should you consider buying Garmin Forerunner 945?
1. Take your music on the go
It is very difficult for many people to carry a mobile phone while running, and it is also important to carry it because of the music. But with the help of Garmin Forerunner 945, you do not have to carry your phone because, with 8 GB of internal memory, it allows you to add around 1000 songs to the memory of your watch.
Apart from this, you can also access premium music streaming services such as Spotify and YouTube Music to enjoy the experience of ad-free listening. So, connect headphones with Bluetooth technology and enjoy your favorite playlist while working out.
2. Maximise performance
Garmin 945 allows you to monitor your performance with even more personalized insight and settings. So, it can be helpful for you to train with smartness. The smartwatch tracks you from the adjustments value based on heat and altitude. So, you can easily get to know your insights into endurance, durability, power, and much more effective feedback.
The comparison feature let you compare from the last several days of your exercise with the current one and can even help you enhance your overall training session. So, whether you want to increase or decrease your workout intensity, the smartwatch can easily deal with this type of problem.
3. Pay without a card for cash
Cashless payment can be a handy option for many users because, at the time of a workout, everyone can't carry cash and cards along with them. The smartwatch will make it very easy for you to pay directly from a feature known as Garmin pay. So never miss the opportunity to grab your post-workout meal with easy payment.
4. Maps and GPS services
Garmin Forerunner 945 helps you to keep track of your streets and crowded place in your city. With the help of an inbuilt mapping system, it allows you to get an idea about where you are going for running and keep you up to date about the location. The full-color mapping system is preloaded with highly optimized services for quickly navigating end tracks for different locations.
Garmin Forerunner 945 Review: Video Guide
Major Difference Between Garmin Forerunner 935 & 945
Both are packed with a lot of incredible features. They both have performance-tracking capabilities for runners. However, the major difference between these 2 watches enhanced GPS system. The GPS system is slightly upgraded in the latest model of Garmin Forerunner 945.
The peak performance of both smartwatches is completely fine. They also have a price difference, you can easily get your hands on 2 Garmin Forerunner 935 at a slightly lower price as compared to the 945. Let's compare every aspect of the watch to make you choose the best one for you.
Garmin Forerunner 935 Vs 945: Comparison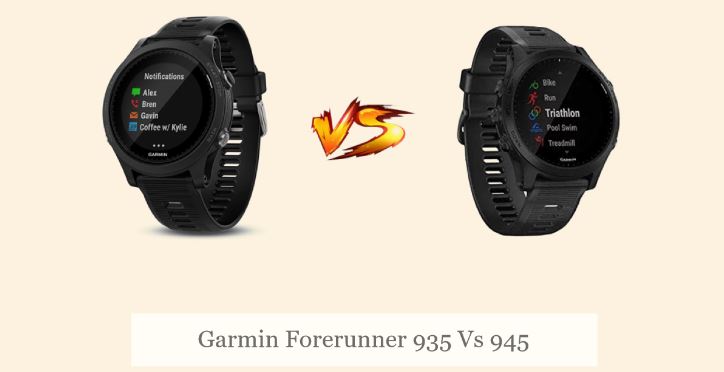 1. Performance Tracking
Other than the heat map feature that is introduced in Garmin 945, the performance capability of both devices is completely the same. The heat rate sensor is an advanced technology which allows you to sense the capability of different types of performance within a wide range. For some users, this might be a necessary feature as it provides real-time assessment during your current workout which you are performing.
2. Preloaded Activity Profiles
Comparing both the watches you will easily notice that there are fewer preloaded activity profiles installed in the older version of Forerunner. The latest version of Forerunner is capable of providing you with a wide variety of fitness activities.
You can easily get to know about every aspect of your outdoor activities such as water swimming with the help of heat and altitude metrics. Forerunner 935 lacks these kinds of features.
3. Pulse Oximeter Technology
The pre-installed artificial intelligence in the user interface of Forerunner 945 is completely optimized for pulse oximeter technology. This is completely game-changing for smartwatch as it provides a blood oxygen matrix to determine your oxygen level.
4. Design
Forerunner 945 is an upgraded version of the 935 so both watches come in identical designs. The bezels of both smartwatches are exactly the same and similar in size. However, the 945 comes with a larger band as compared to a small band on Forerunner 935.
5. Durability
Another game-changing feature of the latest Garmin 945 is that it comes with shockproof and scratch-resistant technology. Both the watches are highly durable but the 945 is powered with Corning Gorilla Glass DX which is left out in 935 specifications. This flips the side of the coin while taking it into consideration.
6. Music System
Both watches are featured with ability to sync music. But the thing that makes 945 different is their storage capacity. 945 allows the user to sync music on board with the help of 8 GB internal storage.
7. Galileo
Galileo is better GPS technology which makes Forerunner 945 more prominent than 935. It will alert you about crowded places in the city or urban area. It can be very useful for you to navigate your way out of unfamiliar places quickly.
Is Garmin 935 Outdated?
However, the Garmin 935 is a lower version of the 945 but still, it is more prominent than other smartwatches which are available at a budget-friendly price. But the technology used in 945 is slightly better than this version.
Is Garmin 945 Outdated?
No Garmin Forerunner 945 is completely latest watch with the latest and advanced technology. It is a superior watch in the market surpassing many prominent smart watches all around the world. The price range of this watch is significantly higher than the Forerunner 935 because of additional features.
Also Read:
FAQs
Are the Garmin Forerunner 945 and 935 waterproof?
Ans. Both watches come with advanced waterproofing technology so that users can enjoy them in water-related activities. For example, you can safely go swimming and shower. They are waterproof up to 50 meters.
Can I play online music on the watch?
Ans. With the accessibility of Wi-Fi, users can enjoy listing to music on online streaming applications such as YouTube music or Spotify with the help of headphones and Bluetooth connectivity.
Garmin Forerunner 935 Vs 945: Which one is best?
Comparing both give you an idea about both models. There are many notable differences between these two models. Garmin 945 is also considered an upgraded version of the Forerunner 935. If you like having the latest features and advanced payment options, it would be ideal to go for Garmin 945. However, if the battery backup is necessary, you must compromise with the latest technology and go for model 935.
Hope that the comparison of Garmin Forerunner 935 vs 945 helps you find the best one. However, the choice is completely up to your preference. One is costly and has advanced features; the other is budget-friendly with slightly fewer features. So, grab your ideal preference now and make your life easier.