As a provider with a reputation for outstanding service, an array of broadband and TV packages, and a massive customer base across the country, BT is often a popular choice among individuals seeking a new internet service provider.
With BT Halo, BT Home Broadband subscribers can upgrade their experience by subscribing to exclusive features and services at an additional monthly cost.
BT Halo comes in two options: BT Halo 3 includes bonus perks, such as expert technical support. Halo 3+ goes a step further by providing enhancements like mesh Wi-Fi boosters and a backup 4G router. Depending on their BT Broadband plan, one can opt for BT Halo 3 from £1 a month, whereas Halo 3+ could cost up to £35 per month.
So is it worth upgrading to BT Halo 3? Sure, it may be a beneficial option for individuals who heavily rely on their home internet for work. However, it's also worth exploring alternatives to see if users can obtain comparable features at a lower cost.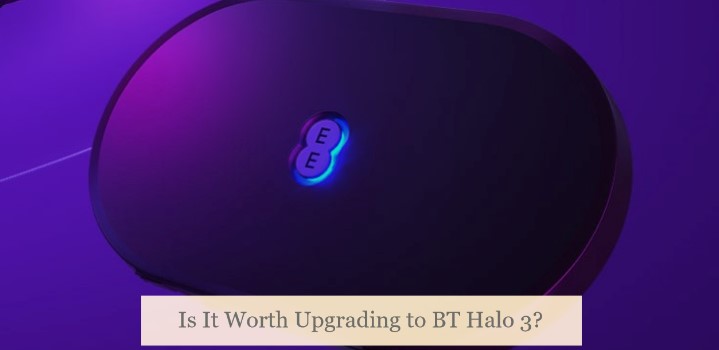 BT Halo 3 and Halo 3 Plus: At a Glance
| | | |
| --- | --- | --- |
| Feature | BT Halo 3 | BT Halo 3+ |
| Hybrid Connect | No | Yes |
| Complete Wi-Fi | No | Yes |
| Smart Hub 2 | No | Yes |
| Full Fibre Promise | No | Yes |
| Home Tech Experts | Yes | Yes |
| Keep Connected Promise | Yes | Yes |
| Price Promise | Yes | Yes |
| Double Mobile Data (BT Mobile) | Yes | Yes |
What is BT Halo?
BT Halo is the flagship add-on service of BT Broadband. It provides customers additional benefits to enhance their existing internet connection and reduce costs for premium services. It combines fast fibre broadband with mobile data, ensuring a constant Wi-Fi connection even in the event of a home broadband outage.
Currently, BT Halo comes in two flavours: 3 and 3+. Although some of BT Halo 3's features are useful, it's only by upgrading to the next tier that customers get really innovative features. That includes extended Wi-Fi with boosters and a double data cap for BT Mobile subscribers.
Similar: BT Sport on LG Smart TV
BT Halo 3 and 3+ Broadband Plans
BT is oddly non-specific about the cost of its BT Halo 3 service. Like other internet providers in the United Kingdom, they frequently present users with deals and offer that don't align with the pricing listed on their website. BT claims existing customers can upgrade to Halo 3 for as little as £1 a month, offering personalised deals to encourage customers to upgrade to Halo 3+ when selecting packages.
BT Halo 3+ is featured prominently in a dedicated section on BT's official website. Some of the featured broadband "Full Fibre" packages with Halo 3+ include:
Package
Average Internet Speed
Contract Term
Upfront Fee
Full Fibre 100 with Halo 3+
100 Mb/s
24 Months
£9.99
Full Fibre 300 with Halo 3+
300 Mb/s
Full Fibre 900 with Halo 3+
900 Mb/s
There's a substantial difference between the pricing of regular BT Broadband package and one with the BT Halo 3+ add-on, sometimes as much as £35 extra per month. However, with the high-speed packages, you'd see less price difference.
Interestingly, when comparing the upgrade deals for existing BT Halo customers (1 and 2) with the options available to new customers, the monthly cost for Full Fibre 100 with Halo 3+ is £23 less than the price for new users. With the costlier Full Fibre 900 with Halo 3+ plan, the price difference came out £6 cheaper than the new customer pricing.
However, some existing BT Halo 1 and 2 customers have reported that the upgrade to Halo 3 is £7 per month – higher than the starting price of £1 that BT claims. The upgrade from BT Halo 3 to Halo 3+ is an additional £5 a month.
The takeaway from all this is you should thoroughly compare the base BT Broadband packages and determine their value before opting for the BT Halo or Halo 3+ add-on and complicating the rolling contract.
BT Halo 3 Features
As we've mentioned repeatedly, you might be able to add BT Halo 3 to your existing broadband contract for a low cost of £1 per month. However, note that the final price differs based on your particular plan and other eligibility criteria. Here are the benefits you can expect as Halo 3 customer:
Home Tech Experts
BT's Home Tech Experts are available for booking in 2-hour slots, seven days a week, ready to offer assistance with your Wi-Fi problems at no charge. Therefore, you'll receive troubleshooting help without any delays.
BT offer a complimentary annual visit to ensure your broadband functions optimally for your usage. You can reach out to schedule an appointment, whether it's to set up a new service, resolve a broadband issue, or optimise your home Wi-Fi coverage. They even provide a contactless option for setting up new network equipment and services.
Keep Connected Promise
With BT Halo 3, in case of a move or broadband connection issues, you can contact BT for a 4G Mini Hub (on BT Mobile) to maintain Wi-Fi connectivity. BT Mobile subscribers can also report any problems with BT Broadband and get unlimited mobile data, ensuring a seamless experience without added cost.
The Keep Connected Promise for BT Halo 3 isn't as extensive as for Halo 3+, which results in a considerable delay between reporting an issue and receiving a 4G Mini Hub as a backup option. Despite this, it may still be beneficial in specific use cases.
Price Promise
As part of Halo 3 (and Halo 3+), BT guarantees existing customers won't pay more than new customers when renewing their contract. However, it's somewhat misleading as BT is obligated to Ofcom to offer existing customers a period where the prices are the same as for new customers. This commitment came into effect in March 2020.
That said, it's a limited-time offer, so BT Halo 1 and 2 customers must take advantage of it upon receiving their end-of-contract notification. But it's available to all renewing customers.
According to BT's terms and conditions around Halo, customers will never pay more than £8 extra per month if they switch to a rolling contract. However, this is subject to change. Hence, if you're willing to sign another minimum-term contract, perhaps consider renewing soon.
Double Mobile Data
For Halo 3 customers with BT Mobile, BT will double their mobile data and anyone in their household on the same network. Similarly, BT promises to double the data allowance for any individual with EE Mobile when upgrading or adding a new plan.
BT Halo 3+ Features
Like BT Halo 3, the price to upgrade to BT Halo 3+ varies on which BT Broadband package you have. It encompasses all the features of Halo 3 and, in addition, provides the following benefits, which estimates at £488 over the course of a 24-month contract:
Hybrid Connect
"Hybrid Connect" is a primary feature of BT Halo 3+. When paired with the Smart Hub 2 (more on that below) automatically switches the household's internet connection to the EE Mobile network (which BT owns if you didn't know) in case of disruptions and seamlessly switches back to BT once the connection is restored.
BT markets this feature as "an unbreakable home connection", since it automatically provides a backup connection via a cellular network with strong 4G coverage, making it a strong selling point for the service.
However, for homes without good BT or EE Mobile reception, Hybrid Connect may not be as effective of a backup solution, and the network speeds may be slower when connected to mobile broadband instead of fixed-line fibre.
If you work from home or require a consistent internet connection, upgrading to BT Halo 3+ may be beneficial. The option to add the Hybrid Connect service for £7 a month is available during checkout for those who don't choose Halo 3+.
Complete Wi-Fi
BT Halo 3+ includes Complete Wi-Fi, a combination of BT's reliable mesh Wi-Fi system and a money-back guarantee. You get the following:
BT Smart Hub 2
A Wi-Fi Disc (with up to two extra discs at no cost) for seamless wireless coverage around your home
A £100 credit if the wireless link speed is less than 10 Mbps across the home.
Note that the £100 credit is a one-time offer and doesn't release customers from their rolling contract. Plus, you can purchase Complete Wi-Fi separately for £10 a month if you're interested in only this particular aspect of the BT Halo 3+ service.
How to set up your Complete Wi-fi Disc
Smart Hub 2
The Smart Hub 2 is an improved version of the original BT Smart Hub, provided to BT Fibre Broadband subscribers. Introduced in November 2018, it's designed to operate seamlessly with the boosting discs included with BT's Complete Wi-Fi guarantee.
By subscribing to BT Halo 3+ and taking advantage of Complete Wi-Fi, customers receive the Smart Hub 2 as part of their package.
Full Fibre Promise
BT has committed to upgrading BT Halo 3+ customers to Full Fibre as soon as it becomes available in their area. For those yet to have access to high-speed broadband through UK's reliable Openreach's FTTP (Fibre-to-the-Premises) technology, this guarantee means you'll have access to Full Fibre 100 at the earliest opportunity.
The most notable benefits of upgrading to BT Halo 3+ are faster and symmetrical download and upload speeds and improved broadband reliability. However, there's no assurance the network will be available before your current contract expires, making the commitment futile for some.
What About BT Halo 1 and 2?
BT Halo 3 and 3+ are the latest versions of BT's premium Halo Broadband service. The original BT Halo packages were introduced in 2019: Halo 1 and Halo 2. However, BT has phased out these options in favour of the new plans, and they're no longer available for purchase.
The core features of the original Halo add-on were similar to the current versions, including the option to upgrade to Complete Wi-Fi for improved wireless coverage and unlimited mobile data.
The new BT Halo 3 and 3+ packages make it simpler for customers to distinguish the benefits between the two. Plus, Hybrid Connect serves as a valuable addition. As we mentioned earlier, BT Halo 1 and 2 subscribers have the option to upgrade to the latest plans.
You May Like: Is BritBox Free With Sky?
Final Words: Is it Worth Upgrading to BT Halo 3 and Halo 3+?
Based on the feature list for BT Halo 3 when checking out on the BT website, the extra perks bundled with the package may be worth the upgrade for many customers, particularly those who need technical assistance with setting up their new BT products.
According to BT, Halo 3+ offers a total value of £488 throughout a two-year contract. It's calculated on the charge of individual services as if purchased separately by a non-Halo customer over 24 months. Here's how BT breaks down the estimate:
Hybrid Connect: £7 a month (£168 over a 24-month contract)
Complete Wi-Fi: £10 a month (£240 over a 24-month contract, with one Wi-Fi Disc)
Home Tech Experts: £40 per visit (£80 over a 24-month contract, assuming one visit for set-up, and one annual tech health check)
There are other benefits we couldn't quite quantify in terms of cost, such as the possibility of upgrading to BT "Full Fibre" services when they become available in your area, and the assurance of being offered the same deals as new customers when it's time to renew your current contract.
BT Halo 3+ offers several benefits, but whether it's worth the additional monthly cost of £30+ depends on individual needs. It may be beneficial only for those who can't function without the internet at home. However, from our perspective, it'll result in doubling broadband bills for most households, and there are more cost-effective options for ensuring stable home broadband connectivity.
For instance, your can Hybrid Connect to your existing BT Broadband subscription separately for £7/month. Similarly, Complete Wi-Fi is available as a standalone option for £10/month, so if the mesh Wi-Fi system is your point of interest, it's more cost-effective to get it without Halo 3+.
While going through BT Halo's Terms and Conditions, we also noticed the limitations of the "Price Promises" mentioned. While BT may offer you the same deals as new customers during renewal, keep in mind that you'll still be subject to increased annual prices in line with inflation. BT's current formula for this increase is the Consumer Price Index (CPI) plus 3.9%, and this rise is applied to customer bills in March of every year.