Are you getting annoyed with a pop-up message saying "Message not sent service not activated on network" From your network services? Well, let's take a look at why this happens and how you can fix this without having any kind of problems.
Excluding the United States of America, almost every country charges you for sending an MMS message. The most common reason people face these problems is that they do not have access to MMS service or their account is not set up for sending big files. For example, writing a long text might create these errors because they become larger, leading your phone to make your text into MMS automatically.
What is the Meaning of Message not Sent Service not Activated on Network?

Message not sent service not activated on the network means that the text message you send to another person includes something that creates MMS. Therefore, you are not allowed to send them over the network services you are using because it is not activated for MMS on your network.
In many cases, the charges for sending MMS messages are expensive and do not include service in your current package. So, whenever a person sends a message to someone with emojis or pictures added, the chances are that more than the same message will display on your screen while sending them.
Why does the "Message not Sent Service not Activated on Network pop out every time during MMS?
Sometimes people with MMS services activation can also face such errors. It is probably due to your mobile phone error, such as full storage in cache memory, a network glitch, an outdated application version, and many more. These things can easily cause this kind of error while sending MMS.
Apart from this, due to the service provider's technical error, the pack that you have included in your recharge might not be transferred to your number by service providers. However, you may contact them and ask whether or not they have activated your service.
How To Fix Message Not Sent Service Not Activated On Network Issue?
Now the moment that you have all been waiting for. Below are a few methods by which you can fix your problem easily.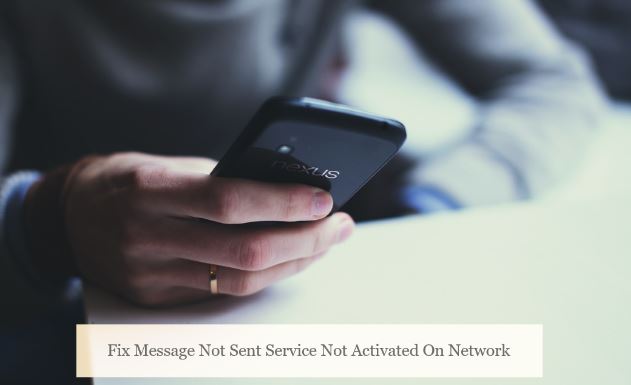 Method #1: Checking for an Update
Whether you are using the default message application or have downloaded a 3rd party application for texting, the most important thing you should do is to update your application, whether it is stock or 3rd party. You can simply do this by going to the play store and checking if the application has any updates.
Try sending the message again after updating your application. There is a high chance that your application was not working because of the downgraded messaging version.
Method #2: Checking the Permissions & Cleaning Cache Memory
It may be possible that you have disabled your application's permission to send text messages by mistake. However, there is an easy fix to this problem. You can simply go to your settings, find the application detail and allow all the necessary permission to send an MMS.
Secondly, it is common for your cache memory storage to be full after a few days, so you must clear all the cache memory that stops you from sending MMS. You can also do this by entering details in the setting and clearing all data.
Method #3: Disable all Settings
Open the stock camera of your application and disable the HDR feature that is enabled in your camera settings. Different mobile phones have different settings. However, the HDR option is most probably available in the camera application's upper corner. This process is necessary because disabling HDR will ensure that your picture's size remains small.
Sometimes the error message comes on your screen because the attachment you are sending with your message is very large. After disabling try sending the MMS again
Method #4: Restarting your Mobile Phone
Due to various reasons, sometimes mobile phone networks Get stuck. It is a very easy fix; all you need to do is restart all your service by restarting your mobile phone. It will work as a refresh into network servicing and provide a head start to work properly again.
Method #5: Check for your SMSC code
SMSC stands for short message service center; without having a proper SMSC code, you will never be able to send MMS or even a text message. So, make sure that your stock messaging application contains a proper code. In case you don't have code writing in that section, go and check the code on the web browser.
Every service provider has its own code according to different states and regions. You must enter the correct code to make your MMS work again.
Check out: Best Garmin Connect IQ Apps
Conclusion
While sending a text message, the most common problem people find is a pop-up message saying, "Message not sent service not activated on network." With the help of the above methods, you can solve this problem quickly. First, ensure that you have already subscribed to a package including MMS services.
FAQs
How do I convert MMS to SMS?
Ans. Your message will only become an MMS when you include emoticons and pictures with them or your text message is too long. So, making it short and removing attachments from them will convert MMS to an SMS.
Is it necessary to recharge with a different pack to send MMS?
Ans. Unless you are a citizen of the USA, you need to subscribe to a different pack to include MMS services in your mobile phone.
How to active sending messages?
Ans. Recharge with a package including MMS services to enjoy the additional fractures, such as sending pictures or emoticons with your text.