SkyShowtime is an all-new streaming platform with a massive catalogue of acclaimed movies, shows, and exclusive series. It's a collaborative effort from Comcast and Paramount Pictures, who own Sky and Showtime Networks, hence the name.
If you've been meaning to subscribe to SkyShowtime and stream your favourites on-demand on your Samsung TV, you're in luck. The service recently announced support for Samsung Smart TVs (2017 and later models) running Tizen 3.0 or newer.
Our guide has everything you need to know about SkyShowtime on Samsung Smart TV, with detailed steps to download the app and log in.
What does SkyShowtime on Samsung Smart TV Offer?
With SkyShowtime on your Samsung TV, you can stream from a handpicked, high-quality selection of on-demand titles curated to your tastes – without any advertisements disrupting your good time.
You can enjoy the hottest and most popular movies, box sets, and originals from some of the biggest studios, including Sky, Showtime, Paramount, Peacock, Universal, Nickelodeon, and DreamWorks, with big names like Warner Bros. chiming in too.
Besides, SkyShowtime's diverse content catalogue is bursting with local programming alongside family entertainment, kids' shows, documentaries, and more.
The SkyShowtime app for Samsung Smart TVs allows subscribers to stream everything in Full HD (1080p) and with immersive DD 5.1 surround sound. 4K playback, while unavailable at the time of writing, is something the platform promises to offer in the near future.
Other features include closed captions and parental controls, plus up to five profiles per account with tailored recommendations and watchlists for every individual.
How to Get SkyShowtime on Samsung Smart TV?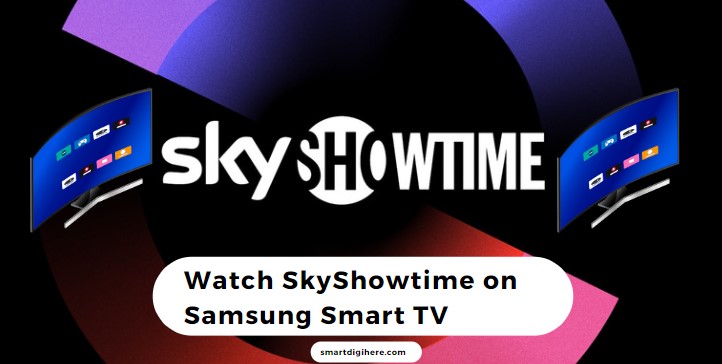 You can get SkyShowtime on your Samsung Smart TV if it's a 2017 or newer model that runs Tizen 3.0 or above. If you're unsure about what year your particular model is from, check out this official guide from Samsung.
Without further ado, here's how you download the SkyShowtime streaming app on one of the latest Samsung Smart TV models:
Ensure your Samsung TV is powered ON and connected to the internet.
Press Home on your remote, then select Apps at the front of your apps list at the top.

Scroll down to the "Video" category in the Apps Store to find the SkyShowtime.
Or, select the Search (magnifying glass) icon in the upper-right corner to search for "SkyShowtime".
On the preview screen, where you see the streaming app's description and screenshots, hit the Install.
Once the installation finishes, click Add to Home to add SkyShowtime to your TV's Home screen.
Return to the Home screen, and you'll find the new SkyShowtime icon among your apps list. To move it, select the Edit List icon to the right, highlight SkyShowtime and click Move, then shift the app icon left or right according to your preference.
Related: SkyShowtime on Xbox One
How to Sign in to SkyShowtime on Samsung TV?
Before signing in, you must sign up for a SkyShowtime subscription. It's a premium ad-free streaming platform, after all. Fortunately, all this shouldn't take you more than a few minutes, so let us walk you through the process:
On your mobile device or computer, visit skyshowtime.com from the browser and select Join at the top-right side of the webpage.
Next, pick your billing cycle. You can take the Monthly plan for a 7-day free trial or opt for the Annual subscription to save money.
Create your account by entering your email address and password, then click the "Start subscription" button.
Choose your preferred payment method and fill in the necessary fields with valid credentials.
Depending on your payment method, it may redirect you to another payment portal, where you need to complete the purchase.
Finally, check your inbox for the verification mail and confirm your email address for the SkyShowtime account.
After signing up, use these steps to log into the SkyShowtime app on your Samsung TV:
Open SkyShowtime from your Samsung Smart TV's Home.
Click the "Log In" button on the welcome screen.
Type in your email address and password, and click Continue.
Choose the default profile or create your own by clicking the +
And you're good to go! You may now enjoy streaming from the massive catalogue of movies, shows, and original exclusives the all-new SkyShowtime streaming service has to offer.
What to Watch on SkyShowtime on Samsung Smart TV?
Whether you're a seasoned series enthusiast or about to delve into the captivating universe of your highly-anticipated series, here's a sample of the must-watch local and global TV shows you can currently stream on SkyShowtime:
Crime / Thriller
FBI S1-S2
NCIS S11-S16
HAWAII Five-0 S9-S10
Tulsa King
Tin Star S1-S2
Drama
Berling Station S1-S2
Bates Motel S1-S5
Downton Abbey S1-S6
Dexter S1-S8
Halo
Madam Secretary S1-S4
Ray Donovan S1-S7
Star Trek: The Next Generation S1-S7
Reality
Catfish UK
Drunk History UK
Ex on The Beach
Geordie Shore
Made in Chelsea
In terms of movies collection, SkyShowtime has something for everyone. You might come across that heartwarming comedy that slipped your mind or that enlightening documentary about an interesting topic.
You may even find that thrilling childhood adventure film you thought was a distant memory or the cult-classic slasher film you watched back in college. There's an abundance of surprises waiting to be uncovered.
Of course, the content list may vary between regions. For those wondering, SkyShowtime currently serves 20+ countries, including Finland, Norway, Sweden, Denmark, Netherlands, Portugal, and a dozen more Central and Eastern European nations. In the Nordic regions, the service has replaced the Paramount+ streaming service, for the better or worse.
Also Check: Disney Plus Hotstar on Samsung Smart TV
How to Get SkyShowtime on an Unsupported Samsung TV?
Whether you have an older Samsung Smart TV or a model without "smart" capabilities, you must connect a compatible HDMI device to enjoy SkyShowtime on your big screen. It includes  Android TV boxes, Apple TV (4th Gen or later), a Google Chromecast dongle, or your Windows or Mac computer.
On the same subject, if, for some reason, streaming from SkyShowtime on your Samsung Smart TV doesn't work, we recommend casting the content you wish to watch from the mobile app instead. Select 2018 and recent Samsung TV models have built-in AirPlay 2, meaning you can play content from your iPhone, iPad, or Mac device.
Also See: SkyShowtime on PS4 & PS5
Conclusion
The streaming war gets even more complicated with SkyShowtime's arrival in Europe, but the consumers at least get an alternative over Netflix's recent anti-consumer schemes. It brings both original and acquired content to the table at a competitive subscription price. This in-depth guide to SkyShowtime on Samsung Smart TV should help you access them.
What's your take on this brand-new streamer app? How's your experience so far, and would you keep paying for it? Let us know your thoughts in the comments below.